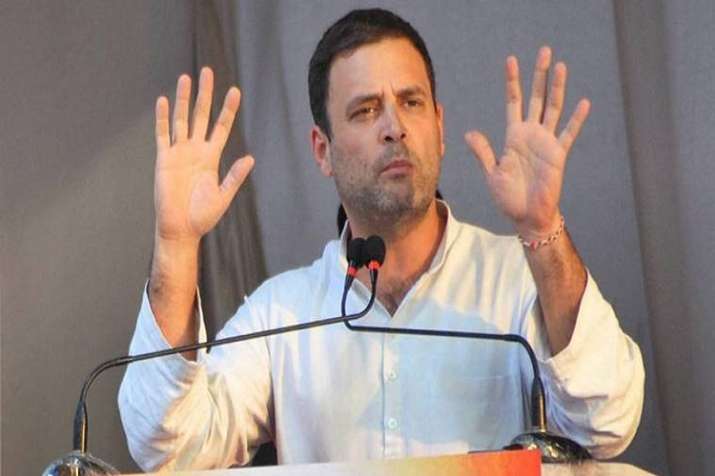 Congress president Rahul Gandhi has alleged that the inaction of BJP governments in states, especially Uttar Pradesh, has created an atmosphere of fear among Dalits and religious minorities.
He also said it was important for the Congress to reach out to the victims of "mindless violence".  
The current dispensation, Gandhi alleged, has allowed the "climate of fear" and lawlessness "to not only prevail but also flourish".
Catch all the latest news about Lok Sabha elections 2019 HERE
The hate speeches made by various BJP ministers and leaders exhorting their followers to target certain communities "encourages local goons to act with impunity", he said
The Congress chief alleged that the inaction of BJP state governments, especially in Uttar Pradesh, has created an "atmosphere of fear amongst Dalits and religious minorities".
In a letter to the schedule caste (SC) department of the AICC, Gandhi said it is important for the party to reach out to the victims of the "mindless violence" and publicly support them. 
The complicity of state agencies, that makes such large-scale persecution possible, "must be exposed," he wrote in his July 27 letter. 
He said, it would be expedient on part of the SC department of the party to examine the recent instances of violence against Dalits where the state had failed to act against the perpetrators. 
"There is an urgent need for a larger public discourse regarding the systemic persecution unleashed by this regime. Towards this end, I request you to take up these issues in all relevant platforms. and apprise me on the same," Gandhi said.
Rahul Gandhi's statements have come just a few months before the Lok Sabha elections 2019. Uttar Pradesh is politically extremely important as it sends 80 MPs to the lower house of the Parliament.
Interestingly, in the recent by-polls in the state, BJP has suffered setbacks and Congress party is apparently trying to turn the voters in its favour in the upcoming general elections.
(With PTI inputs)