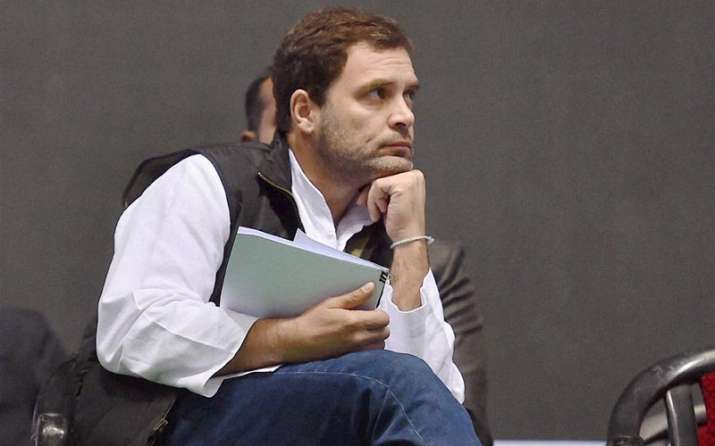 Day after Akhilesh Yadav and Mayawati announced the alliance of Bahujan Samaj Party (BSP) and Samajwadi Party (SP) in Uttar Pradesh, Congress said it would go it alone on all 80 Lok Sabha seats in the state in the upcoming general election. 
Congress general secretary in-charge of UP Ghulam Nabi Azad made the announcement on Sunday, while also stating that his party would accomodate any "secular force" capable of taking on the ruling Bharatiya Janata Party (BJP) in the Lok Sabha election. 
Earlier on Saturday, BSP and SP said they would contest on 38 seats each, while two seats will go to smaller allies. Amethi and Raebareli, represented by Congress President
Rahul Gandhi
and UPA Chairperson
Sonia Gandhi
, were left by them to go contested by the alliance. 
BJP will effectively wipe them off: Adityanath on BSP-SP alliance
Uttar Pradesh Chief Minister
Yogi Adityanath
claimed the recently forged alliance between the Samajwadi Party and the Bahujan Samaj Party will have no impact on the state's politics and the BJP will "effectively wipe them off". Speaking at a programme here, Adityanath said the SP-BSP alliance denoted "casteist mentality" and "anarchic elements". "The alliance means giving power to people who are corrupt, anarchic elements and have casteist mentality. This alliance will have no impact on the politics of the state. "It is good that both these parties have come together. It will help us effectively wipe them off," he asserted. The priest-turned-politician also went on to say, "Why are SP and BSP different parties? They should be merged".
SP-BSP alliance a 'thugbandhan', ready to lend our support to Congress: Shivpal
Pragitisheel Samajwadi Part-Lohia (PSPL) chief Shivpal Singh Yadav has said that his party is ready to form an alliance with the Congress in Uttar Pradesh in the upcoming Lok Sabha elections. The SP-BSP alliance is a 'thugbandhan' and is for money. It is possible that the money must have been taken before forging the alliance, he said. 
However, Yadav further stated that no talks have so far been held in connection with forging an alliance with the Congress. "There have been no talks with the Congress party as yet. The Congress is also a secular party and if it approaches us to defeat the BJP, we will lend our support", he said.
FULL VIDEO:
(With PTI inputs)