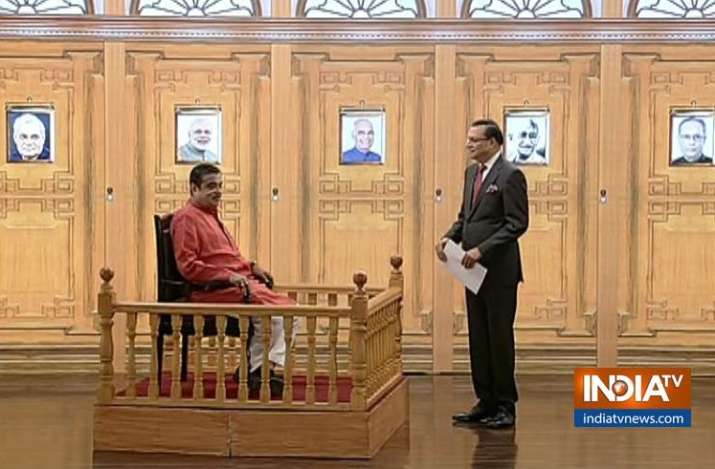 As we head into Lok Sabha elections 2019, the political blitzkrieg has peaked in the nation. The campaigning, sloganeering, blame game and poll promises have overtaken the real questions by the people. To cut through the clutter, India TV has launched a special series of its iconic show Aap Ki Adalat. First in the series is Aap Ki Adalat with Union Minister and BJP leader Nitin Gadkari. India TV Editor-in-Chief is hosting special edition Aap Ki Adalat in Nagpur.
Here are the highlights from Aap Ki Adalat with Nitin Gadkari: 
#Nothing is waste, it depends on knowledge conversion
I have been trying to implement sustainable, environment-friendly solutions to fuel development. Use of at least 10 per cent recycled plastic in building roads has been made mandatory. Thermal ash is being used in roads. In Nagpur we have sold sewage water for electricity generation, now we are planning to separate methane gas from here and fuel buses from it.
#On Priyanka Gandhi
Asked whether Priyanka Gandhi could pose a challenge to Modi, the Union Minister said: "The truth today is that there is no leader who can challenge Modi in our country." (Aaj ki sachhai yeh hai ki aaj hamare desh me Modi ko chunouti dene wala koi nahin hai) 
#On Rahul Gandhi's allegations over LK Advani's ouster
 
"Congress president Rahul Gandhi "is shedding crocodile tears" over senior BJP leader LK Advani. "Both Advani and MM Joshi had been founders and our source of inspiration. There was no question of "insulting" veteran leaders. The question is about age. Advani Ji is 92-years-old. Change in leadership because of age is a natural phenomenon. Today it is Advani Ji, tomorrow I will grow old, and I will have to retire."
#Is RSS leadership favouring him for the PM post? 
 
Asked about reports in a section of media that the RSS leadership was in favour of him becoming the next PM if the BJP failed to get requisite majority, Gadkari replied: "This is incorrect. Modi Ji is the Sangh pracharak, while I am not. He has devoted his entire life for RSS, and the RSS likes him as much as it likes me and all other swayamsevaks. The Sangh never discriminates, nor does it decide who will become PM. I did not become the BJP president because of the Sangh."
#I believe in politics for progress and development
#Is he the next PM candidate? 
BJP will get clear majority and Narendra Modi will become the Prime Minister. I have full confidence that BJP will get full majority and Narendra Modi will become the Prime Minister. I have no dreams of becoming PM, nor am I lobbying for that post or approached anybody. If I become PM, then how will I have street food? I am happy where I am. Already I have Z plus security, and I feel uncomfortable. I have never dreamed of ever being inside a gilded cage.
Watch @nitin_gadkari LIVE in #AapKiAdalat with @RajatSharmaLive #GadkariInAapKiAdalat https://t.co/9cW0OEHvy6 pic.twitter.com/Q4TwFyHPFr

— India TV (@indiatvnews) April 6, 2019
#On Kashmir issue and Mehbooba Mufti
On PDP chief Mehbooba Mufti threatening that if Article 370 was repealed, Kashmir's connection with India would end, Gadkari said: "It is a sensitive issue. We have been demanding removal of Article 370, but the situation in the valley is presently sensitive. We have to be careful.
"Kashmiri youths should realize that it is because of Article 370, top hotel corporates like Taj, Tata and Oberoi are unable to purchase land, build hotels and give a boost to tourism, hospitality and employment. Article 370 has actually become an obstacle in the path of Kashmir's progress. Kashmir can become prosperous only when there is industrial investment through PPP mode. I hope in the coming years, the youths in Kashmir will realize this and will themselves demand removal of this Article."
#On proxy war with Pakistan 
We are in a proxy war with Pakistan as the country has refused to respond to any peace talks or treaties. At such a time, we need a strong government and not a weak one, which seeks to withdraw special powers given to our armed forces (mazbur nahin, mazbut sakar chahiye)
#No water to Pakistan
 
"Since Partition, India and Pakistan have been drawing water from three rivers each from the Indus river system. In 1960, the Indus Water Treaty was signed between the then Pakistan ruler Ayub Khan and Indian PM Jawaharlal Nehru. 
"As per the treaty, India was allowing excess river water to flow to Pakistan in order to promote cordiality and brotherhood. Now they are killing our army jawans and raining bombs and shells on us. I have already said that we have stopped flow from our share of water to Pakistan, but if they continue to aid and abet terror, not a single drop of water will be given to Pakistan. We will stop the entire flow.
#GadkariInAapKiAdalat | Watch @nitin_gadkari in #AapKiAdalat LIVE on @indiatvnews with @RajatSharmaLive https://t.co/9cW0OEHvy6 pic.twitter.com/F4wjdr6X4Z

— India TV (@indiatvnews) April 6, 2019
"I do not want to stop water, but if Pakistan continues to help terror we will stop the flow. I have already told my department officials to prepare detailed project reports. If they stop helping terror, we will release excess water, and if they help terrorists, we will stop flow of water.   
"Pakistan should deeply ponder over this. The lifeline of Pakistan depends on water from the Indus river system flowing from India. If they let us live in peace and cordiality, we will not stop flow of water."
#On peace talks with Pakistan
 
"If the Pakistani army continued to run terror camps, India will have no option but to fire missiles and decimate each and every terror camp. There is no way out. Laaton key bhoot baaton sey nahin mantey." 
#On Rafale deal
 
"This is all baseless. In Nagpur, Dassault has set up a manufacturing unit with Anil Ambani's collaboration, that builds nine and eleven seater Falcon passenger jets. Till March this year, the company has exported Rs 250-300 crore worth components. This unit and its ancillary units  have given jobs to people. In the next two years, this Nagpur manufacturing unit will supply Falcon passenger jets to the whole world. The government has nothing to do with this private venture."
#On Rahul Gandhi 
We have nothing to fear about. People who have names embroiled in corruption cases should be scared. People have no faith on Rahul Gandhi and Congress, Nitin Gadkari tells Rajat Sharma. He said, it is unfortunate on part of Rahul to say 'Chowkidar chor hai'. This does not behove the leaders of a responsible political party. This is highly objectionable.
Union Minister Nitin Gadkari in Rajat Sharma's show 'Aap Ki Adalat' was telecast tonight on India TV at 10 pm. The show will be re-telecast tomorrow Sunday at 10 am and 10 pm.
Highlights of Aap Ki Adalat with Nitin Gadkari: