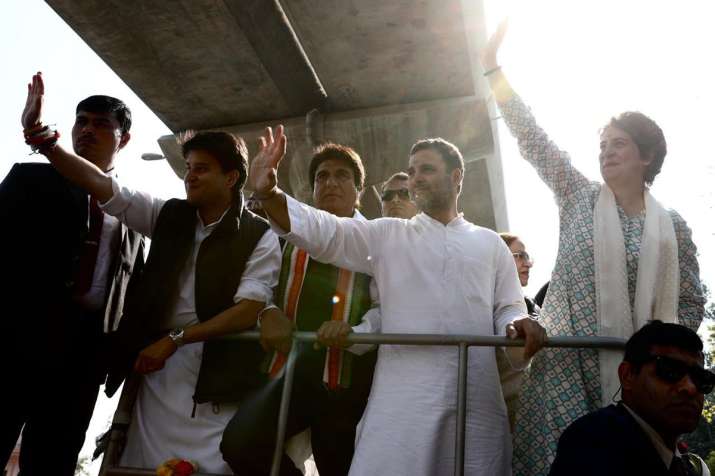 "Aa gayi badlaav ki aandhi, Rahul sung Priyanka Gandhi" (The storm is coming, Rahul along with Priyanka Gandhi), the atmosphere in Uttar Pradesh's capital Lucknow was electric as Priyanka Gandhi drove through the city with her cavalcade, including brother and Congress chief Rahul Gandhi and colleague Jyotiraditya Scindia. 
Priyanka was cheered by thousands as she rode in an open truck on her first visit to the state after becoming the Congress General Secretary East UP ahead of the Lok Sabha elections.
Security personnel had a tough time holding back enthusiastic crowds as the convoy, which included other party leaders including state unit President Raj Babbar, wound its way amid full-throated slogans hailing Priyanka Gandhi and lampooning Prime Minister Narendra Modi. 
Also read | Priyanka Gandhi Vadra's Lucknow visit: Highlights
At one point at Burlington crossing, Priyanka Gandhi, Rahul Gandhi, Scindia and the other leaders had to lower their heads and eventually dismount from the truck to escape dangerously low hanging electric wires. They shifted to a car before returning to the truck.
Many hurled flower garlands at Priyanka Gandhi, who, constantly waving at the crowds, occasionally threw back the flowers to the crowds. Hundreds of activists carried the Congress party flags.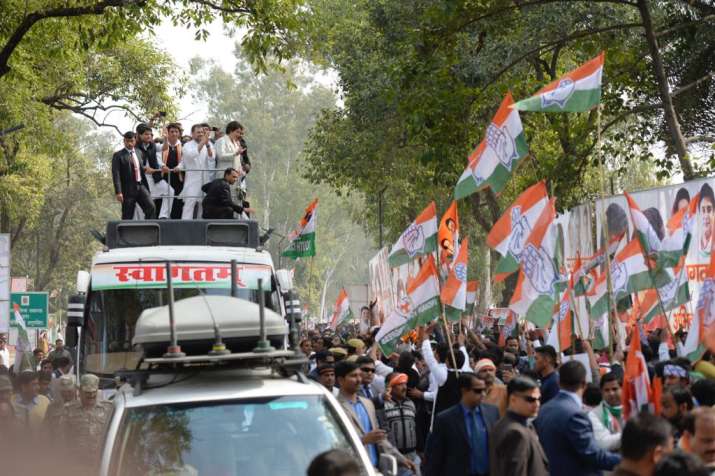 The winding route from the Chaudhary Charan Singh Airport to the Congress office at Mall Avenue, almost 25 km long, was replete with hoardings and banners. Posters of Priyanka, a few comparing her with Hindu goddess Durga, were plastered everywhere.
The Congress office had been painted afresh and decorated with hundreds of kilos of marigold and other flowers. 
On Monday, Priyanka Gandhi's husband Robert Vadra, now embroiled in investigation by the Enforcement Directorate, urged people to ensure her safety.
Priyanka Gandhi, who opened her Twitter account on Monday, said a day earlier that she wanted to "build a new future, new politics".
"I have hope that together we will start a new kind of politics, a politics in which all of you will be stakeholders. Come, let's build a new future, new politics with me."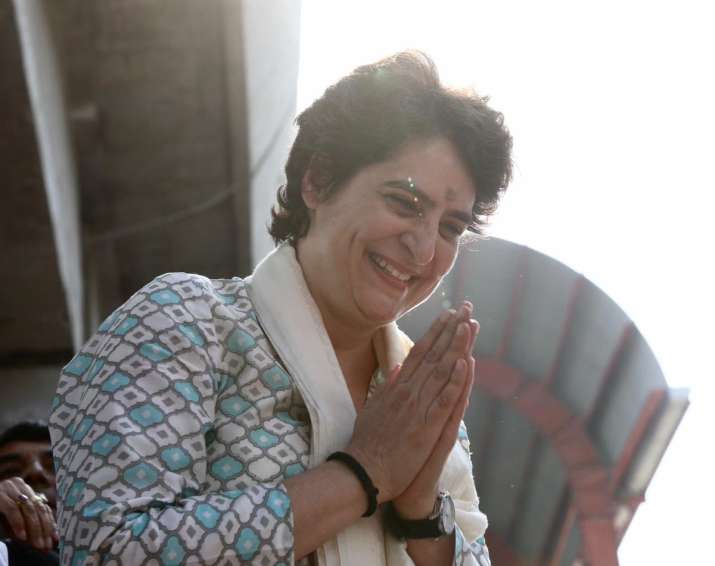 New excitement in Congress workers: 
Priyanka's roadshow has infused a new enthusiasm among the Congress workers in the state. As Priyanka's cavalcade passed through the streets of Lucknow, Congress workers showered rose petals and threw marigold garlands at her, celebrating the much-awaited political debut.
As soon as roadshow began, supporters began taking vantage points through the route to click photographs for posterity.
Congress workers had been busy making arrangements for the roadshow since early morning. They were seen distributing food packets, tea and water to passers by. Patriotic songs were played on loudspeakers, elevating the mood of supporters.
Some posters showed Priyanka Gandhi as Goddess Durga on a lion.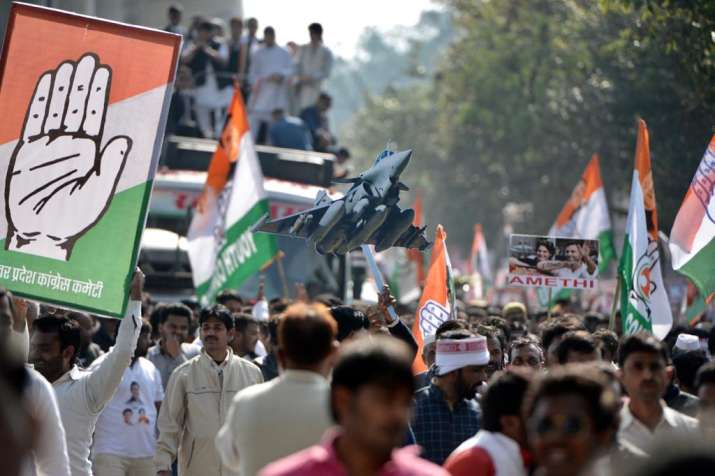 "Maa Durga ka roop behen Priyankaji (Sister Priyanka is Maa Durga's incarnation)," read a poster. Another highlighted her resemblance with her grandmother Indira Gandhi.
Congress workers were seen wearing T-shirts with photographs of Priyanaka Gandhi. Members of "Priyanka Sena," a little-known organisation of her supporters, were also seen during the roadshow.
"With the Priyanka Sena at the Nehru Bhawan, Lucknow it is almost celebration here," tweeted Sushmita Dev, president of All India Mahila Congress. She attacked a photograph of her with members of the outfit.
Congress general secretary Shailendra Tewari customised his car to welcome Priyanka Gandhi. The banner on the vehicle read: "Aagai Priyanka. Baj gaya danka. Brashtachar ki ab lagegi Lanka." 
Cong to play on 'front foot' in UP, aim is to form govt in state: Rahul
Asserting that the Congress would "play on the front foot" in Uttar Pradesh, Rahul Gandhi said he and his party would not sit idle till it forms government in the state and that Priyanka Gandhi and Jyotiraditya Scindia had been given that mandate.
Addressing the workers during the roadshow, the Congress president said he had told her and Scindia, the general secretary in charge of western UP, their mandate was to bring a government in the state that would ensure justice for all.
"Their aim is definitely the Lok Sabha elections, but also to bring a Congress government here," he said, taking the political challenge posed by his opponents head on.
Asking the crowd to repeat his "chowkidar chor hai" (guard is the thief) barb against Narendra Modi in connection with the Congress party's corruption allegation in the Rafale fighter jet deal, Gandhi alleged that the prime minister has "stolen" money from Uttar Pradesh and other states to benefit industrialist Anil Ambani.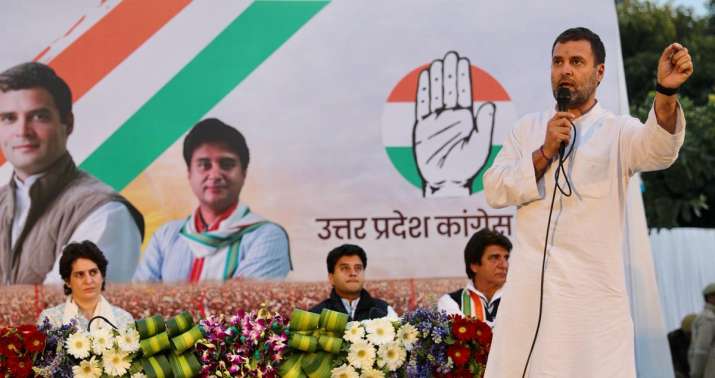 Using a cricket analogy, he said the Congress will play on the front foot and not on the back foot in the state.
"Till a Congress ideology government is installed here (UP), we will not sit idle and ensure justice to the farmers, the youth, the poor," he said.
He said that for the Congress there was no dearth of issues.
"There are issues after issues for the Congress workers, talk about corruption, farmers, employment...it is only a matter of moving ahead and fighting for the Congress ideology and see what happens in Uttar Pradesh," Rahul stressed.
The Congress president, who gave the important assignment to Priyanka and Scindia after the Samajwadi Party and the BSP cold-shouldered him in the 'gathbandhan' (alliance) for the coming Lok Sabha election, reiterated that he has full respect for BSP chief Mayawati and Akhilesh Yadav of SP.
"An alliance is also in the contest here and I have clearly said that I respect Mayawatiji and Akhilesh Yadavji...but Congress will fight with all its might for its ideology to change Uttar Pradesh," Rahul said.
"We will play on the front foot...till Congress ideology government takes over here. We will not be sitting idle till we bring a government that works for the farmers, youth and poor here," he said.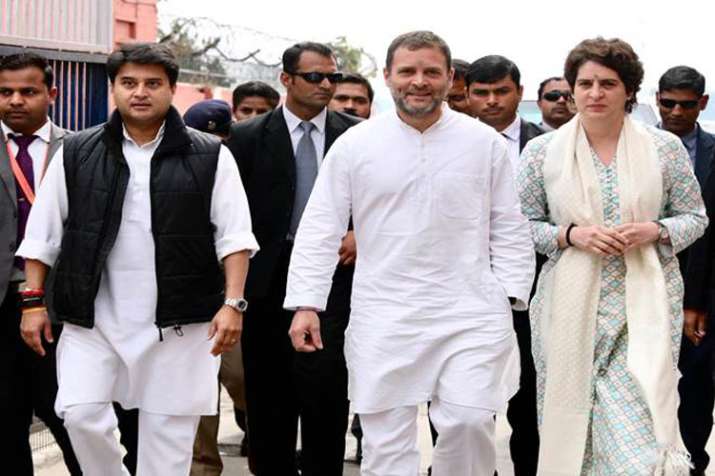 Rahul, who along with other leaders, also inaugurated the Congress media centre "Rajiv Gandhi Hall' in the party headquarters, asked party workers not to be afraid in this fight of ideology which is to connect people in the face of the challenge of the RSS, BJP and Narendra Modi, who he alleged have been working to break and weaken the country.
"The Congress began its journey from Uttar Pradesh and it cannot remain weak in the state...Congress has to improve performance in UP in the Lok Sabha polls and form government in the next Assembly elections," he stressed.
In his address which was marked by chanting of "chowkidar chor hai", Rahul alleged that "in the last five years, 'chowkidar' has not provided employment, he has just benefitted his friend Anil Ambani."
"People want Congress government as they have tried all and they have failed and now there is only one way ahead...the battle will be fought on the ground," he said, adding that the grassroot workers and leaders will have to be given priority if the party has to be strengthened in the state.
"This is our responsibility to encourage the grassroot leaders and workers...those who fly in helicopters will not help," Rahul, who has the enormous task of strengthening the organisation, stressed.
He also referred to Modi's claims of having 56-inch chest and that he wants to be the chowkidar of the country and said that the truth is coming out one after another and the hollowness of Modi's claims is coming out before the people.
Referring to a report on The Hindu newspaper that critical provisions for anti-corruption penalties and making payments through an escrow account were dropped days before the Rafale deal, Rahul said in every defence deal there is a clause of corruption.
"The government can act in case of corruption...but Modi has cancelled it and given Rs 30,000 crore to Anil Ambani," he said.
(With inputs from agencies)
Watch full coverage of the news with India TV Editor in Chief at special show Aaj ki Baat: