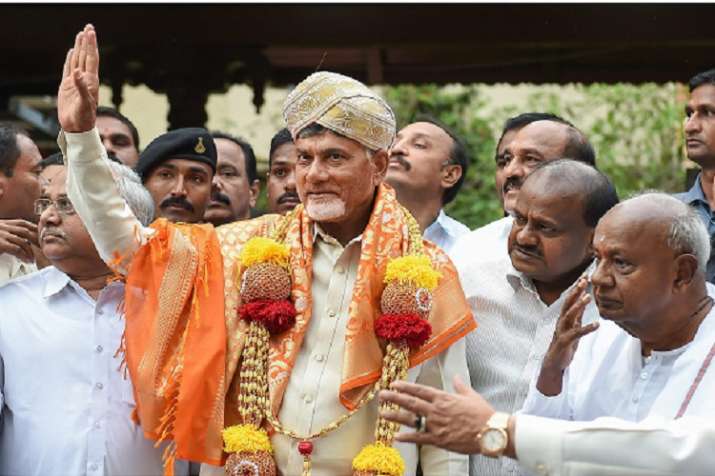 In an effort to unite opposition parties against the BJP ahead of the 2019 Lok Sabha Elections, Andhra Pradesh Chief Minister N Chandrababu Naidu on  Thursday met Janata Dal-Secular (JD-S) supremo HD Deve Gowda and Karnataka Chief Minister HD Kumaraswamy in Bengaluru.
The meeting came wo days after the JD(S)-Congress coalition candidates defeated the BJP 4-1 in three Lok Sabha and two assembly seats in the bypolls.
Post meeting, Naidu said that the mood of the nation  was against the BJP-led NDA and soon an alliance would be formed with various regional parties.
Speaking to reporters after the meeting, Naidu said the initial steps for the formation of the alliance was underway and that once the modalities were fixed, programmes would be chalked out later.
"I have spoken to Mayawati, Akhilesh Yadav. I have met everybody. Tomorrow I am meeting Stalin (DMK president). We will decide how to take forward the alliance with consensus. It is an initial exercise. After that we will work together," he said.
Naidu also said the Congress will be a main anchor in any "grand alliance" of opposition parties.
"Congress is a major opposition party," he said, pointing out that Deve Gowda became prime minister with support of the Congress from outside in 1996.
"... Congress is a main anchor," Naidu added.
However, he ducked questions on the alliance's prime ministerial candidate.
"PM candidate we will be decided later, first we will save the nation," he said.
The opposition parties will work together to "save" Indian democracy, the Telugu Desam Party (TDP) supremo said.
"Under the NDA government, all autonomous institutions like the Central Bureau of Investigation (CBI) and the Reserve Bank of India (RBI) have been destroyed," he added.
The National Democratic Alliance (NDA) government's policies like demonetisation have thrown the country's economy into a crisis, Naidu claimed.
"It is the responsibility of the opposition parties to join hands and save the democracy," he stressed.
The electoral sweep by the ruling coalition in Karnataka came as a boost to opposition unity as the bypolls were seen as a barometer of the public mood ahead of the 2019 polls.
Gowda said the meeting was called to work out further strategy on forming the alliance and urged "like-minded" parties to join hands for the elections.
"It is the responsibility of all secular parties including Congress to come together to replace NDA govt," he said.
Kumaraswamy expressed confidence that the 2019 polls will see a repeat of the 1996 result, when a united opposition had formed the government and Gowda had become the prime minister.
"I think 1996 will be repeated in 2019 elections.," he said, adding Gowda and Naidu are old friends and their arithmetic is good.