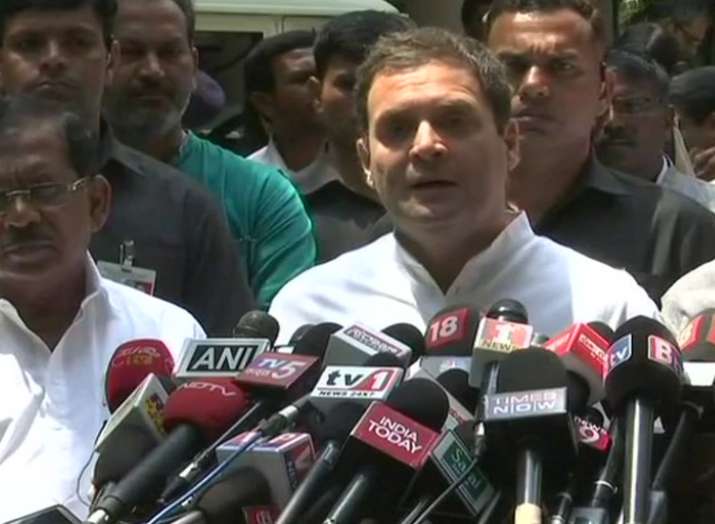 Rahul Gandhi on Tuesday exuded confidence on becoming the prime minister if Congress emerges as the single largest party in the 2019 Lok Sabha elections. The statement by Gandhi scion is crucial because the Congress party is known to keep the cards on PM and CM faces close to its heart until after the results are out. 
But shunning the old ways of the party, the Congress president on Tuesday indicated a clear possibility of him being the face of Congress party's campaign for 2019 general elections.
"Yes, why not," he said on being asked if he can be PM in 2019 if Congress is the single largest party.
Meanwhile, speaking to media during a press conference in poll-bound Karnataka's Bengaluru, Gandhi attacked Prime Minister Narendra Modi for choosing a 'tainted' leader as the face of Bharatiya Janata Party (BJP). 
"We are repeatedly asking the Prime Minister why has he chosen a corrupt person, who has been in jail as his party's CM candidate?," Rahul Gandhi asked.
Rahul also trained his guns on BJP president Amit Shah. "Amit Shah has been accused of murder. Don't think he has a lot of credibility. People in India forget that BJP President is a murder accused. The party that talks about honesty, decency has a person who's been accused of murder as President," he said. 
The war of words has reached a critical level in Karnataka as the date for polling, May 12, draws closer. Both BJP and Congress leaders have increased focus on the personal attacks during the poll campaigns. 
Karnataka will go to polls on May 12 to elect its representatives for the 225-member assembly. The results will be out on May 15.
Watch video: