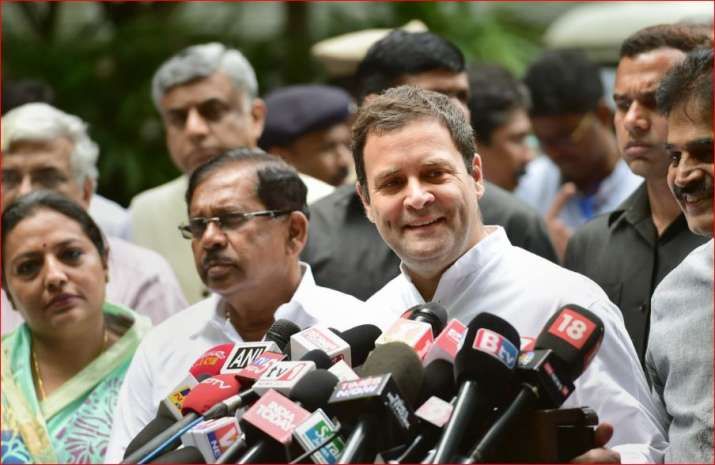 Comparing Prime Minister Narendra Modi and US President Donald Trump with the "reactionary leaders" of the world, Congress president Rahul Gandhi on Tuesday said that the unemployed angry youth had voted both of these leaders to power.  
Referring to Donald Trump's victory in US presidential elections, Rahul Gandhi said that every western nation has a couple of millions of people who they cannot employ and it was they who voted for Trump.
"…these are the people who voted for Mr Modi," Rahul added. 
"The Indian system is unable to give them jobs basically because we are struggling to compete against China. It is pretty much impossible for the western world to compete with the Chinese on blue collar jobs," he said at a function in Bengaluru.
The Congress president pointed out that the BJP and RSS were able to function because the Indian youth are angry as the system was unable to give them jobs. 
He further said that until India solved the employment problem and was able to compete effectively with the Chinese, "you will have this anger in society." 
Rahul Gandhi told the gathering that India was unable to compete with China because the entire focus of job creation was based on 10 or 15 people.
 
"If you look at the NPAs (Non Performing Assets) and analyse who gets Rs 10 lakh crore, you will find that they are basically 10 to 15 people," he said. 
He emphasised that small and medium businesses should be encouraged as they can be the major job creators.  "The way forward is to make politics more accessible to small and medium business, to make the houses, Parliament, the Vidhana Sabha function," he said. 
"What has happened today is that Parliament,the powers of Parliament has basically been captured by the PMO and by five or six bureaucrats. And you have to give power back to Parliament," Gandhi said. 
He was speaking at a function where he launched the "Samruddha Bharat Foundation", a platform to propagate liberal, secular and republican values across the country.  Its trustees include veteran film director Shyam Benegal and noted Supreme Court advocate K T S Tulsi.
(With PTI inputs)