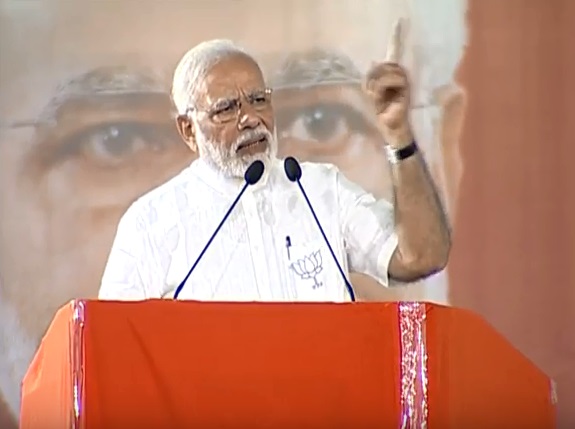 On the penultimate day of campaigning for Karnataka Assembly Elections 2018, Prime Minister Narendra Modi is raising the campaign heat by addressing four public meetings in the day. The prime minister addressed two poll rallies and is addressing public meeting at Belagavi. The PM will address the people in Bidar also at 7:30 pm today.
Having started his campaign blitzkrieg from May 1, PM Modi is scheduled to hold 21 rallies before May 10 when election code of conduct will be implemented. Karnataka will go to polls on May 12 to elect its representatives for the 225-member assembly. The results will be out on May 15.
Also read | Who is Manjula Nanjamuri?, BJP-Cong exchange allegations as EC registers case against voter ID counterfoils
During yesterday's poll trail, PM Modi launched a broadside attack on the ruling Congress party in Karnataka, saying that the people of the state have decided to uproot the Congress and punish it for its wrongdoings. The prime minister also alleged that the party is already trying to find excuses like faulty EVMs for the "impending" defeat in the assembly polls.
(Also read |  Minute by minute highlights of yesterday's rallies by PM Modi)
Here are the highlights:
Watch PM Modi rally in Bidar here:
8:50 PM: Now with few days left for Karnataka assembly elections, Congress will make attempts to mislead you. But do not fall prey to their lies: PM Modi
8:49 PM: This is the last rally I am addressing ahead of the elections: PM Modi
8:46 PM: Congress is supporting those who are corrupt. They meet leaders who are found guilty and jailed in corruption cases? Such things cannot be accepted: PM Modi
8:43 PM: Did the Congress government in Karnataka tell people what they have done in the last five years? They just keep saying - What did Modi do? They must be answerable. They should tell people what they have done for Karnataka: PM Modi
8:40 PM: We opened bank accounts for the poor and brought them in financial mainstream. We are working on 'Jan Dhan' but Congress party works for 'Bhrasht Dhan': PM Modi
8:39 PM: 'Atkana,' 'Latkana' and 'Bhatkana' ...This is Congress' speciality. This is their work culture: PM Modi
8:36 PM: We have approved stringent punishments including death penalty for those who commit devilish deeds against women. Such things cannot be tolerated at all. Also, making such heinous crimes a political issue is not acceptable: PM Modi
8:34 PM: Those involved in such crimes will be hanged, such is the provision we have come up with: PM Modi
8:33 PM: There should no politicizing of rapes: PM Modi 
8:32 PM: Rapists should not be spared at any cost: PM Modi
8:30 PM: I can understand when 'Modi, Modi' slogans are raised in a BJP rally. But these days they are raised in Congress rallies as well: PM Modi
8:27 PM: Congress has no work, no vision, no intention to do good to the country, says PM Modi
8:25 PM: Congress party has put the country at stake for one family, says PM Modi
8:24 PM: When Shaeed Bhagat Singh, Batukeshwar Dutt, Veer Savarkar, greats like them were jailed fighting for the country's independence, did any Congress leader went to meet them? But the Congress leaders go and meet the corrupt who have been jailed: PM Modi
8:22 PM: Leaders of the Congress party believe in photo ops and do not do anything for the betterment of the country: PM Modi
8:20 PM: The newly elected Congress President has pre-announced that he will become the prime minister of the country in 2019. They think that the prime minister's seat is reserved for just one dynasty: PM
8:19 PM: Those who have only seen Pariwaarvaad, & Vanshvaad, they do not understand the importance of democracy. That is why they think that no one other than them has the right to become PM. This is an insult of democracy. Only people can decide who will become the PM not 'Naamdaars': PM
8:15 pm: The new Congress president yesterday announced that he would become the prime minister in 2019. Will a family decide this or the people? Is this democracy?: PM Modi
8:14 PM: There are some who do not know anything apart from Vanshvaad, Parivaarvaad.
8:13 PM: Bidar is the land of Anubhava Mantapa of Bhagwan Basaveshwara. He spread the messages of democracy, women empowerment, women participation, fighting social evils like casteism: PM Modi
8:12 PM: I met youngsters who would be voting in these elections for the first time. Their energy and enthusiasm is commendable. I urge them to make more and more people aware of voting rights: PM Modi
8:10 PM: The affection of people for the BJP across Karnataka is a clear indication that Congress party will be defeated in these elections: PM
8:09 PM: PM Modi urges first-time voters to come out in large numbers
8:08 PM: On May 15, after losing, the Congress will abuse the EVMs, says PM Modi
8:07 PM: The Congress is planning as to what will they do after the announcement of results on May 15. Nobody can save them now: PM Modi
8:05 PM: The Congress is worried on its prospects in Karnataka this time, says PM Modi
8:00 PM: I am overwhelmed with the presence of the crowd here in Bidar: PM Modi
Watch PM Modi rally in Belagavi here: 
06:00 PM: Our aim is India First. Congress aim is Family First: PM Modi in Belagavi
05:56 PM: Why does the Congress need fake voter IDs? What is the Congress trying to do in Karnataka: PM Modi
05:52 PM: Since 2014 I am fighting a battle against corruption and I assure people of India that those who looted the poor will have to return every single penny: PM Modi in Belagavi
05:50PM: Why does the Congress need fake voter IDs? What is the Congress trying to do in Karnataka, says PM Modi
05:40pm: The Chief Minister was campaigning for a Congress candidate whose name is also Narendra, but he only kept saying Narendra Modi and praised Narendra Modi too, the truth seems to have come out, says PM Modi
05:37PM: Why is the agenda of Congress only Modi, I fail to understand, asks PM Modi 
05:36PM: Congress is out of the mind and hearts of people. People have rejected their politics, says PM Modi
05:35PM: When leaders put out advertisements on their rallies, it is assumed lot of people will join. The Congress only writes- corner meetings. This shows people do not want to connect with them, says PM Modi.
5:35pm: PM Modi is addressing a public meeting in Karnataka's Belagavi.
Watch PM Modi rally in Chikmagalur, Karnataka here: 
02:39 pm: I pay my respects to Karnataka media for showing truth despite mounting political pressure: PM
02:37 pm: Income Tax department conducted raids in Badami. Huge stashes of cash and jewellery were seized. Such acts of Congress are defaming Badami and entire Karnataka: PM
02:35 pm: Yesterday, thousands of fake Voter IDs have been caught along with printers, people of Karnataka should not forgive Congress party which is employing such tactics to win elections: PM 
02:34 pm: Congress leaders are out on bail in a Rs. 5,000 crore scam. They now question the judiciary and even call for impeachment of the Chief Justice : PM
02:33 pm: Ever since Cong' Ex President and current President are out on bail, they've been attacking even the Judiciary. They think PM's office is solely their right. Cong thinks, if it moves an impeachment motion against CJI, all lower courts will fall in line:PM Modi
02:30 pm: Congress filed impeachment motion against CJI to threaten entire judiciary: PM
02:24 pm: I want to awaken the country to the dangerous game being played by Congress: PM
02:24 pm: Today, Congress party has also started criticising Vice President for refusing to be attached with their wrong deeds: PM
02:23 pm: When Army conducts a surgical strike, Congress dares say Congress is right and the army is wrong: PM
02:20 pm: When Congres starts losing polls, it starts questioning Election Commission, when it comes under lense it starts blaming CAG, investigating agencies: PM
02:16 pm: Throughout the day, a Congress leader thinks only about one thing - how to be the Prime Minister? If this isn't arrogance, then what is?: PM
02:14 pm: The 'naamdaar' of Congress keeps getting promoted even if he doesn't do anything. He was made General Secretary of the party in '07. He said he'll make a young team & bring new ideas, it has been 11 yrs & things are still what they used to be: PM Narendra Modi in Chikkamagaluru
02:13 pm: Rahul Gandhi is MP from Amethi since 2004, go and check the situation there, it is only getting worse: PM
02:10 pm: Congress only wants to remain in power. In 1978, Indira ji came here, took your votes but never cared for people of this region. Congress never thought about the welfare of people of Chikmagalur. Sonia Ji too contested from Bellari, but what happened to promises made in Bellari: PM
02:05 pm: Congress is not only trying to divide the society on religious lines but also capture religious places: PM
02:02 pm: BJP will form government with absolute majority in Karnataka : PM Modi
02:02 pm: Congress fears defeat in these elections. They are spreading lies to mislead the people of Karnataka: PM Modi
02:01 pm:Those who criticise EVMs after losing elections should come here and see the crowd': PM
01:59 pm: PM Modi begins address at the poll rally in Chikmagalur, Karnataka
Watch PM Modi rally in Bangarapet here: 
11:56 am: If Baba Saheb Ambedkar had not given us such a social document in the form of Constitution, today the son of a chaiwallah would not have become PM: Modi
11:47 am: The strategy of Congress'new 'naamdar' is to lie, everyday, every time and in every possible way: PM
11:46 am: The nepotism in Congress is not just relevant in Delhi, it has also crept into the street-level leaders of the party, Several Congress leaders only want to help their sons and daughter and not let any other Dalit son rise as he may pose threat to their power: PM
11:45 am: I have persuaded soft drink companies to include at least five per cent of real fruit juices in their beverages to ensure the sale of farmers' fruit yields: PM
11:41 am: We have set aside Rs 1 lakh crore for agriculture irrigation scheme so that farmers can get water to for crops: PM
11:40 am: When people of Kolar went to the CM to ask for their right - water, they were lathicharged: PM
11:30 am: Congress is only interested in deals. I'm not saying this. It's a Congress MP & former CM (Karnataka) Veerappa Moily who said this. When tickets were sold, he said that Congress will have to solve their 'money problem' & also blamed PWD Minister for deal-making: PM Modi
11:26 am: Your acts have brought you from 400 to 40 and yet from past 4 years you have refused to accept the reality, you don't allow the parliament function, you cross the limits of democracy: PM on Congress leader
11:23 am: The naamdaar has no respect for senior party leaders, political experts, internal party democracy, who openly declares himself PM for 2019 - such an immature person cannot be accepted by people as a leader: PM 
11:20 am: Yesterday someone made an important declaration- he said, "I am going to be PM!" He came like those bullies, barging his way ahead when there are others who have many years of experience. How can someone just declare himself as the PM? This is simply nothing but arrogance : PM
11:15 am: Those born with a golden spoon of foreign gold will never understand the need of toilets in poor households: PM
11:15 am: Congress sowed seeds of black money and corrupt practices in India over the decades
11:15 am: Wherever Congress gets a chance (to govern), it gives birth to bad elements like corruption and crime: PM
11:13 am: I too have a remote control, which is in hands of 125 crore people of India, I will do as people say. They are my high command: PM
11:12 am: For 10 years, Manmohan Singh ji was sitting as PM but his remote control was in the hands of Sonia ji sitting at 10 Janpath: PM
11:10 am: Congress darbaris (regional leaders) are only loyal to 'naamdars' sitting in Delhi and not common people: PM
11:10 am: Congress takes governance as a contract for corruption, nepotism: PM
11:08 am: Congress suffering from six diseases - party culture, communalism, casteism, crime, corruption and contract schemes
11:03 am: People across India are packing up and seeing off Congress from governments, now its Karnataka's chance to bid adieu to Congress: PM
10:56 am: PM Modi begins addressing a public meeting at Bangarapet, Karnataka