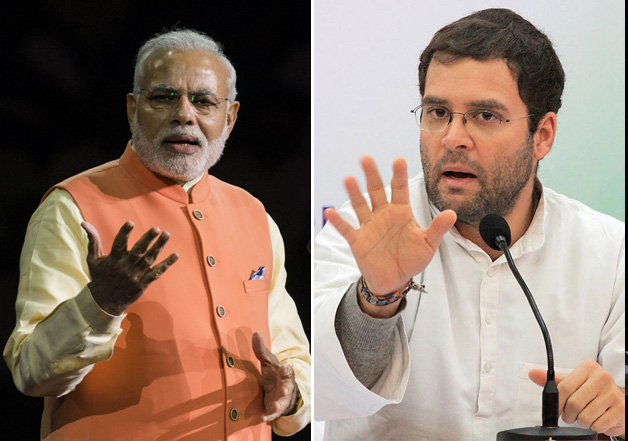 Prime Minister Narendra Modi and Congress president Rahul Gandhi were at their acerbic best today as they launched no-holds-barred 'war of words' against each other while campaigning for their respective parties, BJP and Congress, for upcoming Karnataka Assembly elections.
PM Modi addressed three public meetings in the poll-bound state today. Rahul Gandhi, on the other hand, addressed four rallies.
While PM Modi accused Congress of insulting Army chiefs, Rahul Gandhi accused the prime minister of launching personal attacks against him.
"Forgetting the national heroes, patriots and history is the nature of a family in the Congress. (Jawaharlal) Nehru and VK Krishna Menon insulted General (KS) Thimayya, who had to resign. They neglected General (KM) Cariappa," PM Modi said.
The prime minister also blasted Congress for questioning the genuineness of the assault by the Indian Army.
"They (Congress) sought proof about the genuineness of the surgical strike. Bodies of Pakistani soldiers were carried on trucks, a newspaper said that... and they need proof. Should our soldiers go on such operations with a camera or a gun?"
Rahul Gandhi, on the other hand, blasted PM  Modi for his "personal attacks" on him, saying it does not behove a person who holds the high office.
"Whenever Modi is afraid....I would tell you about Modi's character....he launches a personal attack on a person.  He will talk ill of a person, will talk wrong of a person," Rahul Gandhi said.
"I will not attack him personally however much insolent his attacks are. But I will ask questions. I am a soldier of the Congress not an RSS man who spreads hatred," he added.
Watch Video: PM Modi, Rahul Gandhi attack each other while campaigning for Karnataka Assembly polls