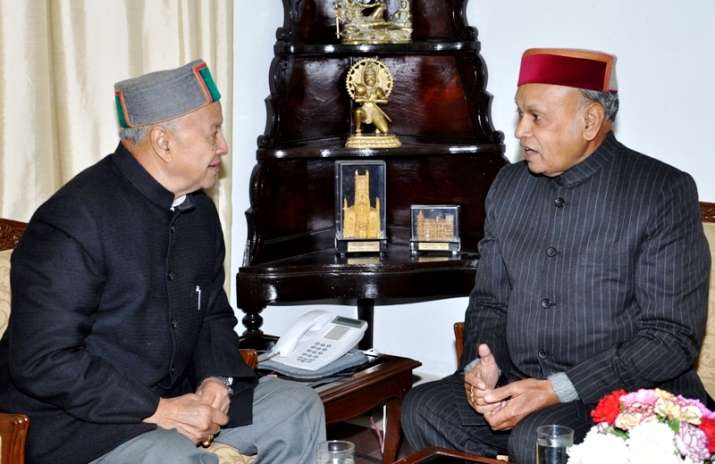 Virbhadra Singh or Prem Kumar Dhumal, Vikramaditya Singh or Anurag Thakur, incumbent or ursurper, Congress or BJP - Himachal Pradesh's fate for next five years shall be revealed after the counting today.
The counting of votes for all 68 Assembly constituencies that went to polls on 9 November would be taken up today at 42 counting centres simultaneously and the results are likely to be declared by noon.
A total of 781 counting tables have been set up at these 42 counting centers where 2,820 officers would be deployed for counting of votes, including 940 supervisors, 940 counting assistants and 940 micro-observers, Chief Electoral Officer, Pushpender Rajput said.
In Himachal Pradesh, BJP is enjoying a landslide victory, if exit polls are to be believed. The halfway mark in the 68 seat assembly is 35.
Both Congress and BJP will be observing the results with baited breath. Even though the incumbent Singh has been down since the start, with lack of funds for campiagns and later absymal performance in exit polls, the 'raja-saheb' is sure that the people will vote him back to power for one last stint.
BJP on the other hand, has backed two-time chief minister PK Dhumal with power packed campaign. The star studded rallies, street plays, vans with huge TV mounts, poster and social media worked round the clock to gather votes for the former chief minster.
Hightened security to allay tempering fears
To allay Congress' fears of EVM tampering, the Election Commission has arranged for supervision of counting by 68 returning officers, one for every constituency, and web-casting, video-graphing and CCTVs at all counting stations. One polling booth from each constituency would be selected by draw of lots for counting of VVPAT slips.
Three-tier security arrangements for the whole process have been made and there would be a total ban on mobiles phones at the counting stations.
A highest ever polling of 74.61 percent was recorded in the state in 2017 Assembly polls and women outnumbered men in polling by about one lakh votes, the official said.
There were 337 candidates in the fray including 19 women with BJP and Congress fielding candidates from all seats.
Counting for all the five Assembly segments of Chamba district including Churah (SC), Bharmour (ST), Chamba, Dalhousie and Bhattiyat will be held at Government Millennium Polytechnic College Chamba while counting of votes for Lahaul and Spiti would be taken up at Bhuntar.
The counting would be held in the Tehsil headquarters in 42 constituencies while counting of 26 constituencies would be held in adjoining sub-divisional headquarter, according to officials.