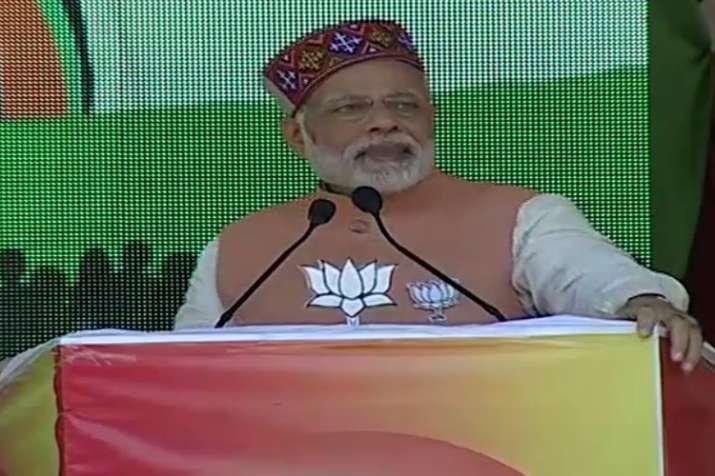 Prime Minister Narendra Modi on Sunday termed the upcoming Himachal Pradesh Assembly elections as a "one-sided contest" for the Bharatiya Janata Party (BJP). 
"I have never seen the enthusiasm that I am witnessing this time in HP during elections. It's a one-sided contest. This is a clear indication that people want change," said PM Modi while addressing a public rally in Una. 
"People of Himachal Pradesh have decided to teach a lesson to the Congress in these elections. I will only regret one thing in these elections, that I am not having fun because Congress has left the battlefield," he added. 
PM Modi also asserted that the people of Himachal Pradesh now know that it is only the BJP which will work for their welfare.
 
"People are now well aware of our government that works dedicatedly and a government that used to make only statements. Newspaper publications are also tired of posting news about BJP only because nothing else is coming from the other side," he said. 
PM Modi also took a dig at former Prime Minister Rajiv Gandhi and said that the latter refused to combat the menace of corruption.
 
"Congress did not implement the benami assets law as they were well aware it would reveal all their wrongdoings. Few people who faced the heat of demonetisation are still complaining & planning to observe 8 November as black money day," he said. 
Further, addressing a rally in Kullu, PM Modi took a dig at former Prime Minister Indira Gandhi, saying that she had refused to carry out demonetisation during her tenure. 
"Former PM Indira Gandhi refused to carry out note ban. Had she done note ban when needed, I would not have had to carry out this big task," he said. 
Corruption is Congress' only identity: PM Modi
Addressing an election rally in Himachal Pradesh's Palampur, PM Modi said that "corruption is the only identity of Congress". 
Taking a jibe at Chief Minister Virbhadra Singh and his wife Pratibha Singh for undergoing probe in connection with a Disproportionate Assets case worth Rs 10 crore, the Prime Minister said, "Corruption is the only identity of Congress party. Himachal Pradesh Chief Minister from Congress is known for corruption."
The Prime Minister said the people of Himachal Pradesh will remember former chief ministers Prem Kumar Dhumal for his contribution in promoting tourism and Shanta Kumar for taking up the herculean task of laying water pipelines, but the Congress governance for corruption.
"Welfare of people has never been a priority for the Congress party. People of Himachal Pradesh have decided to teach a lesson to those who have cheated them," PM Modi said.
Confident about the Bharatiya Janata Party's victory in the upcoming assembly election, he said, "The Congress is going to mourn a lot in the coming week, but it is natural since they have nothing to do except mourning."
Congress usurped subsidy of Rs 57,000 crore: PM Modi
PM Modi went on to hit out at the Congress-led UPA government for abusing subsidy of Rs 57,000 crore meant for the poor. 
"People used to loot the treasury in the name of subsidies. In the past, 57,000 crore used to get leaked due to rampant corruption in implementing subsidies," Modi said at an election rally here ahead of the state's November 9 assembly polls.
"Now our policy has stopped the leak. The leaders in Congress cannot bear this, so they are attacking me."
Taking potshots at former Prime Minister Rajiv Gandhi's statement that Re 1 ends up as 15 paise when it reaches villages, Modi said: "Rajiv was such a doctor who diagnosed the problem of corruption but did not do anything about it.
He has made sure that the whole of 100 paise now goes into the pockets of the poor.
Modi, on his third and last election tour of the state, said: "In the last 20 years, there has not been a single election where I have not been involved. But this is an unprecedented election. I know where the wind is blowing.
"A storm is raging here against the corrupt Congress."
Batting for his government's biggest tax reform with the implementation of the Goods and Services Tax (GST), Modi said it has benefited the transport sector.
"This country has warmly welcomed GST as it has immensely benefited the transport sector. Truck movement between the states has gained pace."
Talking tough against black money and holders of 'benami' or illegal properties, Modi said after demonetisation at least three lakh companies came under the scanner.
"We did a sample survey of 5,000 companies and saw that they at least transacted Rs 4,000 crore worth of black money. I can only imagine what will happen if we look at the transactions of all the companies," Modi added.
(With inputs from agencies)