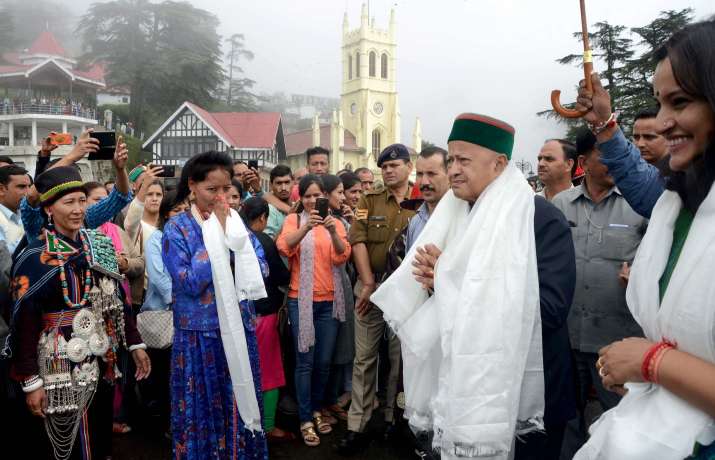 Among the 12 districts in Himachal Pradesh, Kangra has the largest number of 15 assembly constituencies and holds the key in the November 9 election.
Kangra has historically drawn the interest of political parties. They have campaigned extensively in the district to ensure their partys victory. Political pundits have kept an eye to gauge the mood of electors in the hilly state.
In the 2012 state polls, the Congress party won 10 seats in Kangra, followed by the BJP at three.
The other districts that have a significant number of assembly seats are: Mandi (10); and Shimla (8).
Together they can swing the election for any political party.
Himachal Pradesh is set to witness an intense battle between the Congress and the BJP.
In the 68-member Himachal Pradesh assembly, the ruling Congress has 35 members while the strength of the opposition BJP is 28. There are four independents and one seat is vacant.
Chief Minister Virbhadra Singh will fight for a seventh term. Congress vice-president Rahul Gandhi last week declared Virbhadra Singh as the partys next chief ministerial face, saying he will be chief minister for the seventh time.
The BJP will be fighting out on the back of a sweeping Lok Sabha victory in 2014 in the state too and landslide wins in Uttar Pradesh and Uttarakhand assembly polls in March.
On November 9, nearly 12 lakh electorates in the district would vote to choose their new representative to the assembly.
District returning officer C P Verma said as the district has a boundary with Punjab, 18 inter-state checkposts have been created to paramilitary forces to check illegal movement of people.
He said the polling party to the mountainous Bara Bhangal area shall be sent by a chopper.
The district has a total number of 1,553 polling stations. He said the Verifiable Paper Audit Trail (VVPAT) machines will be used in the next elections for the first time in the state.