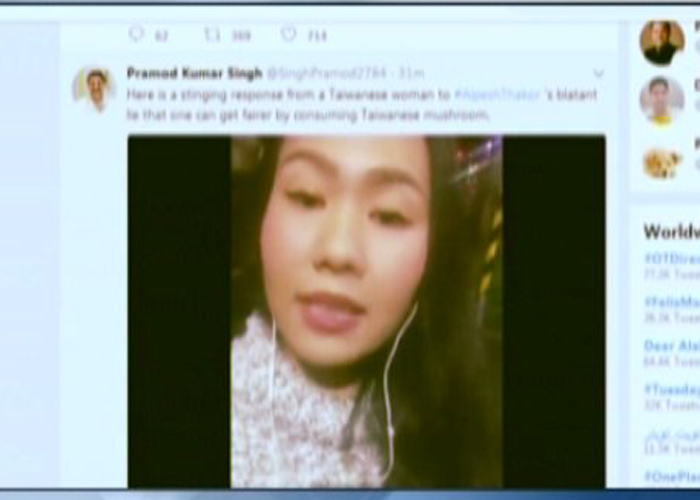 Hours after newly-inducted Congress leader Alpesh Thakor stoked a controversy by saying that imported mushrooms that cost Rs 80,000 per piece are the secret behind PM Narendra Modi's 'fair skin', a Taiwanese woman has rejected the OBC leader's claims by saying that she hasn't heard of any such thing in her country adding that her country shouldn't be involved in Indian politics.
"I am Messi Joe, I'm from Taiwan, I saw a news today that is from India, its Indian leader saying that there is some mushroom in Taiwan that costs $1,200 and if you eat that mushroom you can make your skin lighter and white. I haven't heard any such thing in my country and this is impossible", the Taiwanese woman said in a video which is now circulating on social-networking site Twitter.
Here is a stinging response from a Taiwanese woman to #AlpeshThakor 's blatant lie that one can get fairer by consuming Taiwanese mushroom. pic.twitter.com/kBrxjXOOyQ

— Pramod Kumar Singh (@SinghPramod2784) December 12, 2017
On the last day of Gujarat election campaign, Thakor alleged that PM Modi disliked Gujarati food and was fond of Taiwanese mushrooms which cost Rs 80,000 per piece.
ALSO READ | Gujarat Polls: Twitter trolls Alpesh Thakore for 'mushroom effect' comment against PM Modi
The Radhanpur candidate said, "Though the prime minister claims to be a common man, he is not so. He might claim his love for Gujarat but he dislikes Gujarati food."
"So he eats imported mushrooms from Taiwan priced at around Rs 80,000 a piece. He has five everyday."
"He was dark like me but he became fair because of these imported mushrooms," Thakor said. "You cannot have what PM Modi eats because it is not food for the poor. A source told me Modi ji has been eating it (imported mushrooms) since he was the CM (Chief Minister) of Gujarat. I have seen his earlier photos. He was dark like me, but now he has grown fairer", he added.