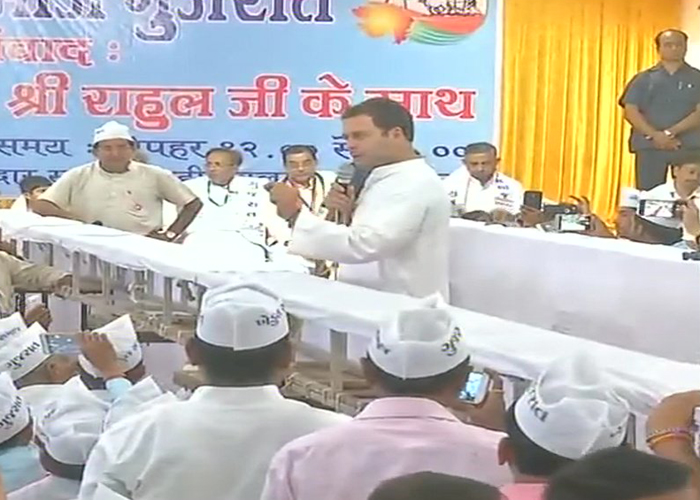 Congress vice-president Rahul Gandhi, who is on a three-day tour to south Gujarat, on Friday addressed Navsarjan Yatra in Gujarat's Vapi.
This is Gandhi scion's last day of third phase campaign in Walsad, Navsari and Surat. 
Meanwhile, the Congress vice-president is also expected to address a rally in Surat at 7 pm today.
RAHUL GANDHI'S DAY 3 OF SOUTH GUJARAT TOUR: AS IT HAPPENED
Met Rahul Ji. He told us 90% of our demands aren't demands but our constitutional rights which will be included in manifesto: Jignesh Mevani pic.twitter.com/QaikXKcnw6

— ANI (@ANI) November 3, 2017
#The Congress vice-president interacts with Gujarat Khedut Samaj in district Valsad's Dharampur Chokdi.
#Rs 33,000 crore was given for Nano but I haven't seen a single Nano in the past 10-15 days. I've been looking for one but couldn't find it, says Rahul Gandhi.
#WATCH: Congress VP Rahul Gandhi addresses a public rally in Gujarat's Pardi. https://t.co/S89CXLqgRY

— ANI (@ANI) November 3, 2017
#Rahul Gandhi attends Navsarjan Yatra in Gujarat's Vapi.
#On the last day of his visit, Rahul Gandhi is expected to meet farmers, fishermen, traders.
#Drawing an analogy with the Pandava-Kaurava tussle in the epic Mahabharata, Rahul Gandhi on Thursday said that the fight between his party and the BJP in Gujarat was one between "truth and lies", where the truth lay on the Congress's side.
#Gandhi said that while the prime minster was armed with his "government, police, army, governments in Gujarat, Uttar Pradesh, Madhya Pradesh, Chhattisgarh", he had truth on his side "and we need nothing other than truth". "The fight is between truth and lies. Kauravas had a huge army, weapons, and Pandavas only had truth and nothing else. I would like to tell you that we only have truth and nothing else," he said at a rally at Nana Pondha town in the tribal-dominated Valsad district.
#Gandhi on Thursday  resumed campaigning in the poll-bound state after returning from Rae Bareli where he had flown to meet the victims of yesterday's blast at an NTPC power plant.