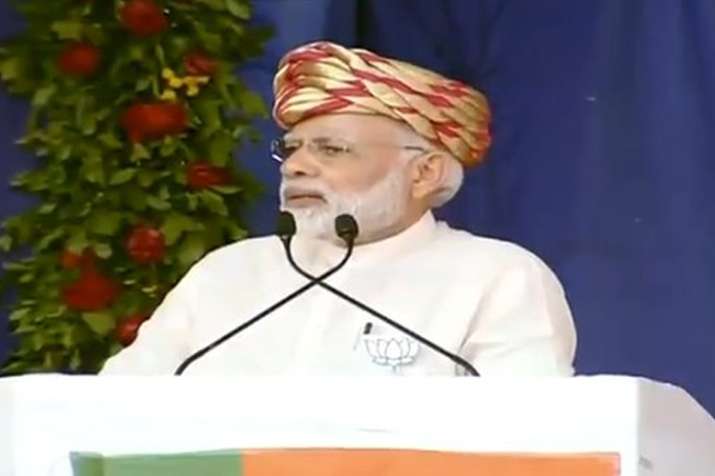 PM Narendra Modi is back in battlefield Gujarat and is addressing back-to-back rallies in different parts of south Gujarat. Addressing his first rally of the day in Gujarat's Morbi, the prime minister on Wednesday accused the Congress of taking credit and political mileage over minor schemes, like providing hand-pumps, while saying that the BJP rule brought major projects like the Narmada project for the benefit of the people.
"Those who have looted the country can only think of dacoits," he said addressing a rally at Morbi in Saurashtra, which votes in the first phase of state Assembly elections on December 9.
Attacking the Opposition party, Modi said, "The Congress' development model was giving hand-pumps. For BJP it is the SAUNI scheme (the Narmada water project for Saurashtra region), where we will fill dams of Saurashtra through huge pipelines."
Meanwhile, Congress vice-president Rahul Gandhi is also in Gujarat today to step up Congress' campaign ahead of the first phase elections on December 9. The Gandhi scion will kick off the current trip with a visit to the famous Somnath temple. He will also visit Junagadh and Amreli.
Gujarat goes to polls in two phases on December 9 and 14, while votes will be counted on December 18. While 89 seats of Saurashtra and South Gujarat region will vote in the first phase, the election in the remaining 93 constituencies in central and northern regions will be held in the second phase.
LIVE UPDATES OF PM MODI'S RALLY IN NAVSARI
06:33 pm: PM Modi halted his public address as the Azaan began  
06:26 pm: When we remember people, we remember Mahatma Gandhi, Lord Buddha, Sardar Patel, Netaji Bose, Bhagat Singh but they remember Gabbar Singh. What more can I say about their thought process: PM Modi
​06:18 pm: The Congress version of GST places salt, which a poor person wants with expensive cigarettes and alcohol. How can I allow this? Our fight is for giving the poor their rights while Congress fights for the interests of the rich: PM Modi
05:52 pm: Congress dislikes Gujarat as they will be defeated here. Victory and defeat are a part of life. There was a time when our party would distribute sweets when we saved our deposits. These things happen in a democracy, Congress should not be consumed by such hatred: PM Modi
05:50 pm: During UP elections two leaders set forth to campaign and media went overboard in glorifying them. They wrote that Modi is finished. The result is for everyone to see. And, what did these two leaders do in UP? They called Gujaratis donkeys: PM Modi
05:41 pm: There are three elections going on- one in UP local bodies, one in Gujarat and the third one for the Congress President. In the first two the BJP is sure to win. And in the third one, no one except one family will win: PM Modi 
PM MODI'S RALLY IN PALITANA: As It Happened
04:05 pm: They hate development, they hate Gujarat, they hate Modi and now they hate sweat also. That is because they have never had to sweat it out in life and work hard. They are mocking everyone who works hard. This is their mindset. Such hatred for the poor is shocking: PM Modi
04:04 pm: When I was Chief Minister I would plead to the Congress and Congress leaders in Gujarat to let us get the Narmada project moving and help our farmers but Congress was not interested: PM Modi
04:04 pm: We have the legacy of Fakir Gandhi - the great Mahatma. They have the legacy of 'royalty'. They were born with all privileges and are disconnected with the roots: PM Modi
03:59 pm: If Congress was in power Narmada waters would never come here and the farmers would have been disadvantaged. Congress has tried everything possible to delay the project: PM Modi
03:52 pm: In the last 22 years, the BJP has ended the tanker rule with uninterrupted development
03:50 pm: The Congress Party, which wants to destroy the country, sees the dream of power in Gujarat
03:49 pm: In the Congress rule, there are 7 out of 10 Rath yatras in which communal riots occurred: PM Modi
03:47 pm: If they want to see what we have done, they don't have to go long, if they come across the ro-ro ferry service in Ghogha-Dahej, then they will know what we did: PM Modi in Palitana
03:46 pm: BJP has changed this in the last 22 years. We have made the tanker industry irrelevant: PM Modi
03:46 pm: Do you remember the water shortage in the region? This is because the Congress controlled the tanker business. It suited them to have this shortage: PM Modi
03:45 pm: Since the BJP government has been formed, the black works of bloodshed of innocent people have been stopped: PM Modi
03:39 pm: The Congress has lost the courage to fight against the BJP on the plank of development: Modi
03:33 pm: Prime Minister Narendra Modi wins a grand reception from people of Palitana
PM MODI'S JUNAGADH RALLY: AS IT HAPPENED
02:11 pm: Congress is seeking votes of the OBC communities but they should answer why they did not allow OBC commission to get constitutional status for all these years. We brought in the move, it was passed by Lok Sabha but stalled in the Rajya Sabha, where Congress has majority.
02:10 pm: I want to assure you, Congress may try to put roadblocks, I am committed to ensure their designs fail. Parliament is meeting soon and we are going to bring that issue on the floor of the House again. We want to give our OBC communities their due.
02:09 pm: I want to ask the Congress. What is it that you have against our army? The demand for OROP was pending for forty long years. Why did successive Congress governments do nothing about that, asks PM Modi.
02:07 pm: When elections were approaching, they announced a meagre Rs 500 crore for OROP when the real requirement was a lot higher. This was misleading of the highest order.
2:01 pm: When Dr. Rajendra Prasad was coming to inaugurate the Somnath temple, Pandit Nehru expressed his displeasure on that. Sardar Patel dreamt about the Narmada but your family did not let that dream fulfil.
1:45 pm: I'm a son of this soil, says PM Narendra Modi in Junagadh.
This is my second day of campaigning. I have traveled to Saurashtra and South #Gujarat. The enthusiasm is remarkable. I can see so many women who have come to bless us: PM @narendramodi in Prachi #GujaratElection2017 pic.twitter.com/1zVnUcAadP

— India TV (@indiatvnews) November 29, 2017
PM NARENDRA MODI'S RALLY IN MORBI: AS IT HAPPENED
12:01 pm: When Indira Ben came to Morbi, I remember there was a photo of her in Chitralekha magazine with a hanky over her nose due to the foul smell, but for Jansangh the streets of Morbi are fragrant, its the fragrance of humanity.
11:54 am: In Gujarat, we initiated a mass movement to conserve every drop of water. This is because we understand the adverse impact of lack of water. Development for us is not about winning polls, it is about serving every citizen.
11:49 am:  The main issue in Kutch and Saurashtra when we came to power was water shortage. Lack of adequate water was affecting society. The BJP government changed this and got waters of the Narmada to these regions.
11:48 am:  Well-being of Gujaratis most important for us. Even when we were not in power, we were doing everything possible for the people.
11:47 am: Congress' development model is hand pump and BJP's is Narmada project.
11:46 am: For Congress, 'development' was giving hand pumps. For BJP, it is SAUNI Yojana and large pipelines that carry Narmada waters. We also focussed on check dams.
11:45 am: I spent one full month working with those affected by the flood. There were many families where all the members were tied in the disaster.
11:44 am: History is a proof that we always stood with people during highs and lows.
11:38 am: PM Modi continues campaign blitz in Gujarat, says today Morbi is know nationwide.
11:25 am: Indira Gandhi insulted Gujaratis, says PM Modi in Morbi.
11:20 am: PM Narendra Modi is addressing rally in Gujarat's Morbi.
08:30 am: PM Modi will arrive at Morbi and address a large public gathering at Parshuram Pottery on Bhadiyad road at around 9 am.
08:25 am: The prime minister will be accompanied by Deputy Chief Minister Nitin Patel.
08:20 am: Later, he will visit Saurastra region's Prachi area and address a public meeting at Prachi Timdi in Sutrapada Taluka road. Gujarat Chief Minister Vijay Rupani will greet him and accompany him.
08:19 am: In the afternoon, Modi will visit Palitana, a famed pilgrimage centre of the Jain community in Bhavnagar.
08:18 am: The prime minister will address a public gathering near Palitana Circuit House. Palitana is believed to be the most sacred pilgrimage of the Jain community, the most prosperous community in the state comprising five per cent of the population.
08:15 am: Modi's last public address will be at Navsari in south Gujarat in the evening opposite Tighravadi. He will be welcomed by BJP national vice-president Parshottam Rupala.
08:10 am: After the address, PM Narendra Modi will fly back to Delhi.
08:00 am: PM Narendra Modi had on November 29 launched a campaign blitzkrieg by addressing four election rallies in different parts of Saurashtra and south Gujarat.