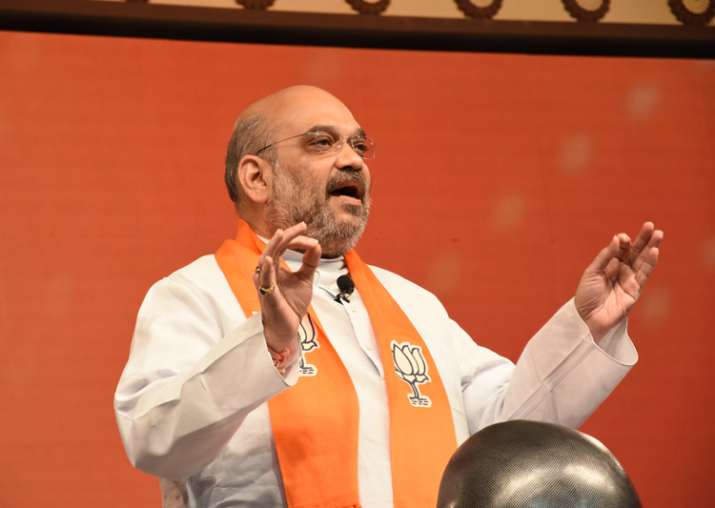 BJP president Amit Shah today hit out at Congress leader Rahul Gandhi and cautioned him for invoking the legacy of Sardar Vallabh Bhai Patel in his poll campaign. 
Replying to questions from Rajat Sharma at the India TV conclave "Chunav Manch" here, Amit Shah alleged that "the Congress insulted Sardar Patel during his lifetime, prevented him from becoming Prime Minister, and did not allow ministers to attend his funeral."
Shah added: "Nobody insulted Sardar Patel more than the Nehru-Gandhi Congress. They prevented him from becoming PM, ministers were not allowed to attend his funeral, Bharat Ratna was not conferred on him until 1991. Even the Sardar Sarovar dam project was put on hold because it had its name. It was really  vindictive."
On Rahul Gandhi's recent remark  that it was "shameful" that the Sardar Patel statue was being made in China, Amit Shah snapped back: "The world's tallest statue of Sardar Patel will be erected in Gujarat. People of Gujarat will not tolerate Rahul Gandhi for this joke. The voters of Gujarat will give a stinging reply to this joke."
On the GST issue, Shah said that the GST was the "world's largest tax system" that is being implemented, and teething problems are being ironed out. "Already the GST Council has addressed most of the grievances of traders, exporters and consumers, and officials have fanned out across the country to talk to traders about their problems."
The BJP president said, a high-level committee would be meeting again on October 20 to decide on some more issues relating to GST. "Modi government is fully sensitive to the concerns of all on GST. We will not allow people to face problems."
On the criminal defamation suit filed by his son Jay Shah against a media website, the BJP chief again hit out at Rahul Gandhi, saying he does not know the difference between turnover and profit. 
Shah said: "Rahul ji had alleged that Jay had made Rs 80 crore profit, whereas, the fact is it was turnover, and his company faced Rs 1.4 crore loss. Moreover, there is difference between Line of Credit and loan. Line of Credit is only a guarantee for importing goods, and it is 100 pc mortgaged. It is not loan". 
"Neither did my son take any land from the government, nor was any contractor involved."
Asked why Railway Minister Piyush Goyal was asked to address press conference to defend his son, Shah said: "Piyush Goyal spoke as BJP leader, and not as a minister to defend. We are in public life. Do we not have the right to defend ourselves in public? Do they (Congress) want that we should have remained silent?"
Amit Shah threw a challenge at Rahul Gandhi. He said: "Several allegations were made against him and his family. Did they file a single criminal defamation suit? Let him file."
The BJP president rejected Congress leader Prithviraj Chavan's charge that demonetization was done to benefit US companies in the guise of digitization. "Its baseless. Demonetization has brought benefits. It is wrong to say that digital transaction is benefiting foreign companies. Use the Bhim App, where not a single paisa is being charged."
Amit Shah said, there was no scope of any "third alternative" in Gujarat. "After 1990, the voters of Gujarat had been consistently voting in favour of BJP both in the assembly and Lok Sabha elections. There are only two main parties - BJP and Congress. There is no third formation in existence."
Shah claimed that the BJP would get "three-fourth majority" in Gujarat this time, and "will form a government under the leadership of Vijay Rupani".