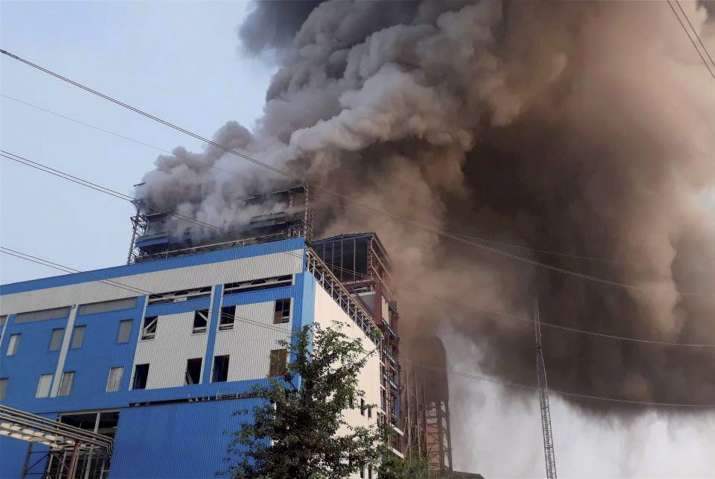 Congress vice-president Rahul Gandhi has cut short his election campaign in Gujarat to visit Uttar Pradesh's Raebareli where a massive explosion ripped a boiler at the state-run power giant NTPC's Unchahar plant killing at least 26 people and injuring nearly 100.
"Due to the unfortunate NTPC accident, I will visit Raebareli tomorrow morning. Will join Gujarat Navsarjan Yatra in the afternoon," Rahul Gandhi had tweeted on Wednesday night.
The Congress vice-president met the families of victims of a massive explosion at an NTPC power plant. Rahul Gandhi on Wednesday began his three-day campaign tour of south Gujarat, where Assembly poll is scheduled to be held in December.
Congress VP Rahul Gandhi visits the District Hospital in Raebareli, to meet with the victims of #NTPCExplosion pic.twitter.com/AGFBPe2fkR

— Congress (@INCIndia) November 2, 2017
Congress president Sonia Gandhi, who represents Raebareli in the Lok Sabha, in her condolence message said she wanted to be with the families of the victims to share their pain in this hour of grief, but could not do so due to her indisposition.
Meanwhile, PM Narendra Modi has approved an ex-gratia of Rs 2 lakh each for the next of kin of those who lost their lives in the accident. Rs 50,000 each will be given to those injured in the accident.
The prime minister said he was "deeply pained" by the accident at the power plant and added that the situation was being closely monitored.
"Deeply pained by the accident at the NTPC plant in Raebareli. My thoughts are with the bereaved families. May the injured recover quickly. The situation is being closely monitored & officials are ensuring normalcy is restored," the prime minister's office tweeted.
Meanwhile, the NTPC has initiated a probe to ascertain the reasons behind the blast, while Uttar Pradesh Chief Minister Yogi Adityanath has announced Rs 2 lakh compensation for the families of those killed and Rs 50,000 for the grievously injured.
Power minister RK Singh has also announced ex-gratia of Rs 20 lakh to next of kin of the deceased, Rs 10 lakh for those injured seriously and Rs 2 lakh for minor injuries.
In a statement, the National Thermal Power Corporation (NTPC) said that at unit number six of its Unchahar plant, there was a sudden abnormal sound at 20-meter elevation around 3:30 in the afternoon.
There was an opening in corner number two from which hot flue gases and steam "escaped" affecting the people working around the area, the central public sector undertaking said. It added that around 80 people were rushed to NTPC hospital, most of whom were discharged after first-aid.
The 1,550-MW plant supplies electricity to nine states, according to officials, and employs around 870 people.
The Unchahar sub-division in Raebareli, which is represented by Congress president Sonia Gandhi in Parliament, is around 110 km from the state capital.