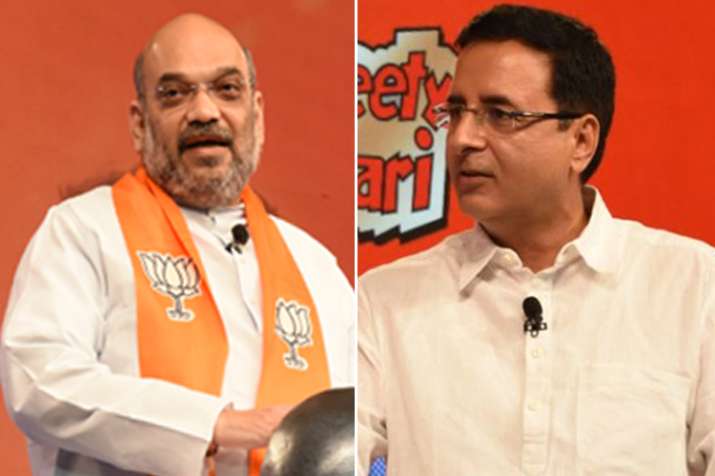 India TV's mega election conclave "Chunav Manch", held in Ahmedabad on October 15, provided a platform to all the major political players in  Gujarat to explain why people of the state should hand over the reins of the power to them in the upcoming Assembly elections.
The ruling BJP exuded confidence of continuing its winning spree in the state by securing more than 150 seats , the Congress mocked at the claims made by the saffron party terming them as mere "over-confidence" of the ruling party.
Here are the highlights of the event:
People of Gujarat will not tolerate Rahul Gandhi for his 'joke' on Sardar Patel, BJP chief Amit Shah
BJP president Amit Shah today hit out at Congress leader Rahul Gandhi and cautioned him for invoking the legacy of Sardar Vallabh Bhai Patel in his poll campaign.
Amit Shah alleged that "the Congress insulted Sardar Patel during his lifetime, prevented him from becoming Prime Minister, and did not allow ministers to attend his funeral."
Shah added: "Nobody insulted Sardar Patel more than the Nehru-Gandhi Congress. They prevented him from becoming PM, ministers were not allowed to attend his funeral, Bharat Ratna was not conferred on him until 1991. Even the Sardar Sarovar dam project was put on hold because it had its name. It was really vindictive."
On the GST issue, Shah said that the GST was the "world's largest tax system" that is being implemented, and teething problems are being ironed out.
The BJP president said, a high-level committee would be meeting again on October 20 to decide on some more issues relating to GST.
On the criminal defamation suit filed by his son Jay Shah against a media website, the BJP chief again hit out at Rahul Gandhi, saying he does not know the difference between turnover and profit. 
Shah said: "Rahul ji had alleged that Jay had made Rs 80 crore profit, whereas, the fact is it was turnover, and his company faced Rs 1.4 crore loss. Moreover, there is difference between Line of Credit and loan. Line of Credit is only a guarantee for importing goods, and it is 100 pc mortgaged. It is not loan".
Only bhashan, no shasan will not work anymore: Randeep Singh Surjewala
Training guns on the BJP-led Central and state governments, Congress spokesperson Randeep Surjwala today alleged that businesses in Gujarat have been ruined under the saffron party's rule, adding that mere speeches without any action will not work anymore.
"Businesses in Gujarat have been ruined under the BJP. Only bhashan, no shaasan wil not work anymore," said Surjewala at Chunav Manch, India TV's day-long conclave on upcoming Gujarat Assembly elections in Ahmedabad. 
He also held Prime Minister Narendra Modi responsible for India's rank slipping to 100th on the Hunger Index.
"The nation which was at 54th position in hunger index in 2014 has been brought down to 100th by Modiji," he said.
Furthering his attack on the Modi government, Surjewala said that even if a single Indian sleeps empty stomach or jobless, it should affect the Centre sitting in Delhi.
Rahul Gandhi a 'pravasi panchhi', even God has rejected him, says Jitu Vaghani
Taking a jibe at Rahul Gandhi, Gujarat BJP chief Jitu Vaghani today said that the Congress vice-president is a 'pravasi panchhi', and that even the God has rejected him.
The Gujarat BJP chief also said that Congress has been telling lies to people of Gujarat since 1995, but the party has failed to win their votes.
Reacting to allegations of PM Modi's visit to the Gujarat temples a strategy to lure Hindu voters, Vaghani said that PM Modi and Amit Shah visit temples every time they visit Gujarat.
Vaghani was reacting to President of Gujarat Pradesh Congress Committee Bharatsinh Madhavsinh Solanki's allegation that BJP leaders visit temples only for votes.   
Zafar Sareshwala, who was also sharing the dais with Solanki and Vaghani, said that the Congress party should present its plan of development before the people of Gujarat. 
Training guns on Congress vice-president, Sareshwala said that Congress has been losing wherever it has let Rahul Gandhi lead the party.
"If two Hindus are competing, we will favour the one who is real," he said. 
"agar vikas pagal ho gaya hai, then what alternative you are offering to people," Sareshwala asked Rahul Gandhi.
We are neither slaves of BJP, nor Congress, Patel quota stir leader Hardik Patel
Declaring that his movement's topmost priority was to ensure defeat of BJP in the forthcoming Gujarat elections, Patel quota movement leader Hardik Patel today said, he and his supporters "are neither slaves of BJP, nor Congress".
Patel however posed a rider. "Even now, if the BJP convinces us that it can give us reservation in accordance with the Constitution, we will end our movement. And if it does not, our movement will continue."
Asked why he welcomed Congress leader Rahul Gandhi's arrival in Gujarat on social media, Hardik Patel replied: "If Modiji can meet Nawaz Sharif, why can't I welcome Rahulji in the spirit of 'Atithi Devo Bhava' (guests are gods)?"
PM Modi believes in making promises only, not acting on them: Dalit leader Jignesh Mevani
Targeting Prime Minister Narendra Modi and the BJP government in Gujarat, Dalit leader Jignesh Mevani today said that the farmers of the state are suffering because PM Modi didn't fulfil his promises, adding that the latter only makes promises in speeches but does not act on them.  
Furthering his attack, he said that the people of Gujarat elected the prime minister, but they will not be fooled again.
 
Mevani also said that Rahul Gandhi will never let India become a Hindu-nation. "Rahul Gandhi may do whatever he wants to, but we will not let this nation be a Hindu-nation," he said.
Local OBC leader Alpesh Thakore also attacked the BJP-led Central and state governments, saying that the Dalits in Gujarat are still facing atrocities.
"The people of Gujarat have asked for better education system and basic amenities. If the govt cannot fulfil these demands, it must at least work towards eliminating corruption," said Thakore.
BJP ministers blast Rahul Gandhi for questioning Gujarat model; say party will retain power
Three senior Ministers of the Gujarat government today blasted Congress vice president Rahul Gandhi for raising fingers at the Gujarat model of development and its architect Narendra Modi. 
Participating in Chunav Manch, India TV's day-long mega election conclave in Ahmedabad, state Health Minister Shankar Choudhary also slammed Rahul Gandhi for frequently visiting the poll-bound state and accused him of indulging in appeasement politics.
Irrigation Minister Nanubhai Vanani, the second panellist, said that the BJP has done work on ground and delivered it to the people of the state. He exuded confidence that the saffron party, which is in power for last two decades, will retain power in the upcoming Assembly polls.
Sports Minister Rajendra Trivedi, who was also present on the dais, took the opportunity to count several schemes of his government which, he said, directly benefited youth of the state.
No victory for BJP if the party fails to break its previous record: Jay Narayan Vyas
Bharaiya Janata Party (BJP) leader Jay Narayan Vyas today said that the party will claim victory in Gujarat only if it breaks its previous records, adding that this is the reason why BJP President Amit Shah has said that the party will win 150-plus seats in the upcoming state Assembly elections.
When questioned about the state seeing two chief ministers in three years, Vyas asserted that former chief minister Anandiben Patel resigned from the post at her own will. 
Meanwhile, Congress leader Shaktisinh Gohil, sharing the stage alongside Vyas, attacked BJP President Amit Shah, saying that he is the owner of all self-centred people. 
Gohil also said that Amit Shah's claim of winning over 150 seats in the upcoming state Assembly elections is nothing more than "over-confidence".
Expose Rahul Gandhi if you think he is at fault: Congress leader Arjun Modhwadia
Senior Congress leader Arjun Modhwadia on Thursday slammed the Bharatiya Janata Party (BJP) for continuously targeting Rahul Gandhi and said that they should expose the Congress vice president if he is at fault, in their opinion.
"No politician is capable enough to accuse Rahul Gandhi of anything. They should expose Rahul Gandhi if they think he is at fault anywhere," he said. 
Defending the Gandhi scion for his alleged involvement in the National Herald case, Modhwadia said, "Sonia Gandhi and Rahul Gandhi ji cannot take a penny from the National Herald as per the act".
Modhwadia wondered why the BJP was blaming the Congress for problems in Gujarat when its ruling the state for last 22 years.
Launching a scathing attack on Amit Shah, Modhwodia called the BJP President a 'proxy chief minister of Gujarat', adding that PM Modi and Amit Shah have resorted to 'below the belt politics'.  
Rahul Gandhi's visit to temples a political stunt: NCP's Praful Patel
Nationalist Congress Party (NCP) leader Praful Patel today took a jibe at Congress vice-president Rahul Gandhi for frequently visiting Gujarat in recent times in a bid to woo the voters where elections will be held later this year.
"All political parties do everything when is elections are near. Rahul Gandhi visiting temples is just a political stunt. Seeking blessings of god is good, but for votes… it is now correct," he said. 
Slamming the Congress for branding the NCP as the B-team of BJP, he said that the NCP is contesting against BJP in Gujarat and noted that his party shared power with Congress at both – Centre and Maharashtra to keep the saffron party out of power.
 
Patel also took the opportunity to blame the Congress for NCP's limited role in the national and state politics. "We played the role of younger brother with Congress, and thus we are very limited now."
He further said that "people want an alternative, they are not ready to accept the Congress and the BJP". "When the BJP can storm to power, which had once only 2 MPs, why can't NCP?" he added.
Sardar Patel statue will be 90 per cent Made in India: Gujarat Deputy CM Nitin Patel
Gujarat deputy chief minister Nitin Patel today clarified that the huge statue being built in memory of Late Sardar Vallabh Bhai Patel will be "90 per cent Made in India".
"The tallest statue of Sardar Patel to be erected near Sardar Sarovar Dam is being built by Indian company L&T. We are only importing some parts from China. The statue is being built 90 per cent in India", said Patel.
Nitin Patel said, the UPA government during its 10-year rule did "injustice" towards Gujarat, and this came to an end after Narendra Modi became Prime Minister. "Modiji has served the people of Gujarat authentic cuisine made in pure ghee", he added.
Asked why Anandiben Patel was removed as chief minister, and he was made deputy chief minister in Vijay Rupani's government, Nitin Patel replied: "Amit Shahji is our party president, and the decision was taken by our parliamentary board. I have been an MLA since 1990, and it is up to the party to entrust responsibility to me. I am just a smalltime worker. For me, it is a matter of pride to become deputy chief minister."
Gujarat voters are looking towards third alternative: Shankersinh Vaghela
Former Congress leader Shankersinh Vaghela has said that the people of Gujarat are now looking towards a third alternative, as they are unhappy with both the BJP and the Congress.
"The people of Gujarat voted for Congress since 1960, but their expectations were belied. They have been voting the BJP to power for last 22 years. But now, the voters are looking towards a third alternative, and that is where the Jan Vikalp (a recently formed political forum) comes up," said Vaghela.
Vaghela rejected charges that he was trying to divide anti-BJP votes. "Was Arvind Kejriwal trying to divide votes of Congress, BJP in Delhi? Was Mamata Banerjee trying to divide votes of Left and Congress in West Bengal? The politics of third alternative works in the whole of India. To say that ours is a B team of BJP or C team of Congress is incorrect."
Asked about what he told Prime Minister Narendra Modi in his ear after hugging him in 2014, Vaghela smiled and replied: "Well, it was I who started his hugging habit. He then hugged Putin, Obama, and now Trump. But the issues that I had raised at that time remain. I had spoken about big expectations of people, return of Kashmiri Pandits to valley, Ram temple in Ayodhya and removal of Article 370. Nothing has been achieved so far."
Gujarat govt never interfered in EC's decision about delaying poll dates, says Gujarat Chief Minister Vijay Rupani
Vijay Rupani today rejected Congress party's charges that the Election Commission was delaying announcement of poll dates because of "pressure from BJP".
"We never interfered in the work of Election Commission. Announcing poll dates is the Commission's prerogative, and the EC will do it at the appropriate time", Rupani told India TV editor-in-chief Rajat Sharma in "Chunav Manch", a daylong conclave on Gujarat elections in Ahmedabad today.
Rupani exuded confidence saying that the BJP would again retain power in Gujarat in the assembly polls. "Gujaratis are practical people, they believe in development, they know that with Narendrabhai at the Centre, a BJP government in the state will help them."
The chief minister hit out at Congress leader Rahul Gandhi saying, "his comments smack of 'bachpanapan' (childishness). For the Congress, 'vikas' (development) is a joke, for us 'vikas' is 'mizaaj' (state of mind)". 
He however clarified that he never said "vikaas paglaa gaya hai". "What I actually said was the Congress leaders used to continuously crib that there was no 'vikaas', and I said, these leaders seem to have become "paagal" (mad) about "vikaas"."
Rupani said, "Sonia Gandhi's 'putramoh' (love for her son) cause the decline of Congress, and Ahmed Patel's 'moh' (yearning) for Rajya Sabha seat has caused the demise of Gujarat Congress."