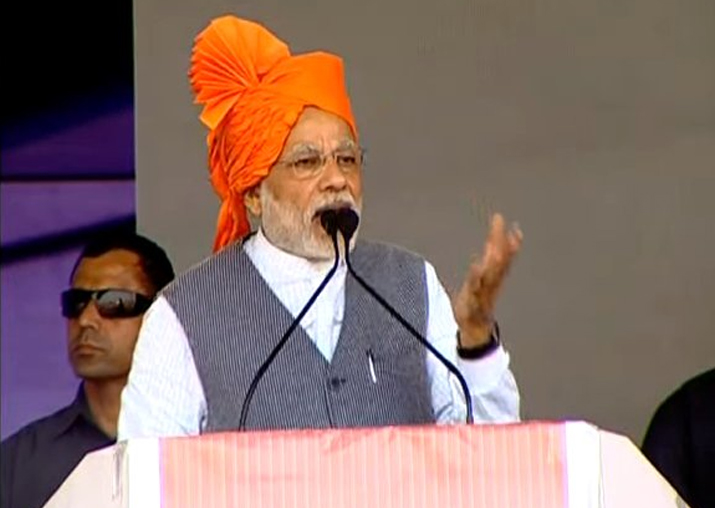 Ahead of the second phase of voting in poll-bound Gujarat, Prime Minister Narendra Modi today continued to power BJP's electoral campaign with four back-to-back rallies.
PM Modi addressed public meetings in Palanpur's Rampura Chaukri, Sanand's Gibpura, Kalol and Vadodara.
In the first phase, 68 per cent polling was recorded. 89 seats out of the total of 182 Assembly constituencies went to polls in the first phase with prominent candidates like Chief Minister Vijay Rupani (Rajkot West), Congress' Shaktisinh Gohil (Mandvi) and Paresh Dhanani (Amreli) in the fray. 
The election is being viewed as a prestige battle for PM Modi and a litmus test for the leadership of soon-to-be Congress chief Rahul Gandhi. 
The second phase of polling in 93 seats will be held on December 14 while the counting of votes is scheduled on December 18.
Highlights:
PM Modi addresses public rally in Vadodara
8:39 pm: I will never allow anything wrong to happen in this nation. Important to safeguard the rights of the poor and middle class: PM Modi
8:27 pm: During demonetisation the nation stood with me. They embraced short term pain for long term gain. Congress leaders got worried because everything that they accumulated has gone: PM Modi
8:20 pm: When our soldiers were fighting in Doklam, Congress leaders were meeting the Chinese Ambassador. When asked why, he said - to get a sense of what is happening in Doklam. Now, you tell me - in such times should we trust our authorities more or the Chinese: PM Modi
8 pm: These elections are about the Vikas agenda of BJP versus the destructive politics of the Congress: PM Modi
7:53 pm: Vadodara is special. The way this city supported me in 2014 is something I can never forget: PM Modi
PM Modi addresses public rally in Kalol
​
4: 35pm: There are some people in Delhi whose sole Mission is 'Parivar Bachao.' These are the same people who, in an hour of voting yesterday, started saying EVMs are hacked thanks to Bluetooths! Some logic this is: PM Modi 
4:25 pm: When I first stated my intent to ensure electrification of villages in Gujarat, the state Congress leaders mocked me. They said it can never happen, they also asked me- you have not headed a Panchayat how can you promise this. We proved them wrong, ensured villages get power: PM Modi
4:17 pm: With the Mantra of Shanti, Ekta and Sadbhavana, BJP governments have taken Gujarat to new heights of progress: PM Modi
4:11 pm: BJP is fighting these elections on the issue of development. Congress is back to their old tricks. A generational shift has not brought in a new political culture for the party. They rely on their same divide and rule politics: PM Modi
PM Modi addresses public rally in Sanand
​
02:35 pm: Our government has solved the issue of urea for farmers in a short span of three years: PM Modi
02:18 pm: Could anyone have imagined that Sanand, a small village, would reach such great levels of development: PM Modi 
02:06 pm: 
PM Shri @narendramodi addressing public meeting in Sanand. Dial 02245014501 to hear him LIVE. #GujaratWithNaMo pic.twitter.com/p0yQcLj40U

— BJP (@BJP4India) December 10, 2017
PM Modi's public rally in Palanpur
​12:42 pm: Mani Shankar Aiyar, who insulted Gujarat, held secret meetings with Pakistan High Commissioner. What was the reason? Why are people who previously held high posts in military-intelligence establishment of Pakistan writing that we should help make Ahmed Patel the CM: PM Modi
12:30 pm: 
प्रधानमंत्री श्री @narendramodi पालनपुर में चुनावी जनसभा को संबोधित कर रहें है। लाइव देखें https://t.co/osd6WUAGrV सुनें 02245014501 पर। pic.twitter.com/ssd9RHyIHo

— BJP (@BJP4India) December 10, 2017
Polling for the first phase ended on Saturday with over 68 per cent voter turnout recorded for the 89 Assembly seats in Gujarat where PM Modi and Congress' soon-to-be president Rahul Gandhi are locked in a bitter, high-stakes political battle after a 22-year BJP reign.  
Even as the polling passed off peacefully, opposition leaders raised apprehensions about electronic voting machine (EVM) tampering, a charge rejected by the EC.
The election in Modi's home state is crucial for the Congress and the BJP ahead of the 2019 Lok Sabha polls and is seen as a prestige battle for the prime minister, who was the chief minister of Gujarat from 2001 to 2014, and a litmus test for the opposition party's heir-apparent Rahul Gandhi.  
Emotive issues of religion and caste competed with that of development and the attacks by the two parties often turned personal as leaders indulged in name-calling.  The Congress, in political wilderness in Gujarat for nearly 22 years, is desperate to break the jinx. It has raised questions on BJP's Gujarat "development model", demonetisation and GST. 
The BJP is banking on its performance and Modi's popularity to counter any anti-incumbency or impact of the Patidar quota stir. Modi has attacked the Congress over the issue of dynastic politics and corruption and invoked "Gujarati pride' in his campaign speeches. 
While Modi addressed about 15 rallies, Gandhi spent more than seven days in Saurashtra and south Gujarat, addressing a number of meetings and emerging as the Congress pivot to take on the prime minister on his home turf.  
The second phase of polling in 93 seats will be held on December 14 while the counting of votes is scheduled on December 18.