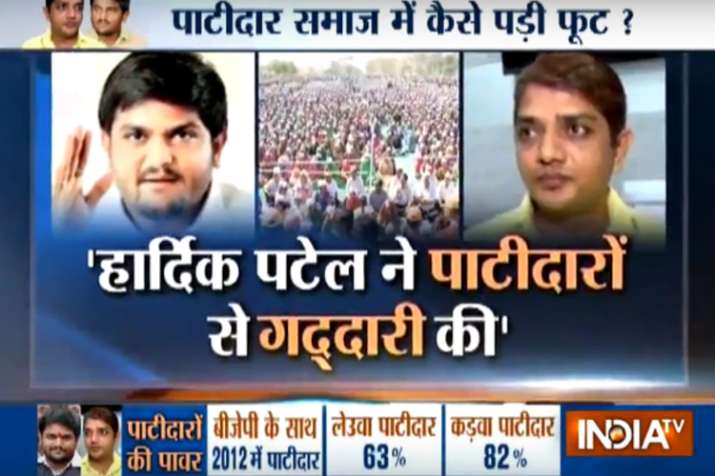 In what comes as a shot in the arm for the Bharatiya Janata Party (BJP) ahead of the Gujarat Assembly elections, the Patidar Aarakshan Sangharsh Samiti (PASS) has announced to extend its support to the saffron party. 
In an exclusive interview to India TV, PASS' national convenor Ashwin Patel called Patidar Anamat Andolan Samiti (PAAS) leader Hardik Patel a "traitor", accusing him of betraying the Patidar community to gratify his political ambitions. 
Calling Hardik "Arvind Kejriwal of Gujarat", Ashwin alleged that Hardik used the Patidar community as a weapon and got 14 innocent people killed in 2014 to fulfil his political goals. 
"The Patidar community is not with Hardik Patel. Like Kejriwal hijacked the Anna movement, Hardik hijacked the Patidar movement for his own political goals. He is the Kerjiwal of Gujarat," said Ashwin. 
"Our conditions were that none of us will get into politics or join a political party. All these conditions have been kept at bay by him, and people are seeing it. Every worker of the organisation is against Hardik. He is an agent of Congress who is using every possible to get financial aid," he added. 
The Patidar Aarakshan Sangharsh Samiti (PASS) was founded by Ashwin Patel inn 2012, and Hardik was appointed as its state convenor.
However, Hardik left the organisation, and came up with another association with a similar name – Patidar Anamat Andolan Samiti (PAAS). 
Explaining why the community has decided to support the BJP, Ashwin said that the saffron party is both at the Centre and state, which will make it easy for a speedy decision over reservations.
 
He also said that he will BJP National President Amit Shah this week and discuss how the reservations of the Patidar community should be planned and implemented. 
"We will Amit Shah this week and discuss how the reservations can be planned and implemented. After 2014, the government (state) has taken many positive steps for the Patidar samaj. The reason why we are supporting BJP is that the party has found a satisfactory solution to all our problems," said Ashwin. 
"For problems that are yet to be solved, we cannot push the entire nation and Gujarat in a ditch with a party like Congress," he added.
The Patidar community accounts for approximately 15 per cent votes in the poll-bound state. 
In another development before Gujarat elections, Hardik Patel had on Saturday asked the Congress to make its stand clear by November 3 on how it would ensure reservation for the Patidar community.
In a tweet, he had also threatened that the Patidars would oppose Congress vice-president Rahul Gandhi during his visit to Surat on November 3, like it did to BJP president Amit Shah at one of his public gatherings in the city.
The Congress has so far maintained that it will offer a 20-per cent reservation to the economically backward classes (EBC), without disturbing the 49 per cent reservation given to the scheduled castes (SC), scheduled tribes (ST) and other backward classes (OBC).
The Gujarat Assembly polls are scheduled to be held in two phases -- on December 9 and December 14.
Watch the full interview of Ashwin Patel on India TV here -