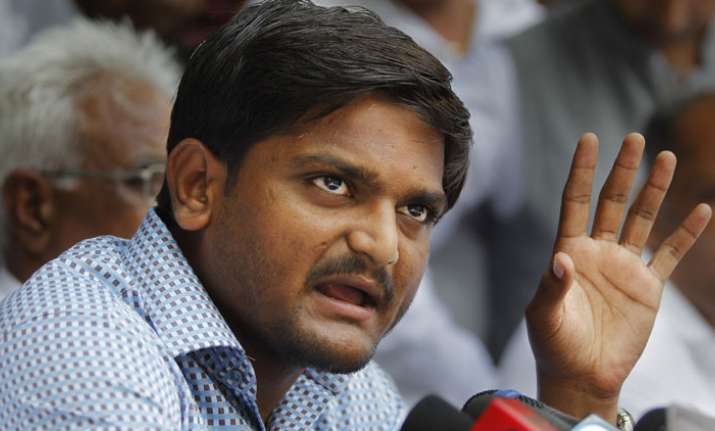 Denying reports of his meeting with Rahul Gandhi in a five-star hotel of Ahmedabad, Patidar Anamat Andolan Samiti (PAAS) leader Hardik Patel today wondered how CCTV footage of the hotel, where they were staying, got leaked.
In a tweet, Hardik Patel said that he will make the news public whenever he meets the Congress vice president.
"I did not meet Rahul Gandhi but whenever I will meet him, will go to meet him after declaring it to whole Hindustan. We will meet during his next Gujarat visit. Bharat Mata Ki Jai," Hardik Patel tweeted. 
में राहुल गांधी जी से नहीं मिला लेकिन जब मिलूँगा पूरे हिंदुस्तान को बता के जाऊँगा !! उनके अगले गुजरात दौरें पर हम मिलेंगे !! भारत माता की जय

— Hardik Patel (@HardikPatel_) October 24, 2017
Blasting the BJP leaders for branding him as a "Congress agent", Hardik said that he was least bothered with what they are saying 
"Those who say I am an agent of Congress are in fact the agent of BJP. I do not bother what BJP leaders say," Hardik said in another tweet. 
Raising questions over the leak of the CCTV footage of the Ummed Hotel where both Hardik and Rahul Gandhi stayed on Monday, the patidar leader wondered how could Gujarat police or the state government ask for CCTV grabs of the hotel.
"Keep your hands on your heart and say if I have committed any crime. How did the CCTV footage of a five-star hotel get leaked," Hardik Patel said.
अपने ह्रदय पर हाथ रखें और बोलें की मेनें कोई गुनाह नहीं किया तो फिर पाँच सितारा होटल के CCTV फ़ुटेज लीक कैसे ???

— Hardik Patel (@HardikPatel_) October 24, 2017
Referring to the allegations of some of the patidar leaders that they were offered Rs 1 crore to join the BJP ahead of the state elections, Hardik said that the BJP was now being forced to offer Rs 1 crore to other leaders for joining the saffron party .
"World's largest 'miss call' party is being forced to pay Rs 1 crore for making members," Hardik Patel said.
विश्व की सबसे बडी मिसकॉल पार्टी को अपना सदस्य बनाने के लिए अब 1करोड देना पड रहा हैं।

— Hardik Patel (@HardikPatel_) October 24, 2017