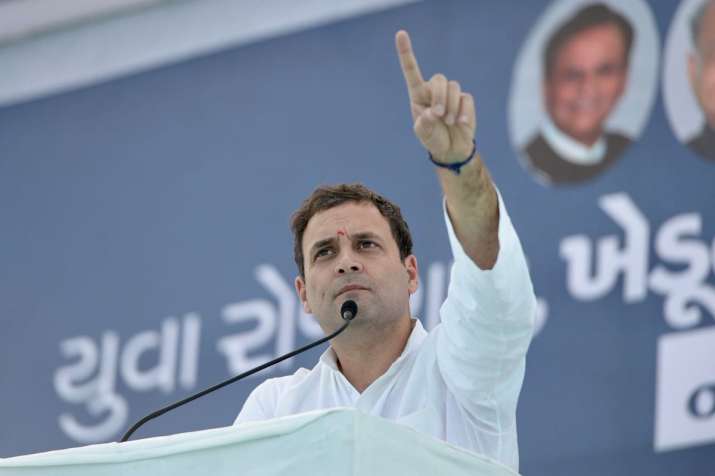 The decibel level of the Gujarat Assembly polls campaign is set to get higher with political heavyweights including Prime Minister Narendra Modi, BJP president Amit Shah and Congress vice-president Rahul Gandhi scheduled to make high-profile visits to the election-ready state. 
Rahul Gandhi began his three-day campaign tour to south Gujarat today with his arrival in Vadodara. He addressed a public rally in Bharuch where he attacked Prime Minister Narendra Modi and his government over various issues. 
Here are the LIVE updates of Rahul Gandhi's Gujarat visit:
1:35 pm: Everyone knows the reality of "ease of doing business", but this is a good idea to keep Dr Jaitley happy, tweets Rahul Gandhi
12:28 pm: There is no ease of doing business in India. Note ban and GST ruined everything: Rahul Gandhi in Bharuch
12:27 pm: Tell me one name who has been sent to jail by Modi ji. Vijay Mallya is enjoying in England: Rahul Gandhi 
12:26 pm: They have been power for the last 3 years. How many Swiss account holders are in jail? Tell me: Rahul Gandhi
12:25 pm: Have you see the Nano car on the road? How many are there? They cannot be seen anywhere in India: Rahul Gandhi 
Third leg of Navsarjan Yatra with Congress VP Rahul Gandhi began with an address to the people of Jambusar, Gujarat. #IAmGujaratIAmCongress pic.twitter.com/7ASzLxOVGB

— Congress (@INCIndia) November 1, 2017
12:24 pm: Loan of Gujarat's farmers could have been waived in Rs 33,000 crore: Rahul Gandhi 
12:23 pm: Your land was taken and given to Tata company: Rahul Gandhi
12:22 pm: Narendra Modi ji gave Rs 33,000 crore bank loan to Tata on nominal interest for Nano project: Rahul Gandhi 
12:21 pm: In 90% of Gujarat's colleges are in the hands of big industrialists, poor cannot afford because of the high fees: Rahul Gandhi in Bharuch
12:20 pm: Farmers are crying in Gujarat, they are being oppressed: Rahul Gandhi in Bharuch 
Gandhi, who has been attacking the Modi government and the BJP over the "Gujarat development model", had visited a number of temples in the state last month, a move seen as a portrayal of 'soft Hindutva' in the BJP-ruled state.
The state Congress unit on Tuesday issued a release announcing Gandhi's itinerary.
Rahul will visit several villages and towns in tribal-dominated south Gujarat from November 1 to 3 as part of the Congress's 'Navsararjan Gujarat Yatra'.
The yatra would commence from Jambusar in Bharuch district today and culminate in Surat on Friday. During his tour, Gandhi would address farmers, women, youths, traders and the party workers at several places in Bharuch, Tapi, Dangs, Valsad, Navsari, Valsad and Surat district, the release said.
Gandhi had last month covered different parts of Saurashtra, and central Gujarat earlier this month.
Gujarat will go to polls for 182 seats in two phases on December 9 and 14. The counting of votes will be taken up December 18.
(With PTI inputs)