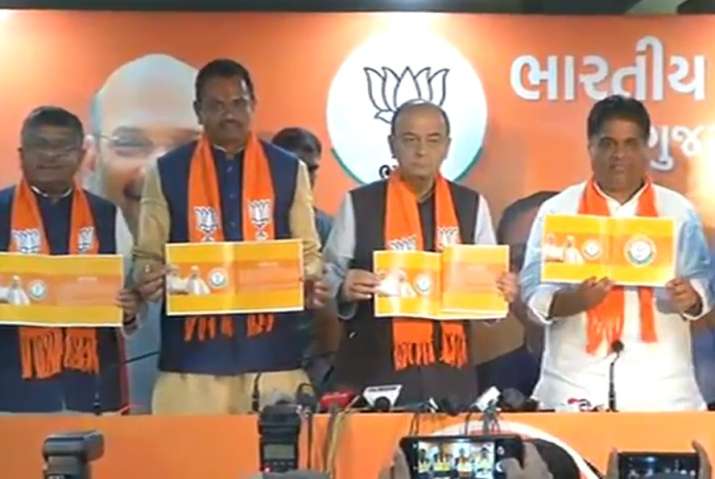 The Bharatiya Janata Party (BJP) on Friday released the party's 'vision document' outlining its agenda for the Assembly elections in Gujarat. The document featured no pictures of local leaders due to launch during election code of conduct due to voting tomorrow, Arun Jaitley explained. 
A revised version with pictures will be uploaded online at 5pm on Saturday, he told media. 
Here are the live updates: 
#3:30pm: Those who question Gujarat's development model should understand the logic behind this development: Finance Minister Arun Jaitley
#3:17pm: Reservation promised by Congress is unconstitutional: Jaitley
#3:15pm: Gujarat's GSDP growth is the highest in the country. In the last 5 years Gujarat grew at the average rate of 10% amongst large states : FM
#3:10pm: Arun Jaitley, Bhupendra Yadav and Jitu Vaghani in Gujarat launch BJP's Sankalp Patra 2017 and address joint press conference
Earlier, Congress vice president Rahul Gandhi lashed out at the BJP, saying that by not coming out with its manifesto for poll-bound Gujarat, it has shown "unbelievable disrespect" to the people of the state.
Polling for 89 assembly constituencies in the phase one will be held on December 9. The second phase voting will be held on December 14.
"The BJP has shown unbelievable disrespect towards the people of Gujarat. Campaign is over and STILL no mention of a manifesto for the people, no vision and no ideas presented for Gujarat's future," Gandhi said on Twitter.
The Congress had released its manifesto for the state Assembly election last Monday.
'Special category' quota for weaker communities with similar rights enjoyed by OBCs, farm loan waiver, setting up of 'Indira canteens' to provide nutritious food for labourers at Rs 10 are some of the highlights of its manifesto.