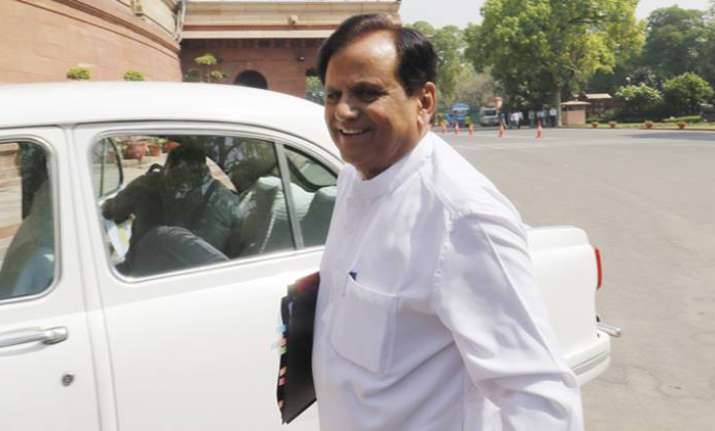 Accusing BJP of making "baseless" terror allegations against Rajya Sabha MP Ahmed Patel, the Congress on Saturday said that this is a "despicable attempt" to avoid an electoral defeat in poll-bound Gujarat state.
This comes a day after Gujarat Chief Minister Vijay Rupani demanded Patel's resignation from the Rajya Sabha alleging his links with Mohammed Qasim Stimberwala, one of the two alleged Islamic State operatives arrested by the Gujarat Anti-Terrorist Squad on Wednesday in Surat. The arrested suspects were allegedly planning to blow up a synagogue in Ahmedabad.
Congress spokesperson Randeep Singh Surjewala said the BJP was hatching a conspiracy against the Congress MP and asked the party to look inwards.
"The Gujarat Chief Minister, in order to hide his incapability, is trying to hatch a conspiracy against Congress leader Ahmed Patel and making baseless allegations against him in a very despicable attempt," the spokesperson said.
"The Congress has always fought against terrorism while the BJP has had an opposite record. Would Prime Minister Narendra Modi and BJP President Amit Shah explain how terrorist Dawood Ibrahim's wife came to Mumbai under their nose in March 2016 and then left the country. How the Maharashtra government and intelligence agencies didn't even get a whiff of it and could not arrest her?"
"Sardar Patel Hospital is a charitable hospital in which 150-200 employees work. Neither Ahmed Patel nor any of his family members is a trustee of the hospital. They also don't hold any office of profit in the hospital," said Surjewala, adding that Stimberwala was one the employees.
He said the ATS should initiate a probe against the suspected terrorists if it has evidence.
Surjewala also said that some Islamic State agents arrested in Madhya Pradesh were found to have links with the BJP. "A Maharashtra BJP leader Eknath Khadse had to resign for his alleged links with Dawood. So, the BJP should look inwards before pointing fingers at others."
The Congress leader said: "The BJP is staring at defeat in Gujarat and that is why they are rattled and making such baseless allegations against Congress leaders. Truth will win and the BJP will be defeated in Gujarat."
 
Meanwhile, Patel has also rubbished the charge that he had links with Stimberwala.  Ahmed Patel, in a series of tweets, said the allegations by the BJP were completely baseless.
"My party and I appreciate the ATS's effort to nab the two terrorists. I demand strict and speedy action against them.
We request that matters of national security should not be politicised keeping elections in mind," he said and also urged: "Let's not divide peace loving Gujaratis while fighting terrorism," Ahmed Patel said.