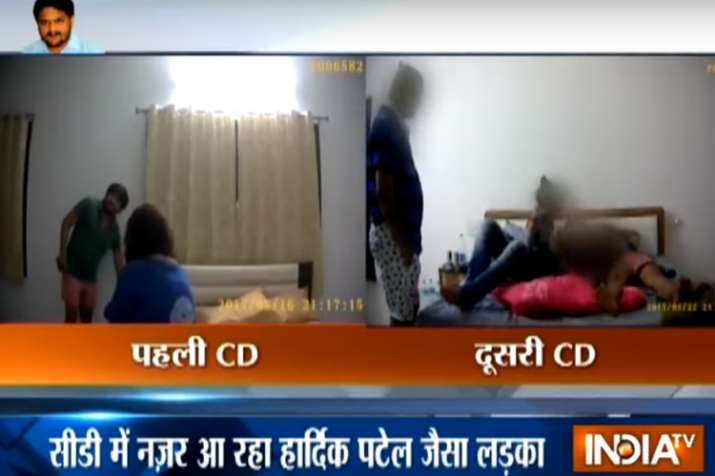 Patidar quota leader Hardik Patel has hit out at Prime Minister Narendra Modi, saying the BJP was resorting to cheap tactics to ensure that it doesn't lose in the upcoming assembly elections in the state. "New techniques are being used by them (BJP) to ensure that saheb (Modi) does not lose in Gujarat," Hardik said, referring to fresh videos of him surfacing a day after his purported 'sex CD'.
The videos apparently show Hardik 'drinking' in the company of a girl and three other men. 
"Now they have resorted to defame me. I don't care. My focus is on the fight for farmers and youths. Yes, if they have anything personal against me, I will deal with it. It happens in politics," Hardik said in his first public appearance since the controversy erupted. He was addressing a gathering at Sarbhan village in Bharuch district.
High-voltage political drama ahead of the Gujarat Assembly elections took another sensational turn on Tuesday with another video clip emerging in which a man resembling the Patidar quota stir spearhead Hardik Patel is seen relaxing on a bed with two men and a woman.
A day after Hardik's purported sex video surfaced and went viral on social media, the new clip shows a man with shaven head, resembling Hardik, having a drink while sitting on the bed. 
Noticeably, Hardik Patel had tonsured his head in May this year with his supporters to protest against alleged police atrocities on members of his community during the quota agitation.
The footage of a man resembling Hardik Patel, seen with an unidentified woman, appears to have been filmed on a hidden camera in a hotel room and has a time-stamp of May this year. However, the authenticity could not be verified independently by India TV. 
The latest clip emerges around 24 hours after the alleged sex CD, in which a man having a close resemblance to Hardik can be seen in a compromising position with an unidentified woman, went viral on Monday. 
Interestingly, the first clip emerged in the afternoon when Patel was in a meeting with key members of the Patidar Anamat Andolan Samiti (PAAS) here to discuss the proposal given by the opposition Congress about how the party would grant reservation to Patels if voted to power.
Commenting on the sex clip purportedly showing him, the 24-year-old Patidar leader said it was the beginning of dirty politics and the BJP would release many more such "morphed" videos to defame him ahead of polls. 
"Just a few days back, I had told the media that such CDs will be circulated. This is just the beginning of dirty politics. I am sure that BJP people would circulate some more CDs because the man who did it recently joined the party in Delhi. But I am not worried at all about such tactics," he told reporters yesterday. 
Alleging that the women of Gujarat were being denigrated, Patel said on Twitter in Hindi that crores of rupees were being spent to sully his image. He also vowed to fight back.
Meanwhile, it is believed that Ashwin Sankadsariya, once a close friend of Hardik, is behind the CD being leaked.
Ashwin has even challenged Hardik to prove that the purported sex CD is false. He also claimed that the authenticity of the CD can be verified through a forensic investigation. 
Ashwin further claimed that he will come with many other revelations and proofs against Hardik in the next four days. 
On the other hand, Gujarat Dalit leader Jignesh Mevani has come out in support of Hardik, saying that the latter has not done anything to be ashamed of. "Right to sex is a fundamental right. No one has right to breach your privacy," he tweeted. 
Whatever may be the truth behind the sex CD, but it has been released at a crucial juncture. The two-phase Gujarat Assembly election will be held on December 9 and 14. The sleazy CD has the potential to impact the Gujarat elections which will be held in less than a month.