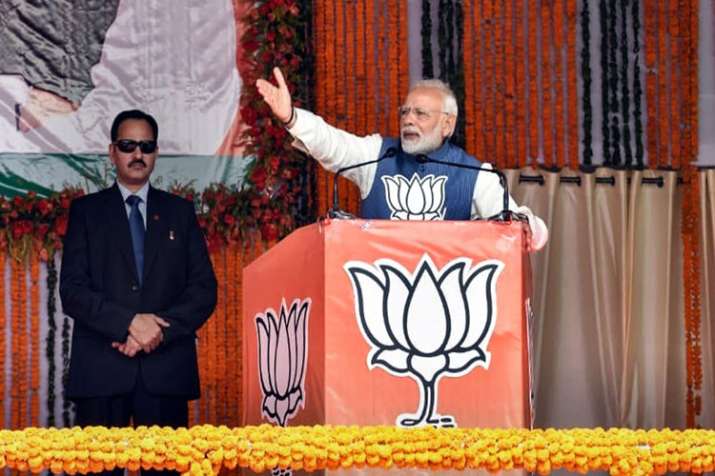 Prime Minister Narendra Modi is holding a public rally in Mahasamund on the last day of campaign for Phase 1 of Chhattisgarh Assembly Elections 2018 today. PM Modi will also hold two public meetings in neighbouring Madhya Pradesh that will head for polls on November 28.
PM Modi arrived at 11.45 am in Mahasamund and addressing the public in the Bemcha Bhata ground at noon. 
The second phase of Chhattisgarh Assembly polls for 72 constituencies spread across 19 districts will be held on November 20.The first phase of polling in 18 constituencies across eight Maoist-affected districts was held on November 12. 
The results will be declared on December 11.
Here are the highlights from PM Modi's rally in Chhattisgarh today:
Watch PM Modi's rally in Mahasamund rally here: 
12:40 pm: Congress believed in 'phone-banking' which destroyed the banks. A phone call from them would get loans for the cronies cleared and the nation had to suffer: PM Modi 
12:35 pm: Everyone knows what the Congress did to Sitaram Kesri Ji when he was the Congress party president. I challenge the Congress to appoint some able leader as their party president, who doesn't belong the family: PM Modi
12:30 pm: Four generations of Congress ruled the country. What was the fate of people? They only thought about one family but never gave a thought about welfare of people. How can we trust them that they will fulfill aspirations of people now: PM Modi 
12:18 pm: The remote-controlled government sitting in the Centre (at the time) never considered Chhattisgarh as part of the country: PM Modi
12:17 pm: Dr Raman Singh has been given a true opportunity to serve the state only in last four and a half years. Earlier for 10 years the he had to fight UPA government for every resource: PM Modi
12:15 pm: I have been familiar with the needs and requirements of this region as I have worked in Mahasamund region during my worker as a party worker: PM Modi