Follow us on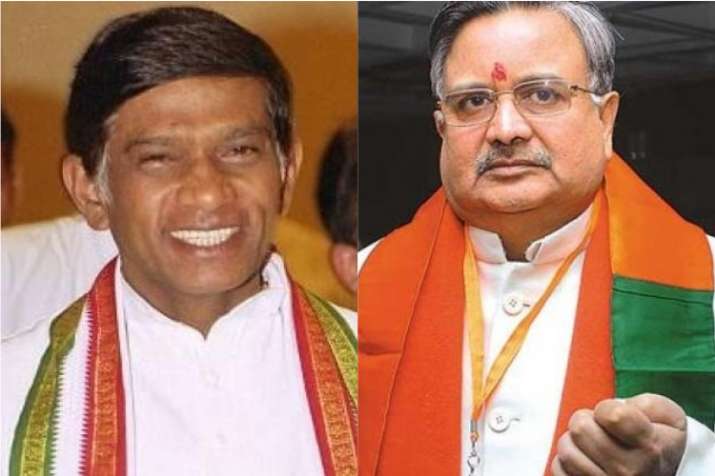 The assembly elections in Chhattisgarh have been dominated by the two national parties BJP and Congress since the state's inception in November, 2000. In the past 18 years, Chhattisgarh has been ruled by a Congress government for three years, while incumbent Chief Minister Raman Singh from BJP has been holding the state's reins for the past 15 years now.  (Detailed coverage of Chhattisgarh Assembly Polls 2018)
Even as former Congress leader Ajit Jogi has the honour of being Chhattisgarh's first chief minister, Congress has never been elected to power in the state assembly elections. It is because Congress came to power in the state when it was created. The governments in the newly created states at the time (Chhattisgarh, Jharkhand and Uttrakhand) were formed with the candidates chosen from previous polls in the united states (Madhya Pradesh, Bihar and Uttar Pradesh). 
Also read | Chhattisgarh Assembly Elections 2018: 190 candidates in fray for 18 seats in first phase
First real elections in Chhattisgarh were held in 2003. Bharatiya Janata Party-led by Raman Singh swept the polls by winning 50 out of 90 assembly constituencies. In 2008 and 2013, Raman Singh managed to recreate the magic by making a majority government with 50 and 49 seats in their kitty respectively. 
Even as Congress lagged behind significantly (37 seats in 2003, 38 seats in 2008, 39 seats in 2013), the margin of vote share has been progressively cutting too close. In 2003, BJP won with a vote share of 39.26 per cent, while Congress earned 36.71 per cent. 
In 2008, the gap closed further as Congress secured the trust of 38.63 per cent voters, while BJP was first choice of 40.33 percent voters. 
In 2013, BJP once again won with astounding 41.0 per cent vote share, but Congress came dangerously close by securing 40.3 per cent votes. 
Also read | In quest to end 15-year wait, Congress banks on combination of new faces, old-timers in ticket distribution
But the trends may stop there. According to India TV-CNX survey, in Chhattisgarh Assembly Elections 2018, BJP is likely to make a comeback with a vote share of 42 per cent, while Congress will likely to be limited to 37 per cent votes. Ajit Jogi's party Janata Congress, which has forged an alliance with Mayawati's BSP, is likely to act as vote cutter for Congress in its key constituencies and make away with crucial 7 per cent votes.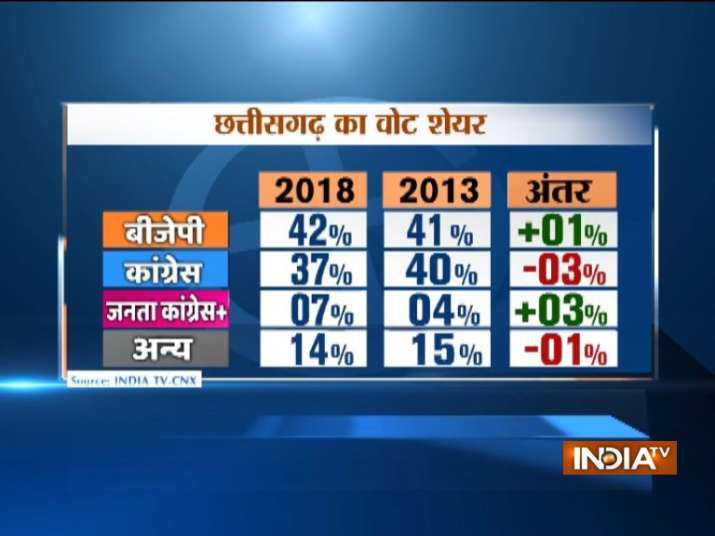 Also read | India TV-CNX pre-poll survey predicts clear majority for BJP in Chhattisgarh; Raman Singh set for record fourth term
The fate of the parties contesting Chhattisgarh Assembly Elections 2018 will be sealed in ballots in two phases. On November 12, first phase of pollling will be held in 18 constituencies hit by Naxal violence. The rest of the 72 constituencies will go to polls on November 20. The results will be declared on December 11.
IndiaTV's Extensive Coverage on Elections: 
Full Coverage: Assembly Elections 2018
Full Coverage: Madhya Pradesh Assembly Elections 2018
Full Coverage: Rajasthan Assembly Elections 2018
Full Coverage: Telangana Assembly Elections 2018
Full Coverage: Chhattisgarh Assembly Elections 2018
Full Coverage: Mizoram Assembly Elections 2018