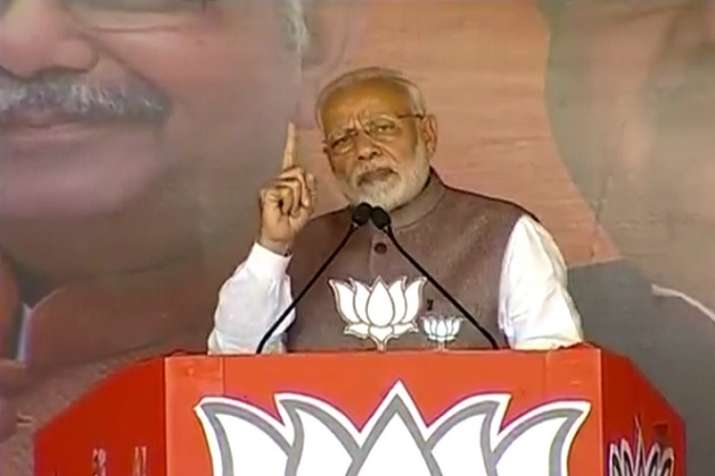 Further intensifying his attack on the Congress party and the 'Nehru Gandhi' family, Prime Minister Narendra Modi on Sunday said that four-generations of a family' ruled the country and 'benefited from being in power', but the country did not benefit from their rule.
Citing the example of Minority leader Sitaram Kesri, Modi said; "The country knows that Sitaram Kesri, was not allowed to complete his five-year-term as Congress president; he was thrown out of office and into the footpath to make way for Sonia Gandhi as the new party chief".
"Earlier Delhi had a remote-controlled government. The remote was in hands of a family which was afraid of the BJP," he said, targeting the Congress and the Gandhis.
PM Modi also reiterated his challenge to select someone as the Congress party president who doesn't belong to the 'Nehru-Gandhi' family.
"Remember the days when four generations of a family ruled the country. What was the fate of people? They only thought about welfare of one family but never gave a thought about welfare of people. How can we trust them that they will fulfil aspirations of people now," Modi said.
The prime minister claimed that Chhattisgarh Chief Minister Raman Singh also faced a lot of challenges from the then Congress government at the Centre.
"For 10 years, the Centre was ruled by a 'remote-control' government which never paid attention towards Chhattisgarh," Modi alleged.
Earlier on Friday, addressing a poll rally in Ambikapur, PM Modi said; " want to challenge them, let some good leader of Congress outside of the family become the party president for 5 years, then I will say that Nehru ji really created a truly democratic system there".
Responding to Congress leader Shashi Tharoor's recent remarks that a "chaiwala" became PM because of Jawaharlal Nehru's commitment to democracy, Prime Minister Narendra Modi on Friday said that the credit goes to the 1.25 crore people of India and not Jawaharlal Nehru.
 "I know it will be good when the country gets out of dynasty politics. But, they are not ready to give credit for this to the 1.25 crore people of this country that a chaiwala became the Prime Minister. They do not want to give credit to BJP and Modi. This is the result of their undemocratic thinking. For this too, they want to give its credit to Nehru", PM Modi said. 
The second phase of Chhattisgarh Assembly polls for 72 constituencies spread across 19 districts will be held on November 20.The first phase of polling in 18 constituencies across eight Maoist-affected districts was held on November 12. 
The results will be declared on December 11.