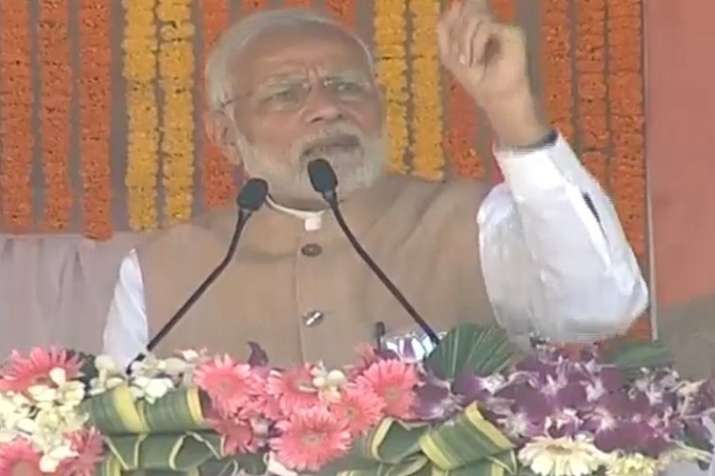 Prime Minister Narendra Modi on Friday lashed out at the Congress party for supporting the urban Maoists who he said have ruined the lives of the poor Adivasi youth in Chhattisgarh. Addressing his first election rally in Jagalpur, the headquarters of the Naxal, hit Bastar, PM Modi accused the party of supporting urban Maoists who were killing innocent people including jawans.
He also said that the Congress makes fun of 'adivasis' (tribals). "I don't know why Congress makes fun of adivasis. Once I had gone for a rally n North-East India and wore a traditional adivasi headgear but Congress leaders made fun of it. This was an insult of  adivasi culture," he said.
Modi said he will not rest till he fulfils late Atal Bihari Vajpayee's dreams for a prosperous Chhattisgarh, adding the Congress-led government did not do enough to develop the Naxal-infested Bastar region citing the Maoist menace as an excuse.
He also urged the people of Bastar to teach a fitting lesson to the Congress leaders, who on one hand try to shield the urban Naxals, and in Chhattisgarh speak about freeing the state from Naxals.
Describing Naxals as "monsters with evil mindset", the Prime Minister said earlier governments did not do enough for development of Bastar region.
"Will you forgive such people? These people will not win Chhattisgarh. I appeal to you to ensure that BJP wins all seats in the Bastar region. If anyone else wins, it will be a blot on Bastar's dreams," he added.
Modi said no other Prime Minister visited Bastar as often as he did. "I have not come empty handed but given you some scheme and development programme. We are working hard to eradicate unemployment, poverty and hunger from the region.
Previously there were resources but nothing happened," he said.
Lashing out the Congress party, PM Modi said that they consider the  deprived sections and tribals as vote banks and not human beings. 
"Do you want a government which works or one whichstops development works," he said.
Modi said his government has never discriminated among people. "Previous governments did that. Our government works for development of all," he said.
Elections to the 90-member Chhattisgarh Assembly will be held in two phases on November 12 and November 20.