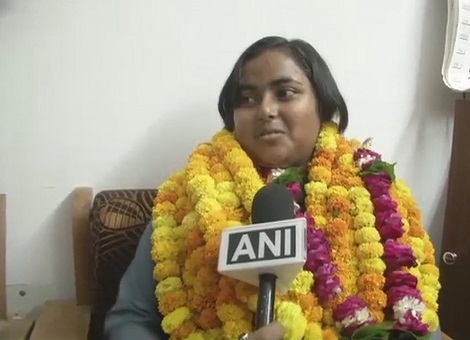 Daughter of a farmer, Anjali Verma topped the Uttar Pradesh Board Class 10 exams defying all odds that came her way and now aims to become an engineer in future. 
April 29th turned out to be the luckiest day for Allahabad girl Anjali, who expressed happiness for gaining the top spot in the Class 10 exams in Uttar Pradesh.
Anjali, who secured 96.33 per cent, said that she was confident of getting good marks, and credited her success to her school teachers and her father, who toils hard as a farmer. 
"I am very happy to top the exam. I was confident of scoring good marks. Our school teachers helped us to prepare well. I want to become an engineer. My father is farmer who has always supported me," Anjali said. 
UP Board Class 10 Result 2018: The Uttar Pradesh Board (UPMSP) on Sunday declared the results of Class 10 examinations on the official websites — upresults.nic.in, upmspresults.up.nic.
All the candidates who had appeared for the examination must check the results through the official websites, upresults.nic.in, upmspresults.up.nic.in. Apart from it, the results are also available at examresults.net, indiaresults.com. The candidates can also check the results through app or by SMS.
This year, around 75.16 per cent students have cleared the examination successfully.
This year, a total of 66,37,018 students registered to appear in the exams of which 36,55,691 were from Class 10 and 29,81,327 students from Class 12.
Uttar Pradesh Chief Minister Yogi Adityanath congratulated the students for clearing the exam. "I am really happy that such a good result has come. I want to congratulate everyone who has passed in these examinations. This time all the exams were held without any complaints of cheating coming from anywhere," CM Adityanath said.