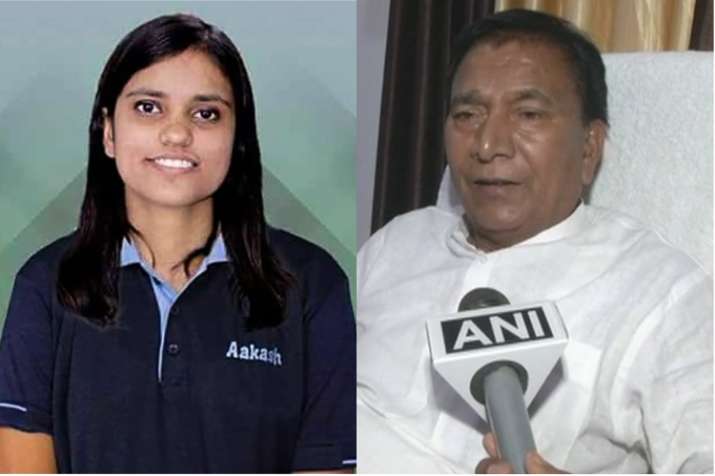 Bihar Education Minister Krishnanand Verma on Thursday defended the 'low attendance record' of Bihar Board topper Kalpana Kumari, who also secured the top slot in National Eleligibilty cum Entrance Test (NEET 2018). 
"She has merit and has proved it by being NEET topper. She must be appreciated. There shouldn't be unnecessary controversy," Verma told ANI today, adding that Kalpana was allowed to give the exams after the due process. 
Kalpana secured the top position in the science stream for the intermediate (Class 12) examination held by Bihar School Examination Board (BSEB), results of whihc were declared yesterday.
Soon after the results of the Bihar School Examination Board were declared, the questioned were raised before BSEB Chairman Anand Kishore about Kalpana having been in Delhi for quite some time for her NEET preparations and hence, falling short of adequate attendance.  
While the BSEB chairman could not answer immediately as to whether a minimum attendance was required for candidates to be allowed to appear in exams, a release was later issued by the Board saying "no minimum attendance has been fixed in the Board's rule book". 
The state was rocked by an embarrassing "toppers' scam" a couple of years ago, when photographs of mass copying at a number of examination centres had appeared in the media, followed by the news of a number of top scorers floundering while replying to basic questions. 
Also read | Bihar Board Result 2018 declared: NEET topper Kalpana Kumari tops in Intermediate exams
Addressing a press conference yesterday, Kishore said 52.95 per cent of the nearly two lakh candidates for all the three streams - arts, commerce and science - secured pass marks this year.  
"The pass percentage this year is significantly higher than the 35.24 per cent of the previous year when a sudden dip was observed in the aftermath of stringent anti-copying measures. This year's results show that teaching standards have improved", he claimed. 
Kishor said that "Kalpana Kumari, who hails from Sheohar district, has once again done the state proud by topping the science stream. Girls have emerged as toppers in arts and commerce streams as well".  
Another release issued by the Board also announced that toppers in all the three streams will be given a cash prize of Rs one lakh each, while those securing the second and third positions will be given a reward of Rs 75,000 and Rs 50,000. 
Kalpana's father Rakesh Kumar Mishra, an officer in the state's education department, expressed elation over his daughter's achievement, saying "she is the youngest among our three children. All of them have done well. But Kalpana has turned out to be really special"
(With inputs from PTI)