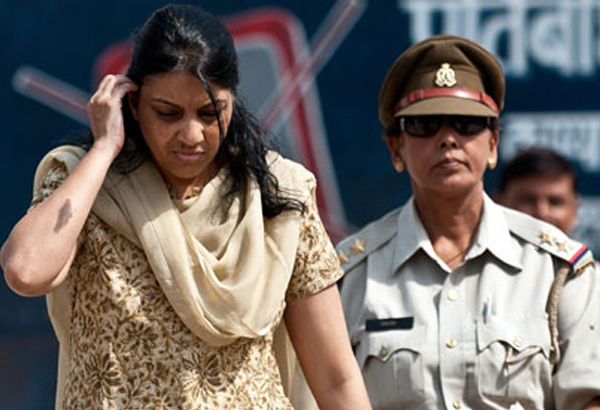 New Delhi, Sep 17:
The Supreme Court Monday directed the trial court hearing the Aarushi-Hemraj double murder case to release Nupur Talwar on bail on Sep 25.





The apex court bench of Justice A.K. Patnaik and Justice J.S. Khehar said: "(The) trial court shall release Nupur Talwar on bail subject to its own satisfaction."

The court ordered that she be released Sep 25.

Pronouncing the order, Justice Patnaik said: "We direct the trial court may be allowed a week's time to examine witnesses Vimla Sarkar and Chandra Bhushan or any other witness in the case, if these two witnesses are not available."

Nupur Talwar, along with her husband Rajesh Talwar, is an accused in the murder of their daughter Aarushi and destroying the evidences.

Nupur Talwar was taken into custody April 30 and she challenged in the apex court the May 31 rejection of her bail plea by the Allahabad High Court. She is lodged in Dasna jail in Ghaziabad. Her husband is out on bail.

Aarushi, 14, was found murdered at her parents' Noida residence May 16, 2008. The body of her domestic help Hemraj was found the next day on the terrace of the house.