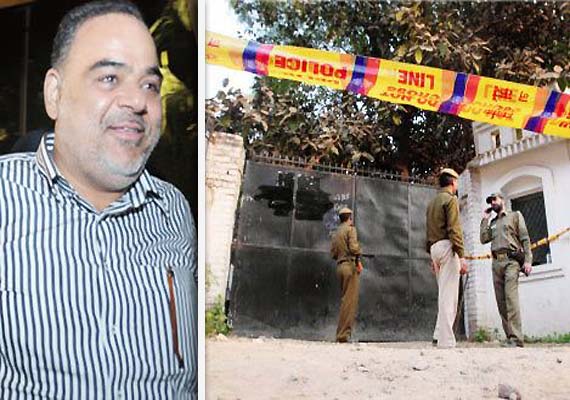 New Delhi, Nov 22:
One more person has been arrested in the killing of liquor baron Ponty Chadha and his brother Hardeep Singh Chadha in a property dispute, taking the total number of people held in the incident to seven, police said Thursday. All those arrested are associates of Ponty Chadha.



"Mathura Singh Mehra, 30, a servant of Ponty Chadha was arrested today (Thursday) in a trespassing case," Joint Commissioner of Police, Vivek Gogia said.

Mehra is the seventh person arrested in the Nov 17 incident at Chhatarpur here, where the two brothers were killed in a shootout.

Mehra, resident of west Delhi's Sultanpuri has been working as a servant at Ponty Chadha's farmhouse for the last seven years.

"Mehra assisted Ponty Chadha's men, who first were involved in a scuffle at Bijwasan (farmhouse) and then the Chhattarpur farmhouse. He also provided them arms," said Gogia.

Earlier, six people associated with Ponty Chadha were arrested in Bijwasan and Chhattarpur farmhouse cases.

Police had arrested Udayraj Singh alias Anna, 44, personal security officer (PSO) of Ponty Chadha; Rajpal, 36, PSO of Ponty Chadha's daughter; Bhupinder Singh Bist, 60, protocol manager, and Anand Singh Bist, 37, a driver.

Two more people -- Madan Rana and Vijay alias Malik -- were arrested Monday in the Bijwasan farmhouse scuffle case.

The quartet were among a group of 30-40 people who entered the farmhouse in Chhattarpur Nov 17 morning, beat up Hardeep's men, snatched their mobile phones, fired in the air and threw them out, police said Tuesday.

All the arrested have been booked under several sections of the Indian Penal Code (IPC) including Section 302 (murder), Section 307 (attempt to murder) and Section 452 (trespassing with intent to cause hurt or wrongful restraint).

Police have registered three first information reports (FIRs) in the scuffle and shootout that took place between the men of the Chadha brothers' Nov 17 at south Delhi's Chhattarpur farmhouse No.42 and at G-19 Bijwasan farmhouse.

"Two FIRs have been registered in the Chhattarpur shootout incident while the third FIR has been registered in the scuffle that took place at the Bijwasan farmhouse," said Gogia.

At around 11 a.m. Nov 17 scuffles were reported from both the farmhouses, he said.

"No one received injuries in the scuffle at Bijwasan farmhouse where there was no report of firing. However, at the Chhattarpur farmhouse, the liquor baron's men had allegedly tried to evict Hardeep's staff after firing there," said Gogia.

Later, around 12.30 p.m. both the brothers were killed at the Chhattarpur farmhouse in a shootout.

Around 21 teams of Delhi Police are investigating the case from all angles.

All the people related to the case are under suspicion and none of them have been given a clean chit.

Describing the role of the then chairman of Uttarakhand Minority Commission Sukhdev Namdhari, Gogia said he had gone to meet Ponty Chadha Nov 17 morning.

Replying to a question whether Namdhari's men were involved in the shooting, Gogia said: "It is a matter of investigation whether Namdhari's other men were also involved in the shooting or only his PSO Sachin Tyagi fired bullets."

"Till now, we have just managed to find out that Namdhari's men were also present at the shootout spot. Police have managed to find out the identities of some of his men. In view of the gravity of the case, their names cannot be revealed," he said.

Gogia also said that according to the post-mortem reports, Gurdeep Singh Chadha alias Ponty Chadha had received seven bullet injuries while his brother Hardeep received two bullets.