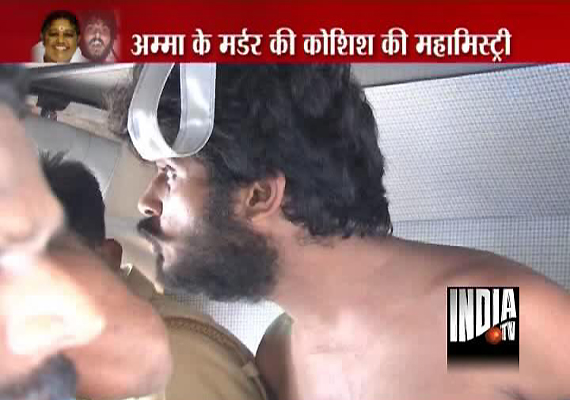 Thiruvananthapuram, Aug 5: 
Satnam Singh,  a 24-year-old man from Bihar, who made an abortive attempt to attack Mata Amritanandamayi at her ashram in Vallikavu, a coastal village in Kerala's Kollam district, was found dead in mysterious circumstances late on Saturday night in his cell at the government mental hospital in Thiruvananthapuram. 




Though the exact cause of his death was yet to be announced officially, Bimal Kishore Singh, a close relative of Satnam Singh,  who reached Kerala on receiving a message from Kerala police, alleged that his cousin was tortured to death.  

The post-mortem examination was conducted at Thiruvananthapuram Medical College and the Peeroorkkada police in the city registered a case for unnatural death.  

Hailing from Gaya, Singh, waiting in a queue of devotees at the ashram on August 1 for Mata Amritanandamayi's darshan, suddenly turned violent and ran towards the dais where she was seated.  

He bashed and kicked the security men who tried to deter him before being overpowered by a foreign devotee.  

Police took him into custody and slapped murder charge against him. The Kollam magistrate's court remanded him in judicial custody for 14 days.  

Satnam Singh again turned violent in Kollam prison where he was lodged and was taken to the district hospital.  

The doctor who attended him said that when he saw the patient, his limbs were tied up and he was unmanageably violent. He  examined him in the ambulance in which he was brought, prescribed an injection and referred the case to the mental hospital.  

Mental hospital superintendent Dr Sunil said that since Singh was a very tough patient to handle, he was put up alone inside  the Forensic Ward. He was very loath to take food and medicines.  

On Saturday evening when wardens went to his cell for serving food, he was not there. The bathroom of the cell was bolted from inside and water could be flowing from the pipe. Since he did not come out even after for sometime, wardens alerted the police and opened the bathroom in their presence.  

Singh was found unconscious and immediately rushed to the medical college hospital, where he died around midnight, Dr. Sunil added.