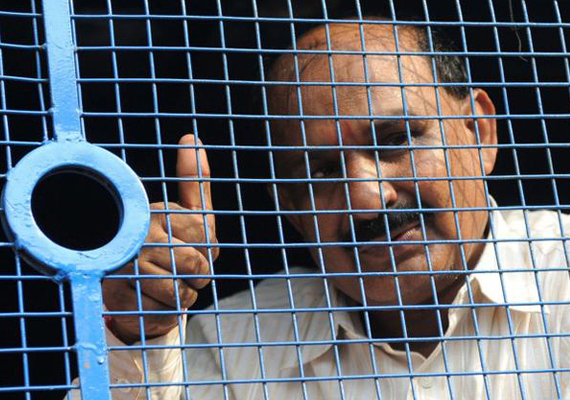 Ahmedabd, Sept 19 :
Babu Bajrangi, the dreaded Bajrang Dal leader, convicted to life imprisonment for the 2002 Naroda Patiya massacre, was beaten up by inmates inside Sabarmati Central Jail on Tuesday, officials said.



Babu Bajrangi was beaten up by inmates convicted for the Godhra train carnage, which sparked off state-wide anti-Muslim riots.

Some other undertrials of 2008 Ahmedabad serial bomb blasts also took part in bashing up Babu Bajrangi inside the jail, a Times of India report said.

The attack took place on Tuesday morning when Babu Bajrangi had gone to the jail hospital. "He had fever and he had gone to the clinic to give blood samples", a jail official said.

At that time, some convicts of Godhra train carnage were present inside the hospital. There were other prisoncers accused of terrorism and arrested for their role in Ahmedabad serial blasts. Both the groups ganged up and thrashed Bajrangi.

Vishwa Hindu Parishad leader Praveen Togadia threatened to sit on dharna outside the jail to protest the attack on Bajrangi.

"We have always said that Hindus are not safe anywhere in Gujarat including high-security jails", said Togadia.