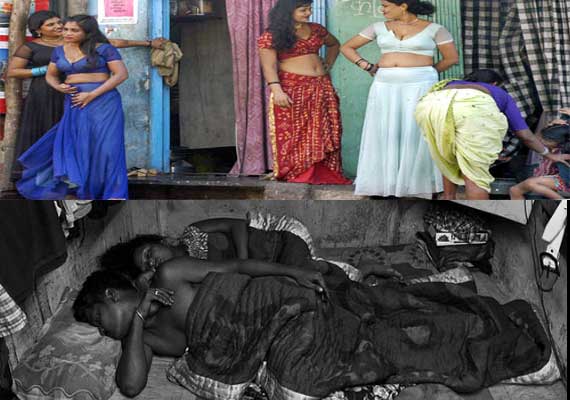 New Delhi:
  Firstly, giving the introduction for the red light areas, these are basically, those areas where the concentration of prostitution and sex-oriented business is in abundance and is open.
The largest red light area of Asia is 'Sonagachi', situated in Kolkata, India. This area itself gives shelter to 11,000 sex workers.
 In pictures, check out the life and plight of the sex workers in Sonagachi.
---
The area came to be known as Sona Gachi from a Sufi saint Sona Ghazi whose tomb (mazaar) is located in the locality.
---
Mostly Nepalese, Bangaldeshis, and Rajasthani prostitutes have dominated this area, which accounts for the total estimated population of sex workers in this area to be 10,000.
---
Though, this business is illegal, like in any other city of the world. But, it is still flourishing under the nose of the administration.
---
The plight of the sex workers of this area is that this industry bring illegal, the sex workers here are socially shunned.
---
This makes Sonagachi an ignorant part from the administration point of view. Therefore, here the women are more susceptible to rapes, blackmails, extortion, robbery, etc.
---
The rates are already specified by the sex workers for their clients. It increases in direct proportion to the number of facilities here.
---
If the client opts for bed and TV then he has to pay extra than the normal charges.The rate however initiates form Rs100 and increases depending on the facilities asked by the client.
---
The sex workers in this area consider themselves as a thing just to entertain men, and this is how they earn their bread and butter.
---
"My body does not belong to me any more", said one of the sex woker of this red light area. This, this quote reflects the helplessness of the workers here.
---
Few of them have joined this profession by choice whereas few have been dumped in this industry forcefully or as a result of betrayal. Also few among them have been brought in this flesh trade by illegal means.
---
The workers here long every minute to lead a normal life like any other person except them does. But unfortunately they have been isolated by the good fortune and are hence, leading such lives with no hopes at all left in them for their betterment.