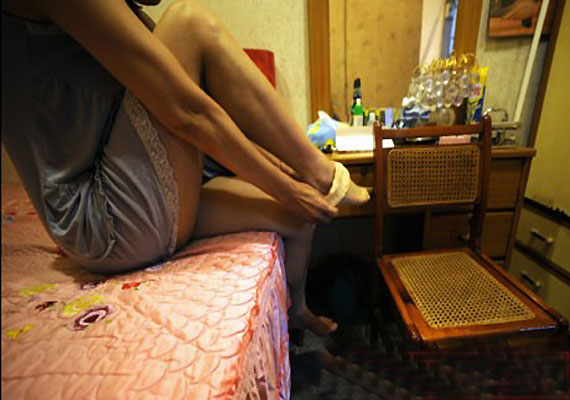 New Delhi, Nov 3:
Delhi Police crime branch has sent a list of women to the Delhi government's home department, Ministry of Home Affairs and FRRO (Foreigners Regional Registration Office) that many of the female sex workers who had come on tourist visas during the F1 race last week, have stayed in the capital and are continuing to ply their trade.



 
Among them are several women who had earlier been caught in sex rackets and deported from India.
 
The crime branch has requested that  tourist visas should not be issued to such sex workers in future.
 
Last year,the crime branch had busted four sex rackets  during the F1 season.
 
"At least two gangs involved foreign nationals. We have found that the same girls are returning to the city to earn money.
 
"We want to ensure that, once sent out of India, they are not allowed in again without a background check", a senior police officer told Times of India.
 
However,foreign policy experts say this decision will lead to an unnecessary row of the kind witnessed some time ago when women in the former Soviet countries protested against being generally labelled prostitutes and denied visa by Indian authorities. Some of the Ukrainian women had staged a full Monty protest outside the Indian embassy there.
 
This time,the Special Investigation Team of crime branch has reportedly busted a gang of former Soviet  nationals who earned more than Rs 5 lakh a month by joining sex rackets with bases in south Delhi,Goa and Mumbai.
 
Six women aged 23-28 were caught but investigators believe other women from the group are still active in Delhi.
 
The pimp for the group reportedly married an Indian to remain in India and has spent three years in the city.
 
The accused paid a rent of Rs 50,000 in Greater Kailash-II, and Rs 30,000 each in Arjun Nagar and Safdarjung Enclave.
 
The main accused has proper records with entries from 2009.  "We now have all the details about the movement of these call girls and how much they charge.They earn Rs 4-5 lakh a month", said a source.
 
Sources said the group has learnt to evade police by soliciting directly through social networking sites and phones.
 
They  don't involve Indian pimps or prostitutes to avoid sharing their profits.
 
One of the accused, an Uzbek ballet dancer,  allegedly charged more than Rs 50,000 a night after moving to the city from Dubai for better earnings.
 
Sources said these women make Delhi their base as it is easy to operate here undetected.
 
Most of these women are from poor families and are aware of the Indian customer's  fetish for white skin, said a source.