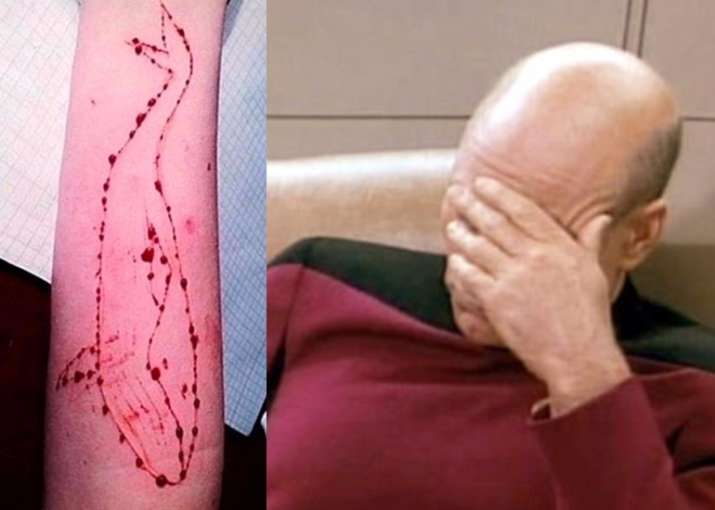 People have this funny habit of putting their wrong foot at the wrong places. A few months ago when popular singer Sonu Nigam posted a tweet about 'azaan', some Twitterati made a point to troll Sonu 'Sood' in place of Sonu 'Nigam'. Similarly, when Snapchat CEO Evan Spiegel spoke ill about India, infuriated netizen took the matter into their hands and decided to downrate and uninstall 'Snapdeal' in place of 'Snapchat'. Once again, people have triggered a humour out of such a serious situation. Some angered folks took to Google Play and downrated the 'Blue Whale Simulator App' in place of 'Blue Whale Challenge'. 
A few days ago, a 14-year-old boy in Mumbai committed suicide by jumping off the seventh floor of a building. Mumbai Police is suspecting the Blue Whale Challenge as a cause behind his sudden suicide. Blue Whale Challenge is an online suicide game, helmed by a psychopath Philipp Budeikin in Russia in 2015. It has claimed a number of lives so far in about 19 countries, India being the 20th. The game entices the teenagers to inflict self-harm and in the end, take their own life. This game caught Indian attention only after the death of a teenager in Mumbai. 
Also Read: All you need to know about 'Blue Whale Challenge', a deadly game that killed a 14-year-old in Mumbai
But it is not an application or a video game which is easily available on Play Store and some smartphone users couldn't gulp this fact. Disgusted folks turned to Google Play and typed 'Blue Whale' in their search bar and all they found was a simulator game which is meant for kids! They didn't bother to read the details of the app and started leaving rude remarks in the review section of the app. Some even deliberately downrated the app, making the ratings fall to 2.4.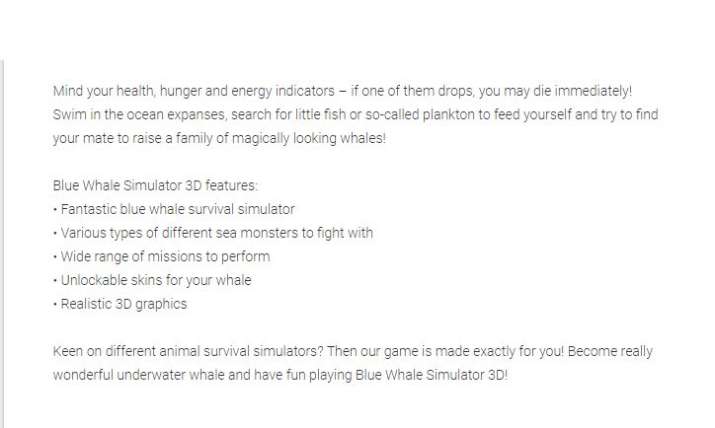 Read some of the hilarious remarks by some naive internet freaks who took it too far. 
For this game a 9 slandered student jumped from the 6th floor building. And he died on the spot...very dangerous game for childhood Please try to stop it.
This isn't game premotes killing youself
This game made 12 years old girl suicide for real in saudi arabia i hope they sue you. Check any newspaper for today and search this game name
Took a 14 yr old kids life !It is the worst game. Dont install this game.Creaters should be shamed.
Why you should put end to this game many people died to theis game so please delete this game or many people will die beacause of this game
My friend his playing this game 50 days ago he was sucide please donot download its to your dead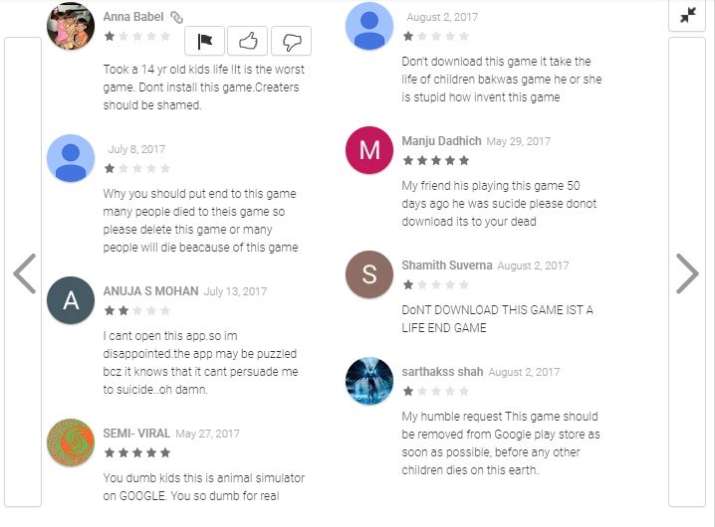 Trust me, these are only few of the hilarious comments dropped under the review section of poor 'Blue Whale Simulator 3D'. There are hundreds more. We request people to think before acting. Try to read the things and then give your reactions. Giving views without doing homework properly might end you up being a laughing stock on internet. 
For more Trending news, follow our Facebook page