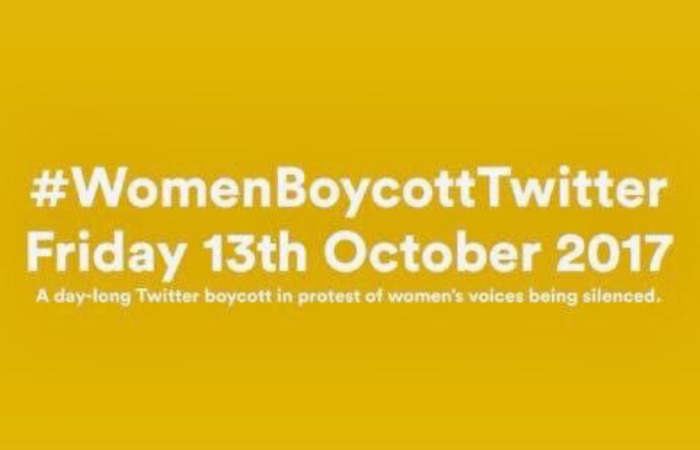 There's no doubt that women have been largely subjected to online harassment and abuse to such an extent that they either leave the platform or are forced to make their handles private. Online harassment and stalking are no novel subjects for us. When we read a news about a woman being harassed online, we're not surprised, because it's something that's been happening for a while now. But unfortunately, despite the increasing issue, Twitter has contributed least to better their policies and instead allowed users to write 280 characters instead of 140. 
As a result, women from all around the world have decided to quit Twitter for a day and hence, the hashtag #WomenBoycottTwitter is appearing among the top trends on the micro-blogging website. 
Ladies. Let's do this. #WomenBoycottTwitter. Not because of hate but because I love this platform and know it can be better.

— christine teigen (@chrissyteigen) October 13, 2017
And for now, I'm off Twitter. I'll be back with more to say soon. And there is so very much to say. #WomenBoycottTwitter

— Amber Tamblyn (@ambertamblyn) October 13, 2017
I STAND W/ @rosemcgowan & every woman who has been silenced 4 speaking their truth . It could be me next or you . #WomenBoycottTwitter pic.twitter.com/d0VAhBm4Pa

— Janelle Monáe, Cindi (@JanelleMonae) October 13, 2017
Not just the women who were fed up of the threats, men also decided to join in the movement to show their support. 
Tomorrow I follow the Women. #WomenBoycottTwitter

— Mark Ruffalo (@MarkRuffalo) October 13, 2017
I stand proudly with women. #WomenBoycottTwitter pic.twitter.com/A1UtswSepj

— Nev Schulman (@NevSchulman) October 13, 2017
Signing off in solidarity with @jemelehill, survivors of abuse, and the women and girls who want @Twitter to do better. #WomenBoycottTwitter

— Closed Account (@joesph_clifford) October 13, 2017
This movement was sparked when actress Rose McGowan's Twitter account was partially suspended for violating terms and policies. 
"McGowan had been tweeting in support of women who had come forward with claims they had been sexually abused by powerhouse Hollywood producer Harvey Weinstein. She also called out other alleged Hollywood male sexual abusers," reports CNBC.
Twitter explained the suspension of her account in a tweet. 
when will nuclear war violate your terms of service? https://t.co/72FiiyoZ59

— rose mcgowan (@rosemcgowan) October 12, 2017
But this didn't go pretty well with people, who accused the social media platform of being selective in its policies. 
Due to anonymity, most of the times a complaint cannot be filed against these perpetrators on social media. The only information available about them is their profile picture, which is most of the times fake or unclear. A recent account where a 20-year-old woman received gory rape threat from a Kolkata guy is a wakeup call that the social media websites need to have more stringent rules to bring these sick-minded people to justice. 
What do you think, will this move press on Twitter to change its policies? Do give your valuable opinions in the comment section.