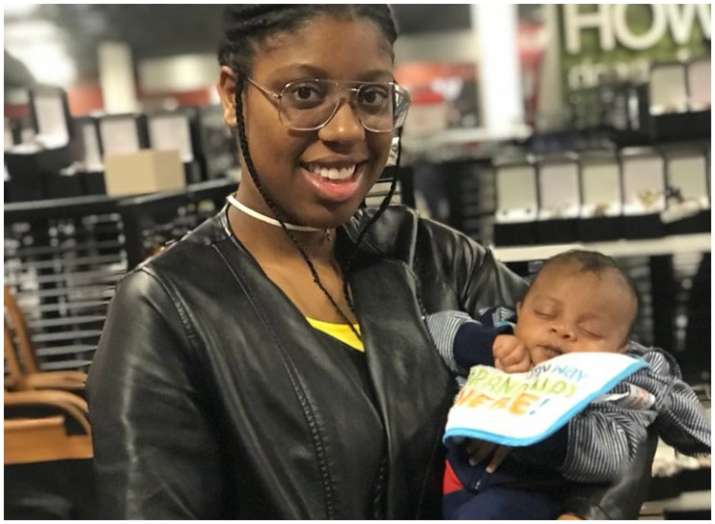 What is the one possible thing that can happen to you while you are pregnant, and you are traveling? Well, you can have a baby! But interestingly this woman from Nashville went into labour while travelling from US to Germany and delivered her baby in a hotel room by watching You Tube videos.
Tia Freeman though of having a good time on the holiday when she started suffering contractions as she landed in Istanbul for a stopover in March. She thought it was just food poisoning from the food she had on a flight because her baby was still due for three months. It was only later that she realized that she is going into labour. The 22-year-old woman shared the amazing story of her delivery in a Twitter thread and the world went in awe of her bravery.
The first thing Ms Freeman did was to reach her hotel room search on You Tube about the best ways to deliver a baby on your own. Filling the bath tub with warm water and grabbing two towels- one to bite onto and other one to wrap the baby- the lady started with the process.
My contractions were already at a minute a part lol I was late as hell. I BARELY made it to my room. 😂😂😂 so I throw the towel in my mouth and start pushing. And I have NEVVVVEEERRRR felt any pain like this in my life. I felt like I was being split open. WHERE WAS MY EPIDURAL?! pic.twitter.com/HGlootcNHu

— CSAR: Cat Search and Rescue🏳️‍🌈 (@TheWittleDemon) April 24, 2018
Fortunately, it was just 5-6 pushes and the baby slipped out, floating on the water. She wrapped the baby and after checking the gender of her little one, she started the next process.
Luckily it happened pretty quickly. I only had to push about 5-6x before a baby popped out. Lol now let me tell you babies are buoyant. That little joker said bloop and floated right on up to the top of the water 😂😂 pic.twitter.com/IuqwKXFb2L

— CSAR: Cat Search and Rescue🏳️‍🌈 (@TheWittleDemon) April 24, 2018
The next thing she searched for was how to cut an umbilical cord without any tools beyond a knife. Shoelaces came to the rescue. She sterilized the shoelaces in the boiling pot available in the room and began the procedure.
It was not until four days that her family and friends knew about the baby. Next day she reached the airport to figure out how to take the new born baby home and successfully convinced the local police and Turkish Airlines staff of her story. 
Ms Freeman was eventually taken to the US Consulate in Istanbul, where she applied for a birth certificate and passport for her son, whom she named Xavier Ata Freeman.
Btw Xavier turned 7 weeks old today!!! pic.twitter.com/s1iHpNiUI9

— CSAR: Cat Search and Rescue🏳️‍🌈 (@TheWittleDemon) April 25, 2018
She stayed two weeks in Istanbul for which the Turkish Airlines paid and left left for her own land. Tia Freeman told The Insider, "The experience taught me so much. I learned how to be resourceful and calm under pressure. I was able to bond one on one with my son from his first breaths.