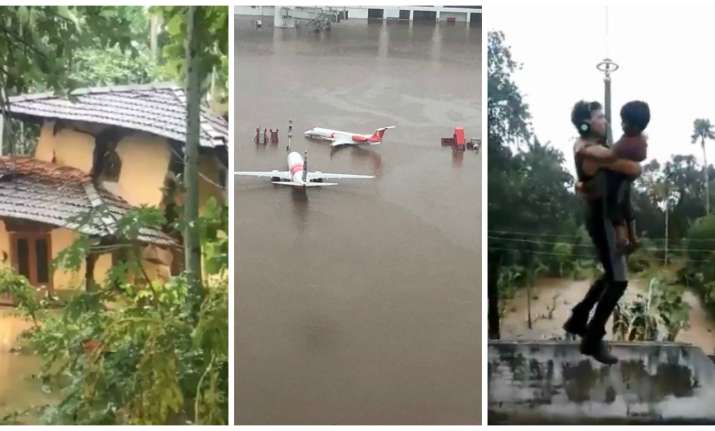 As south-west monsoon continues to wreak havoc in Kerala, God's Own Country bravely fights with the natural calamity. With worst floods in the history of the state, several cities and towns have been inundated in the floodwaters. The disaster has taken the death toll to 114 so far.
Causing loss of lives and property, the floods have even disrupted public transport system. While flight services have been put on hold till August 18, trains in the Thiruvananthapuram-Nagercoil route have also been canceled due to the extreme situation. The Kochi international airport has been closed till August 26.
Idukki Dam opened shutters today after yrs! pic.twitter.com/sFJ1XhehGk

— Porinju Veliyath (@porinju) August 9, 2018
All rivers in the state are in spate and shutters of 35 dams have been opened. Indian Air Force has established High Availability Disaster Recovery at Thiruvananthapuram and is working in collaboration with the state government to plan and implement rescue operations. Idukki has received maximum downpour among all districts. Here are five alarming updates about the murderous Kerala floods.
Worst Flood Since 1924
Last time the state experienced the same level of disaster was in 1924. In Kerala, 12 out of 14 districts are facing heavy downpour and this has made people fear the recurrence of what is known as "The Great Flood of 99". This is a reference to Malayalam Era 1099, which according to the Gregorian calendar is 1924. In 1924, the state experienced a total of 3,368 mm rainfall and it washed away an entire hill called Karinthiri Malai. More than a thousand lost their lives due to floodwater that year.
Dramatic visuals of a young child being rescued in Aluva by @indiannavy #KeralaFloods pic.twitter.com/RwIvqLlrKh

— barkha dutt (@BDUTT) August 16, 2018
Mullaperiyar Dam opened for the first time ever
Shutters of 35 out of 39 dams have been opened including 123-year-old Mullaperiyar Dam. Heavy rain caused the water level of Mullaperiyar Dam to reach 142 feet. It is for the first time in the history that the sluice gates of the dam were opened. Mullaperiyar has been a bone of contention between Kerala and Tamil Nadu and the issue is now before the Supreme Court. The dam, which is located in Kerala, is operated by Tamil Nadu. Around 4000 have been affected by dam opening.
Cochin Airport as captured from a navy helicopter. Crisis in #KeralaFloods needs more attention than it's getting pic.twitter.com/02tIhaVmzv

— barkha dutt (@BDUTT) August 16, 2018
School turned into shelter
Gregorious School in Kaipattur, which has not been marked as a relief camp turned into a shelter as people started arriving in large numbers. This is because this is the only place in the area which people believe is safe from floodwater as other relief camps are at Kozhenchery and near Pathanamthitta town.
Pray for kerala#KeralaFloods pic.twitter.com/zIMy0FXKEv

— sammas🇮🇳 (@SammasKk) August 16, 2018
12 trains stuck along nearly 200 km distance
Due to rising floodwater 12 trains have been stranded on the tracks between Kozhikode and Aluva in the Ernakulam district, which has the distance of nearly 200 km. The deputy manager at the Kozhikode railway station says that there is no certainty that the trains will be able to reach their destinations. 
Now i fear that how it is going 2 end...!!😢😨#KeralaFloods #kerala #keralarain #KeralaFloods2018 #KerlaFlood #KeralaFloodRelief #KeralaFlooding pic.twitter.com/hoQ0F1QSKB

— Vishal c Victor (@VishalcVictor) August 16, 2018
Telecom companies announce free services to users in Kerala
Jio, BSNL and Airtel have announced free calls and data, extension in bill payment due dates to customers in flood-hit Kerala. While Reliance Jio will give free services for seven days, BSNL has announced unlimited free calls within its network and data services along with 100 SMS per day for a week. Bharti Airtel will be offering Rs 30 talk-time credit and free 1GB data to pre-paid customers for a week.
For all latest news and updates, stay tuned to our Facebook page