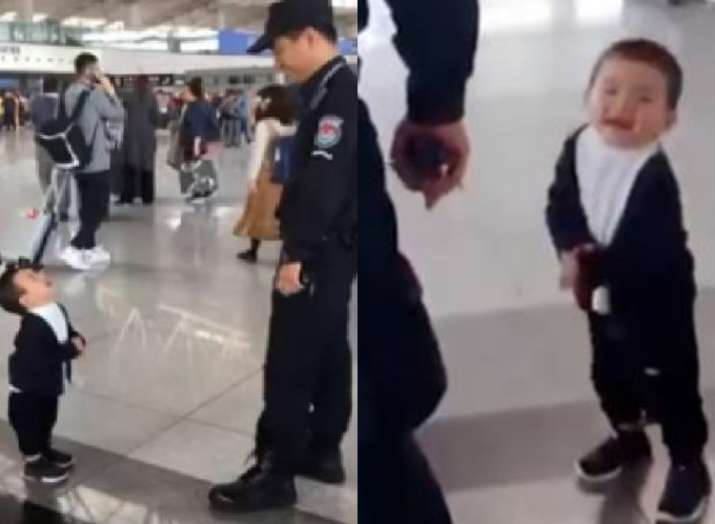 While videos of little kids tasting lemons or playing with the pets always manage to make people go aww every time but this little boy's video is breaking the internet because he is awestruck by an airport security guard and demands a hug while he is on his duty. The little boy donning a black and white costume kept staring at a security guard at an airport in eastern China's Shandong province. While the guard obliged him with his widest smile, he demanded a hug from him.
In the video going viral on the internet, the little boy is seen asking the guard for a hug. The guard kept looking around, hesitant to interact with the kid but unable to ignore his cuteness he offered to give a handshake. The little fan was not satisfied yet and wanted more. He kept coming back to the guard. Although the child couldn't convince the guard to give him a hug as he was on duty, he saluted the little boy and made his day.
Check out the video here-
Within a few hours of surfacing on the internet, the video was showered with millions of like, shares and comments. Netizens were head over heels in love with the little kid and just can't get enough of his cuteness. Some users even applauded the security's guard professionalism and gesture. One user wrote, "The security guard must have gone through lots of training.. so much that he could restrain himself from cuddling this cute little boy." "And finally, twenty-five years later the little boy became a man and met a retired guard who once upon gave him a salute, but not a hug," wrote another.
The video was shared by South China Morning Post on their Facebook page. 
For latest stories breaking the internet, check out our BUZZ section!