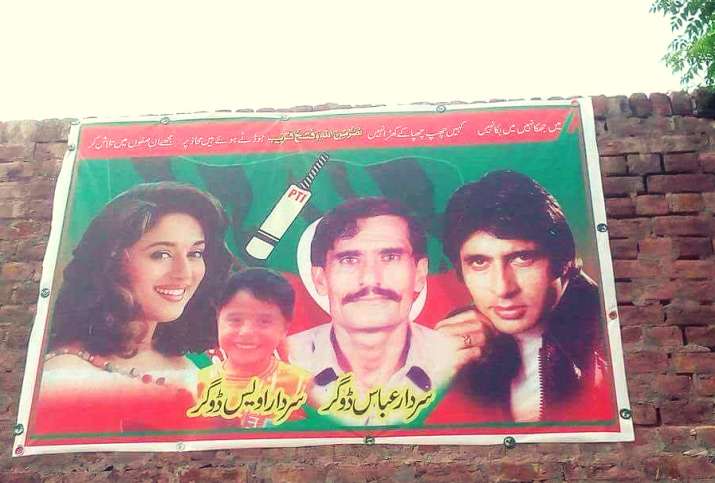 A Pakistan politician's poster with famed actors; Amitabh Bachchan and Madhuri Dixit-Nene is what the users of internet talking about. The poster features four faces in total - the candidate's
who is reportedly a member of Pakistan Tehreek-e-Insaf (PTI), younger Amitabh Bachchan, younger Madhuri Dixit-Nene and a child's face. This poster is undoubtedly bombing all over the internet creating a buzz.
The name of the candidate is Sardar Abbas Dogar according to Maleeha Siddiqui, a journalist from Pakistan. And twitterati seem to be amused and thrilled by the poster.
Pakistan prepares to go to poll on July 25 and the poster reportedly was spotted in Multan, a city in Pakistan.
Here's what people had to say about the poster.
Oh, khair. Sardar Dogar aap par Sardar Bachchan aur Sardarni Dixit qurban. pic.twitter.com/SgW39qy30k

— Nadeem Farooq Paracha (@NadeemfParacha) July 22, 2018
This @PTIofficial candidate has @SrBachchan and @MadhuriDixit supporting him, even if both stars don't know about it. Yeh pakka jeetega. All the best 🥂 pic.twitter.com/8OSenfIj8Z

— Major Gaurav Arya (Retd) (@majorgauravarya) July 23, 2018
Amitabh Bachchan and Madhuri Dixit have made it to #PakistanElections. Photo via @amarguriro pic.twitter.com/LxWfK70dqK

— Naila Inayat नायला इनायत (@nailainayat) July 22, 2018
A PTI candidate has pics (apparently a couple of decades old) of Amitabh Bachchan and Madhuri Dixit on his election poster pic.twitter.com/bzDGchEAvW

— omar r quraishi (@omar_quraishi) July 22, 2018
Just another normal election campaign in Pakistan @SrBachchan @MadhuriDixit @juniorbachchan pic.twitter.com/CjUHbEBAxg

— Hamza Javaid (@Dudefrom87) July 21, 2018