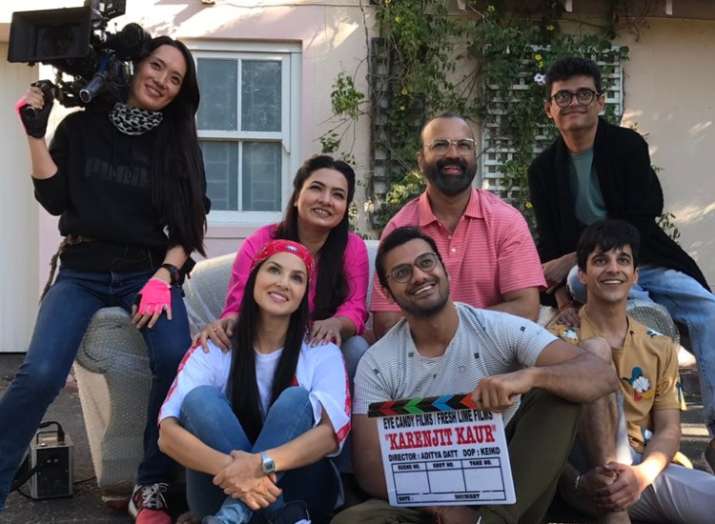 Sunny Leone has become one of the most popular celebrities in India even after she was continuously hated for her life choices in the past. Now, to answer all the questions and put a full stop on all the misleading stories about her, we have a web series that is dedicated to the life of Sunny Leone. The trailer of the same has dropped on the internet and netizens are going gaga over it. The two and a half minute trailer tracks the rough path on which Sunny Leone walked to be where she is today. The actress admits that the most difficult thing she had to do in her life was to confess to he parents that she is an adult star. The news broke them to pieces and the trailer clearly reflects that.
I'm not playing a role, I'm being myself. Here's a sneak peek into my life.
Watch the official trailer of Karenjit Kaur: The Untold Story of Sunny Leone.
Premieres 16th July on @ZEE5#KarenjitKaurOnZEE5 #ZEE5Originals pic.twitter.com/uGONFUtvgK

— Sunny Leone (@SunnyLeone) July 6, 2018
The trailer has garnered much attention and fans took to Twitter to express how they felt about it. While some have deemed it as 'super', lovely and 'fantastic', others wished the actress 'good luck' for the new venture. 
Can't wait To see #KarenjitKaur story You are Real Fighter💗💗

— JaypeeSingh (@JaypeeSingh18) July 6, 2018
I don't know why somebody will hate sunny Leone ...
Loved her from her days in porn and in Bollywood..
Hardly any down to earth Bollywood actress is there like Sunny Leone..
I only have respect for her

— Abdul/abu salam (@Abdulahmed05) July 6, 2018
Wonderful comeback sunny

— Mehul Patel (@MehulPa48496177) July 6, 2018
Well done! I believe it will be a guidance to everyone ! How to tackle hard circumstances in every life!

— Raja (@tnjrraja) July 6, 2018
Awesome this is to be shown & people may realise that what makes some one to get in to that industry and struggles i hope all bad image will cleared in people's minds.. loved the trailer

— Mohammed Moiz (@MohammedMoiz_h) July 6, 2018
This is going to be the most respected Bio pic #hatsoff to @SunnyLeone

Can't wait for it, #too much courage #mustwatch of this year 🤘😍😍

— arun@ak47 (@arun24840) July 6, 2018
Awesome trailer love it and excited also @SunnyLeone 😘😘

— Saurabh Ashok Kharat (@kharatsaurabh31) July 6, 2018
Sunny❤️My love towards you is so pure and uncondition❤️Will be loving and supporting you till my breathe stops❤️
My princess👑Karenjit kaur vohra👑
Love you so much❤️❤️❤️❤️❤️❤️❤️
Muah❤️
Keep rocking❤️
God bless you☺️

— Suraj cruz (@surajcruz) July 6, 2018
You're STRONG! I'm no one to judge, neither anyone should.
Love & Respect! You deserve it 💯💯💯

— Mayur (@lovelikeyoueat) July 6, 2018
Can't wait #KarenjitKaurOnZEE5
Extraordinary ✨ #KarenjitKaur trailer 💯💯💯💯💯
True Story Bollywood #SuperStar ❤️
My superstar @SunnyLeone 😍 pic.twitter.com/X3ksbnEFEK

— Sunny_My_Superstar (@Sunny_My_Supers) July 6, 2018