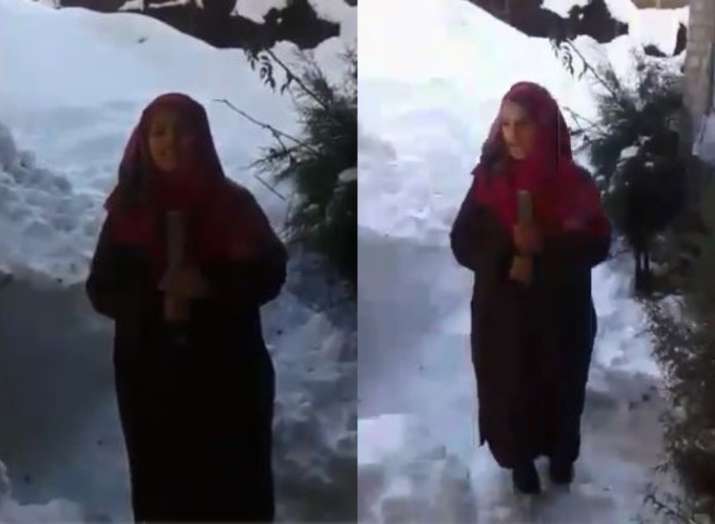 As heavy snowfall hit the Kashmir valley, a teen girl who reported it in the most innocent way managed to win hearts and become an overnight sensation on social media. The snowfall led to a sharp fall in the temperature and children were forced to sit at home as schools and colleges were closed in some areas. While it was a happy news for the children who didn't want to study, not much for the parents who forced them to study at homes. This led to the children building a tunnel for their thrill and to escape studying. In Shopian, where snowfall was quite heavy, a few children built a tunnel outside their homes to hide away from parents and a little girl stepped into the shoes of a journalist and reported it in the cute video. 
In a video shared on Twitter, a teenage girl is seen reporting from the spot holding a marble slab pretending it to be a mic. She gave details about the secret tunnel of the children and even interviews them asking about the same. She described how the accumulated snow has almost reached the height of the first floor and little kids have successfully build a hiding place for them. Watch the video here-
A schoolgirl from #Shopian is reporting about snowfall. Watch this aspiring journalist's report. #kashmir pic.twitter.com/QSKYAopZ6h

— Fahad Shah (@pzfahad) February 8, 2019
When one of the kids doesn't reply to her, the little girl reports saying "Sardee ke marey sooj gaye hain (They have frozen because of the cold)". This leaves the one recording the video in splits. The video went viral on the internet in no time and people showered the little girl with blessings. Here are all the reactions to her video-
Talented girl. She will make a good TV journalist..

— Pramod Kumar Singh (@SinghPramod2784) February 9, 2019
So cute! Children are indeed God's blessings.

— Gourav (@gouravg13497007) February 9, 2019
😂 I liked the line " sardee ke marey sooj gaye hain".

— Iqbal Malik (@iqbalmalikmr) February 9, 2019
😂😂😂 so cute...Anchor of the year...🏆🥇

— d.satish (@dsatish9) February 9, 2019
Wow! This is so cute reporting...
Especially the way she called out both the kids out of the tunnel....
May her dreams come true!

— Shahab Jafri (@ShahabJafri55) February 9, 2019
Great Journalism coming from our #Kashmiri aspirant & cute kids enjoying in their snow igloo! Stay warm & happy 🤗🤗

— Anjali (@_10compassion) February 9, 2019
In 21 years of my life I realised "innocence" is the best thing a human being have

— Tripathi Utkarsh (@iammesut) February 10, 2019
Beta bahar aao! Bolo beta!! 😂😂 So cute this video is!!!

— KP (@idiot_eternal) February 9, 2019
For latest stories and viral videos breaking the internet, check out our BUZZ section!