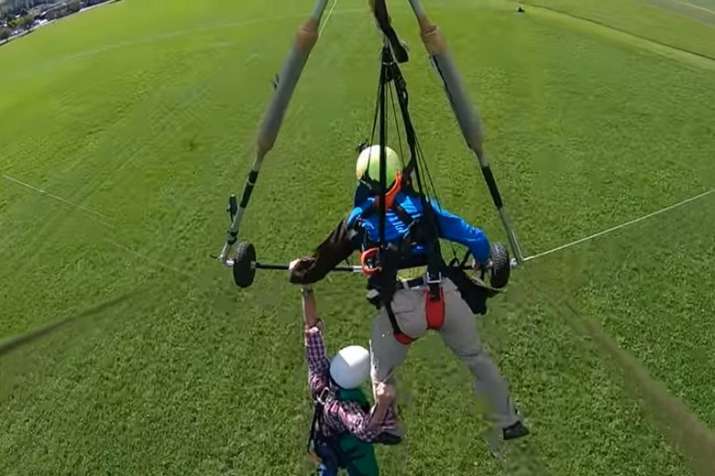 An American holidaymaker who was hang-gliding for the first time nearly lost his life after the pilot forgot to hook him onto the craft. Florida-based photographer Chris Gurksy, who was on holiday in Switzerland for the first time with his wife, shared the heart-stopping video footage of the near-death experience on his YouTube channel on Monday (Nov 26). The incident happened on the first day of their trip.
He wrote in the video description: "My first time hang-gliding turned into a near-death experience as my safety harness was never hooked to the glider."
"For 2 minutes 14 seconds I had to hang on for my life! The landing was a rough one, but I lived to tell the story."
The footage, which he titled Swiss Mishap, begins with the pilot kicking off from the edge of the mountain, before realising soon after that Mr Gurksy was not attached to it.
According to DailyMail UK, the pair had taken off from a 1,219m-high mountain edge. Mr Gurksy was seen gripping onto a metal bar with his left hand, while he held onto the pilot's back with his right hand.
According to Swiss news site 20 Minuten, the tandem pilot involved is still providing flights in Interlaken. The operator of another hang gliding firm in the town told the news site the pilot in the video had only gone into business a year ago.
It was sheer luck that nothing worse had happened, the unnamed operator said. "Normally these types of mistakes are fatal. He should have lost his licence straight away."
Licences for hang gliding operations are issued by the Federal Office of Aviation (BAZL).
The president of the Swiss Hang Gliding Federation (SGV), Christian Boppoart, told 20 Minutes only BAZL could withdrew those that licences.
But the SGV said it would discuss the incident with the tandem pilot involved and then look at what steps to take.
"We are dealing with an elementary failure that could have been fatal," Boppart said.
BAZL is aware of the incident and will investigate.
A spokesperson for Interlaken Tourism told The Local that the office was aware of the incident but was not in a position to comment on any possible investigation.
He stressed, however, that there were "thousands of landings" every year in the town and that hang gliding and paragliding were a very popular part of the offering to tourists in the area.