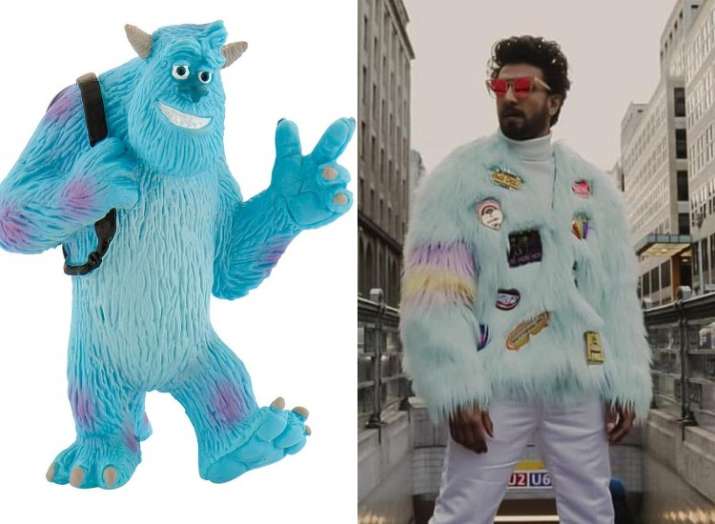 Ranveer Singh is leaving no stone unturned to attract attention not just to his upcoming film Gully Boy but also to himself. The actor along with co-star Alia Bhatt and director Zoya Akhtar was present at the Berlin Film Festival 2019 where his film Gully Boy was being premiered. While the flick attracted a lot of attention and there was said to be the loudest cheer, Ranveer Singh's style statement also forced many heads to turn and have a look once more. The actor took to his Twitter to share a look of his from the Berlinale 2019 and people couldn't help but compare it with James P. Sullivan, a fictional character from the movie Monster Inc.
Ranveer Singh shared the picture on his social media, calling the look as 'Gangsta of Love'. The look includes a sexy powder blue fury jacket with many funky patches on it. The look attracted a lot of attention and many memes and jokes also emerged on the internet. Check out the most hilarious reactions here-
Gangsta of Love 🦄 💞🌈🦋☮️ #manisharorafashion pic.twitter.com/Us1RWdJwF6

— Ranveer Singh (@RanveerOfficial) February 9, 2019
Sully boy x Gully boy 👌 pic.twitter.com/8dfXoCNdaS

— Kalai💕|芸術| シ (@mynameisKalai) February 9, 2019
Achi Acting kr lete ho, acha Paisa Kama lete ho, acha career bi chal rha hai, Biwi bi sahi mil gyi hai tumko, jab sab kuch hai to ye Randaap kahe macha k rakhe ho be

— Vaibhav... (@lamevaibhav) February 9, 2019
Pagalpanti and craziness ka ek aur naam Ranveer Singh hai, abse main
"go crazy" nai "go Ranveer" bolungi🤘🤘🤘
But love whatever you do Ranveer 😘😘#GoRanveer

— Niharika Majumdar (@NiharikaMajumd3) February 9, 2019
Candy floss
Posts Flavour https://t.co/Qb35e2Mfr4

— nikhil shinde (@nixy_guy) February 10, 2019
While it is easy for the fans to fall in love with his chic style, designer Manish Arora who has created the jacket revealed that it is more than just fashion. Arora through his Instagram revealed that the jacket is closely associated to his own days of struggle. He wrote, "My dear friend @ranveersingh wearing a custom made jacket for his movie #gullyboy "Anyone who is unconventional be in fashion or music or film, they make it to success because they believe in themselves. Only then will the world believe in them This jacket is a culmination of these ideas. It's an association with my days of struggle. It's unconventional and just like anyone who has made it in life despite the odds, much like the character Ranveer is playing in Gully Boy. The jacket symbolises freedom, a reminder that we are rare and our own heroes #believeinyourself #ranveersingh #manisharora #manisharorafashion #ididitmyway"
For latest stories and viral videos breaking the internet, check out our BUZZ section!