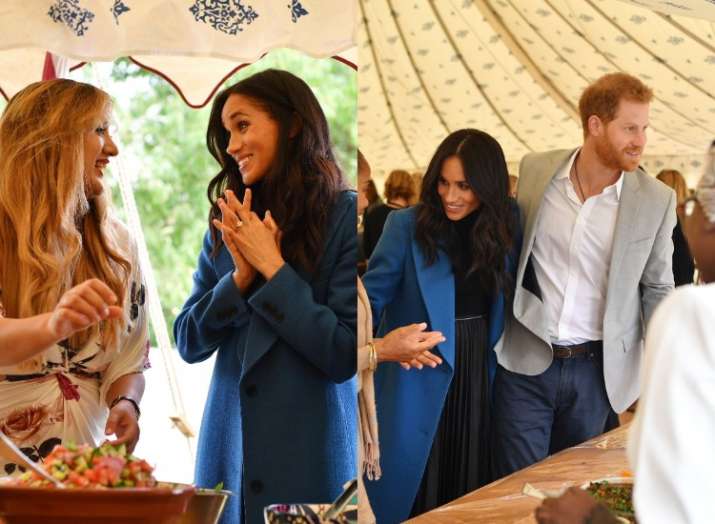 Prince Harry and Meghan Markle are undeniably the most adorable and powerful couple of all times. The duo not only flaunts their love for each other but also stands by each other's side for everything they do. Just recently, Duchess of Sussex Meghan Markle hosted a lunch to celebrate the launch of her first charity project, a cookbook called 'Together', for which she has written the foreward. The book features recipes from a group of women whose community was affected by the Grenfell Tower fire that killed more than 70 people. At a special event at Kensington Palace, the duchess threw open the palace gardens to welcome women from the Hubb Community Kitchen. Of course, Markle earned alot of praise for her initiative but what caught Twitterati's eye will leave you in splits. 
Meghan's husband Prince Harry was caught red-handed sneaking out some snacks from the event. Yes, a video is going viral on the internet in which Prince Harry is spotted slipping away some snacks by hiding them in between napkins. According to the ITV reporter, it was samosas. Not just that but he was also caught cheekily checking his surroundings and when he realized his sneaky act was caught on camera, he just couldn't stop grinning. After watching the video, Twitterverse burst out laughing but at the same time could easily relate to him. Let's face it- we all have done this at least once in our lives. Watch the video here-
Caught red-handed!

Hungry Prince Harry seems to be taking a snack home after attending the 'Together' cookbook launch with Meghan and her mother pic.twitter.com/Uta8EPB5R8

— ITV News (@itvnews) September 20, 2018
While one Twitter users said, 'That was a testament that the food was delicious'. Another wrote, 'Classic moment! Samosas are hard to resist aren't they?' Here are some of the most hilarious tweets. Read up!
"Man's gotta eat!" pic.twitter.com/UrQBdr29GL

— Amal (@hopesdesire) September 20, 2018
His reaction to him noticing the camera has spotted him.. priceless.. he is seriously the best

— Precious Metal (@mspreciousmetal) September 20, 2018
Prince Harry, you cheeky monkey, we LOVE you!! 🤣

— Lauraf68 🦃 (@lauraf68) September 20, 2018
This was great. He was just hungry, lol. He was happy and carefree the whole day.

— Waleska (@wallymcc1) September 21, 2018
Last clip his face is like a kid in a candy shop that must of been one tasty meal..

— Priscilla✞ (@Prisxo06) September 20, 2018
That grin though. The smile of every six year old who just got caught walking away from the cookie jar. Guy knows he just got busted. 😍😂😂

— The Sy (@TheSySeven) September 21, 2018
#CookTogether pic.twitter.com/C0SOU6KIMC

— GautamRodefriend (@GRodefriend) September 20, 2018
Maybe he was taking some home for his mother? #samosas

— Malik Veeresh (@VeereshMalik) September 22, 2018
Not his first time by the looks of it lol

— Lynda Titterington (@LyndaTittering3) September 21, 2018
That was a testament that the food was delicious, after all It was buffet, eat as much as you can. We don't want throw food away. 😅😊

— Kate A (@KateGoldings) September 21, 2018
He is human and he is hungry. Let him be. And that should not be news.

— Omar Haji (@Schoolman1993) September 21, 2018
that's the power of Samosa.. it can make the kings and princes act like school-kids.. :P

— Abhijit Wadhwa (@WAbhijit) September 23, 2018