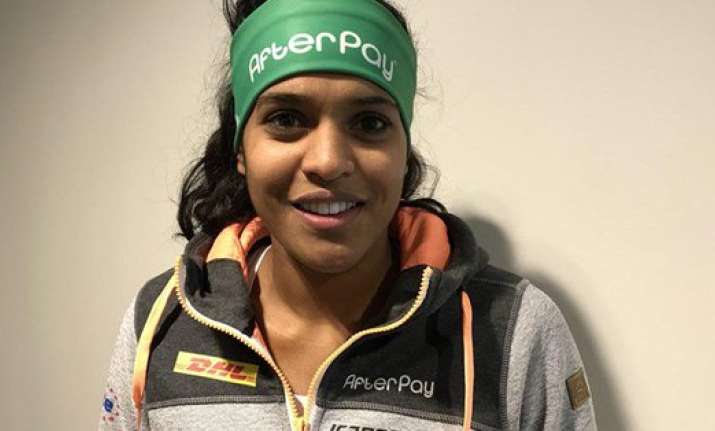 All thanks to Anice Das, 32, India finally tasted success in the country's skating circuit. 
On December 28, Dutch speed skater Anice Das, who is of Indian origin, pulled off a surprise victory in the 500m event at the Netherlands' Olympic Qualifying Tournament, sealing her a berth for the upcoming Winter Olympics, which will be held at PyeongChang, South Korea in February later this year.
Das secured her place at the Olympic Games for the first time in late December, after defying the odds to qualify in the Dutch qualification trials.
But, that's not it. Just after this amazing feat, Anice is out for another quest that is to find her biological mother. In case you aren't aware of, Anice also has a twin sister and both of them were born in Mumbai. Then, at the age of eight months old, they were adopted by a Dutch couple and shifted to the Netherlands.
The 32-year-old had always been a fringe skater up until the qualification of Pyeongchang Olympics. But finally, in 2017 Dutch championships, she came third in the 500m single distance race and second in sprint overall. She capped off what was an amazing year for her with achieving the qualification for the South Korea Olympics beating many favourites.
"My goal was to qualify for the Olympics, so it's a dream come true. When I crossed the finish line and saw my time, I was very happy because it was my best at this level. After me, however, 10 more girls had to skate; so, I had to wait… When I saw that I had won the competition, I couldn't believe it. I was very happy that all the years of hard work had finally paid off," she says.
While questions of her origin plague her, she is currently focusing on her training for the Games and will look to share the story of her birth and look for her biological parents after the quadrennial event that is scheduled to take place between February 9 and February 25. "I'd like to share our personal story together with my twin sister after the Olympics," Das says. "As far as we know, from what is written in our adoption papers, we were born in a hospital and then taken to the adoption centre three weeks later. I think we must have been born to very poor parents, why else would they give us up for adoption," she adds.
Away from Mumbai, the 32-year-old took up skating during her early schooling years. "When I was in primary school in Assen, we used to skate on natural ice, because it's freezing during the winters in the Netherlands. I was 8 years old at the time. After a few years, I became a member of the local speed skating club," says Das, who, by the age of 14 or 15, began competing in the junior national championships. "I started to specialise in sprint distances of 500m and 1000m," she says.
In many ways she was lucky, she admits, to have grown up around people from different ethnic backgrounds in Assen. "Happily, my twin sister and I grew up together in the same family. At our school, we were lucky to be surrounded by people of different ethnicity. Respect for other people was, and still is, one of the most important values in the Netherlands. Although it's normal, it wasn't always natural. So I think you can say that we were lucky with that," she says.
Now, just days before her biggest professional challenge, she says she will continue to stick to her philosophy of hard work. "As a professional skater, I train 10 to 12 times a week. That means, train hard, rest hard, eat well, sleep well and try to get balance, physically and mentally," she says.
She attributes her qualifying result to the many hours she spent training over the years. "The days before (the competition), I felt strong and my confidence was growing. During race day, it is always hard to stay focused on skating because of the nerves. You have to keep your emotions under check, which is hard. But I did it. I was prepared and determined to do what I had to do," she adds.
It is a great moment for Das who has worked hard all her life and she deserves every bit of the praise. Here's hoping she has a successful run at the Games and also meets her family in India afterwards!