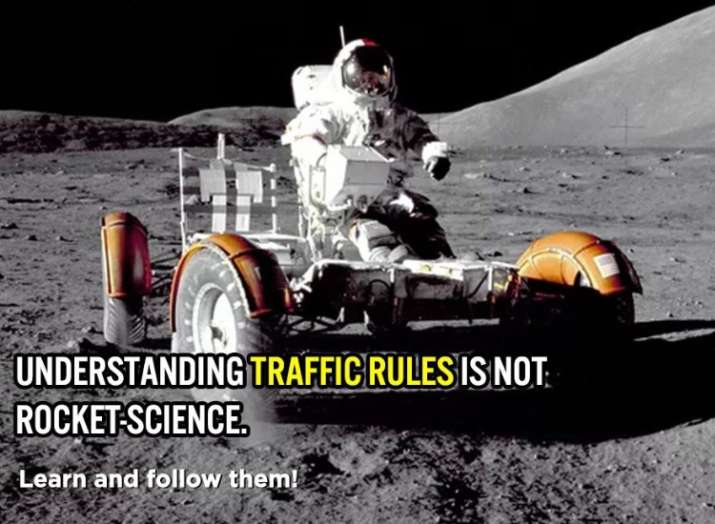 Mumbai Police is undeniable the coolest cats in the country. As much as they love their job, their Twitter account has got millions of internet users hooked with their funny tweets. While their posts have the ability to leave us in splits, they always come with a message that makes us think hard about them. Trying to keep up with the series of hilarious tweets, this time again Mumbai Police shared a picture of an astronaut riding a vehicle while in the outer space (on the moon) and wrote, 'Understanding Traffic rules is not Rocket-Science." The caption accompanying the tweet read, "Lane driving is definitely not rocket science."
Lane driving is definitely not rocket science. #TrafficDiscipline pic.twitter.com/80XrMrwXVF

— Mumbai Police (@MumbaiPolice) August 29, 2018
While their motive was to play with the words and preach people about the importance of understanding traffic rules, they failed at the attempt and Twitterati trolled them mercilessly. Instead of praising them or agreeing with them, netizen started quizzing them about the bad condition of the Mumbai roads an asked them about the number of potholes on the lanes. 
(Also read: Mumbai police shares hilarious video of thief returning wallet, warns of serious outcomes)
One of the users said, "Hehehe..what a joke! To follow Lane...there should be a LANE. 90% of our roads doesn't have lane only. Good joke. (sic)"  Another tweeted,"But with Mumbai's potholes, its like driving on the moon."  
Here are some of the reactions Twitterati had-
Building good roads and properly marking them with Lanes is not rocket science.

— KaKes KK (@kakeskkd) August 29, 2018
With 27,363 pot holes Mumbai joins Guniess World Record #AmchiMumbai #CitizensCity #BMC

— Naman Shah (@Nash2105) August 30, 2018
But with Mumbai's potholes, its like driving on the moon

— KAD (@keithuboy) August 29, 2018
Wish you're all really more strict on implementing lane driving amongst buses and auto rickshaws. Every day every minute I see buses in Kolkata flaunt traffic rules, right in front of the traffic police at Golpark , coming to the right lane and racing against other buses.

— Uday Mukherjee (@udaymukherjee) August 29, 2018
This image is so apt! Our roads are like moon craters! We need a lunar rover to traverse!!

— Manav Gupta (@manavgupta27) August 29, 2018
Yes... And you need to teach the autorickshaw guys 😖

— Jayesh Rajput (@JRistweeting) August 29, 2018
Sir, Lane discipline can be followed only on those roads where even the roads exists. There's no proper roads at all without #potholeparadise #mumbaipotholes . Then how suppose to follow the lane discipline

— Pradeep P G (@Pradeepugp) August 29, 2018
Most of the lanes are covered with Pandals at the moment 🤔

— Niraag® S 🏏 (@niraag69) August 29, 2018
Half the lanes are occupied by illegal hawkers... some by builders as their personal property... some lanes by schools like @oismumbai ... it is indeed rocket science in mumbai to find a lane to drive

— Santosh Thourani (@smalltownsanta) August 29, 2018
But many of the auto drivers and motor cyclists have neither studied science or seen a rocket. How can they not misbehave

— MvkrishnaKumar (@MvkrishnaKumar) August 29, 2018
(Also read: Mumbai Police's wordplay on Zebra crossing has got the Internet ROFL-ing. See Tweets)
For latest stories breaking the internet, check out our BUZZ section!